Have you ever found yourself gazing up at the clouds? Looking at the sky, waiting for something.
The disciples were told by the two men in white; we assume Elijah and Moses, "Men of Galilee, why do you stand and look up to heaven?"
John 14:23-29 Acts 1: 1-11 Not an unreasonable thing to do, I would have thought if someone had been standing with you and then Lo and Behold ! There he is, carried up in a cloud.
Well I would definitely be standing there even today looking upwards, amazing!
It's rather like when you have been to the theatre and it has been an amazing performance , a ballet, musical opera, something spectacular. The curtain goes back and forth at the end.You would like to stay there and maybe the curtain will pull back one more time and you will see the ballerina again.
Keep gazing though, because this time Jesus was going into heaven. But he did leave with the disciples the message that the Holy Spirit would come among them.
In other words look beyond the possible and into the vision. What we can do if we really have inspiration, being inspired, spirit given, looking heavenwards.
Tocare el cielo con ditto. Touch the sky with your finger tips.
Rev'd Sue Martin

Peace I leave with you, my peace I give to you.
Do not let your hearts be troubled and do not let them be afraid.
John 14:23-29
Sixth Sunday in Easter and a great message.
Three years ago I was in Avila in Spain on a diocesan retreat. A week of warmth, sunshine and friendship. And on the way we met the words and life of St Teresa of Avila. Her most famous words;
'Let nothing disturb you, Let nothing frighten you All things pass away: God never changes. Patience obtains all things. He who has God Finds he lacks nothing, God alone suffices.' Solo Dios Basta
And, you know, these words help a lot when times get tough and those you love seem far away.
Full sermon at Easter on Faith Goes Walkabout
Reverend Sue Martin
Saul, the persecutor of Christians is converted by a blinding flash of light on the road to Damascus.
Saul was a Jew and had been present at the stoning of Stephen, he was on his way to make sure that further Christians were held in check.
But, we are told in Acts 9: 1-20, that whilst he was on the Way he was blinded and a voice came to him asking him why he was persecuting him. Saul asked who the voice belonged to and Jesus replied that it was him.
He was three days without sight. Ananias was asked to find him and lay hands on him to restore his sight, which he did, but wondering why he was helping this man who was renowned as a persecutor.
And so the start of Paul/Saul's start of leading the church and spreading the word in his imitable style into many countries and places.
Hidden in the story there are references to Christian terms; one being The Way and the other being The street that is called Straight.
The Way, or the path or the journey or the place in which to walk – a need to follow where we are called.
The Street that is called Straight… probably the modern Darb el-Mostakin in Damascus (as above), but reference to following the path that is straight although in a journey of faith it is seldom ever straight.
But to follow the Way and as much as we can to walk in a straight path, easier said than achieved and unlike Paul , after his conversion,many find it hard.
Rev'd Sue Martin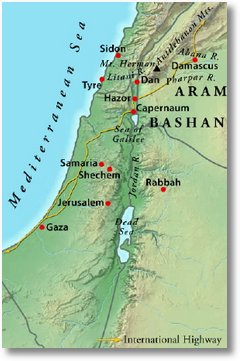 Jesus looks in to the near future and sees his betrayal and death.
John 13:21-32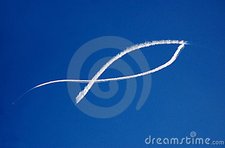 Feeling troubled, Jesus says that one of the disciples will betray him, but the disciples miss what he is really meaning and so don't get the message. Judas is handed the piece of bread by Jesus and told do do the deed quickly.
Judas disappears into the night.
What is about to happen in the next few days will leave the world in a different place to any other time then and now.
It seems that the disciples were oblivious to the messages that Jesus had given. No wonder then that they would also deny any involvement with Jesus, even Peter.
But a message that was plain to them all, 'I give you a new commandment that you love one another'.
A message as much for today.
Sue Martin
Assistant Priest St Bartholomew the Great, Smithfield, London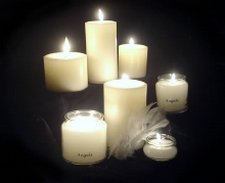 All out of darkness we have light Which made the angels sing that night Glory to God and peace to men Now and for evermore. Amen
Messages! John the Baptist to the angels visiting the shepherds. Important messages, probably the most important message in the world!!
But a message from whom? Who is it that is calling out to us in the time of darkness, nights getting longer and days getting shorter, it's getting closer and closer…
Guiding, directing, showing the way, bit like pathways and life too.
How often do we decide that the path is not the right one for us, too long? Too stony or swampy? Too much for the time we have today?
But the path that God has set before us is never too long, there is never a time to give up on the work and the life that we have before us.
When you feel yourself starting to give in to the comfy cosy option then get back to the path ahead
Rev'd Sue Martin
Curate Gayton group of parishes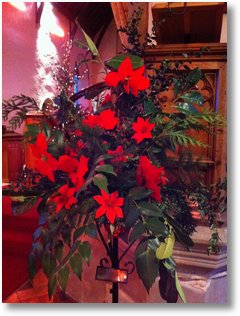 Only a few weeks to go…. a message I saw on a church notice board this week was ' Here I come ready or not…'
No matter how much we decorate the house, buy all the presents and make the mince pies, on 25th December Christmas will arrive.
'Are you ready for Christmas?', is a question so many people ask. But who is actually ready for this very special birthday, who can make sure that all is prepared? Will not Jesus find us at the least expected time?
My favourite Christmas story is Papa Panov, by Leo Tolstoy. The tired and weary shoe maker waits and waits for Jesus to arrive. Whilst he is waiting he helps the poor woman and her child, the old lady who needs some food. But still he does not see Jesus, or does he?
At the end of the day, Jesus asks Papa Panov, ' Did you not see me Papa Panov, did you not know that I was the little child and the old lady.'

And Advent is like that. A time for getting ready and when we least expect it He appears.
Here I come ready or not…
Rev'd Sue Martin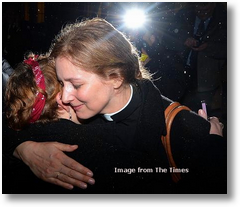 What happened to the vote, how does 72% overall in favour mean that the legislation was defeated?
Everyone is reeling this week with the news that General Synod, the top section of the Church of England's structure, have seemingly voted against the position of women bishops. In brief there are three houses and each has to have a two thirds majority. All had gone fine until the House of Laity, who did not return this majority.
What a disaster!
In 2012, with a church that has women priests, the common sense and equality approach, would see no reason why women are not treated the same as men!
Theological, a minority of people including conservative evangelicals, feel that it is not right.
If we are all working in the affirmation, love and welcome of God through the world, then surely it must be time for us all to have an equal position and worth.
There is much anguish, frustration and disappointment.
The Bishop of Norwich has written to all across the Norwich Diocese and expressed the need, now, to be more united as a church, to work and pray for a resolution.
In the meantime, women and men together in ministry continue to bring the good news to all in the parishes and beyond.
Rev'd Sue Martin
Curate in Gayton Group of Parishes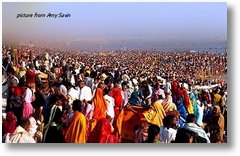 When Jesus saw the crowds, he went up on the hillside and sat down. His disciples came to him. He took a deep breath, and began his teaching.
What a start,wonderful news, The Beatitudes. Blessed are the poor in spirit. The kingdom of heaven is yours!
And so he went on. Good news for all the people.
I love that beginning; He took a deep breath and began his teaching. So, here we go then!!
But Jesus starts straight in, what a teacher!
Blessed are….the poor, the mourners, the meek, the hungry, the merciful, the pure in heart, the peacemakers, and the persecuted.
Good News for all!!
Blessed means wonderful news, the happy, the blessed. The Beatitudes, which these are often called comes from the Latin beatus.
Words as much for today as for the people at the time of Jesus.
This was the introduction to Jesus' teaching, 'listen to this everybody, this is going to turn your life upside down. No more are the rich and powerful going to be the ways to success and prosperity' .
That is for this life only.
Good to remember and hang on to when we see fame and fortune being a real goal for many, that sadly just slips away into the night.
Readings from Matthew 5:1-12
Rev'd Sue Martin
Gayton Group of Parishes