Everest Base Camp 2010
The Beginning or the End……..

Scroll down to get to the beginning of the Himalyan adventure.
But is it the beginning or the end of journeying for me?
A question often asked.
I feel wonderfully lucky to have made this journey to such an intriguing part of the world, full of splendour and spirituality.
There are many things that have been truly amazing. The scenery was unforgettable, majestic and powerful mountains reaching way, way into the sky, the milky white rivers, cascading down from the glaciers, the glaciated valleys and moraine left behind from million of years ago.
The people, full of kindness, peaceful and yet strong and compassionate.
Other things were equally unforgettable and distressingly difficult. Many times I said to myself, 'I just do not want to see what I have just seen!', children so poor and dirty, children carrying huge loads up the mountains, old men and women begging on the streets, so thin and helpless.
But for me an epic journey, still beautiful in my mind and fraught with a severe illness that had me pretty worried. Although without it I would not have had the chance to walk for 4 days across the Himalayas with one guide, time to talk with many Nepalese people, time to think and to pray, time to just be me, which was amazing, to actually reconnect with myself.
So is it the beginning or the end…………Mmmmmmm, we'll have to wait and see.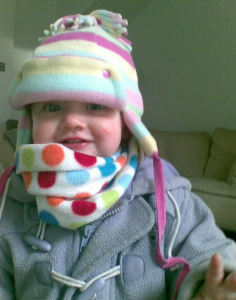 In the meantime Eve was ready to join me and I look forward to Australian visits and also to continuing my work and faith journey, wherever it takes me.
—————————————————————-
Kept in Kathmandu October 28
Last day in Kathmandu, or so I thought!
Sunny and hot, I looked out of the window at 5.30am, it was very quiet before the rush. We gathered with cases packed, breakfast eaten and by 6.30am we were all traveling to the airport in the large bus. Traffic was as usual amazing but we arrived at the airport and said our farewells to Ugs.
Not used to group precision boarding we lost out to the group of army cadets who had followed us on the trek. But at last our turn was at the front of the queue.
It was taking a while and when I saw a passport being handed back I had a sinking feeling. Malcolm called me over, " I think you need to deal with this" he said.
" You have no flight Maam, you missed your flight, it was two days ago. You have no ticket." said the girl moving quickly on to the next person.
Despite whatever I or anyonee on the group said there was no arguing with the Jet Airlines officials. Friends phones were being handed to me and lots of calls of, " This can't be happening, it must be wrong…..
They passed over their remains of Nepales rupees to me as I had very little money as we weren't allowed to take it out of the country, but the group were being bundled away with promises from the officials that they would help me.
And so I stood in Katmandu airport alone,unhappy and despondent.
When an official returned I asked what they could do, he looked at me calmly and said,
"You missed your flight, it was 2 days ago, you have no flight. You must leave the airport, you must not stay any more.
I went outside and stood with the men who were spitting and the dogs asleep in the gutter. I rang Ugs and he sent a taxi to take me back to the hotel.
A long story but there had been confusion between the travel firm and the airline and an enquiry had been translated into a booking for two days earlier. There were no more flights with the company for three days. I began to be more than just a little concerned.
After six hours wait until London woke up, Exodus found me a flight leaving that night with Etihad via Abu Dhabi, so several hours later I went back to Katmandu airport to travel alone on an Arabian airline.
The flight to Heathrow was excellent, Abu Dhabi airport was ultra clean and modern. We flew over Northern India, across the Gulf, Kuwait, Baghdad,edge of Afghanistan and then over Istanbul to Turkey, Hungary and into Europe,
It was good to be back! An adventure and an experience that was amazing, wonderful and full of surprises.
Will I be back? Who knows?

Pashupatinath and Boudhnath October 27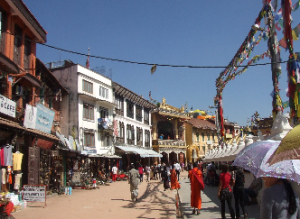 Two more places to see before we left. Ugs had suggested Carol and I share a taxi for the day. Travel in the front seat is interesting, no need for seat belts and the open windows helps ventilate the car with the dusty air from outside
Pashupatinath is the site of the Hindu sacred river, Bagmati and the place where the Hindus cremate their dead.
Nothing would have prepared me for this, a bizarre sight and smell of water, filth, rubbish, begging and then the sadhu's, holy men, high on cannabis in gold and red, covered in white ash, anxiously offering to have their photos taken with western women.
The seller of jewels who had been with us from the start was a godsend and all for the promise of a purchase on our return.
The funeral gats, or cremation piles were lined up by the side of the river. When the burning had finished, all was swept into the river. The boys in the water were then gathering anything left of value. In the increasing heat the experience to all my senses was unforgettable.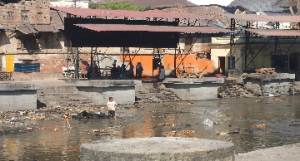 Back toward the taxi I did buy a necklace from the seller. I would have just given her the money.
Boudhnath was very different. One of the largest stupors in Kathmandu encircled by a square of stalls, shops and cafes.
We had lunch on the rooftops and under the shade, looking across the house tops and across the streams of prayer flags, past the eyes of the stupor, calmly menacing and seductive.
Return of the Group October 26
A day to gather a few presents before we left, I had made friends with the shop keepers in the hotel but walked into the centre of Tamil for a final time. It wasn't hard to be on my own and I found some pleasure in not being targeted quite so much as a tourist when I was in the group.
The rest of my group returned at lunchtime. It was good to see them and hear their tales. They had some very cold days and those that made it to Everest Base Camp and Kala Patar were delighted and euphoric with such excellent achievement. Two further people had altitude sickness and not quite made the whole journey.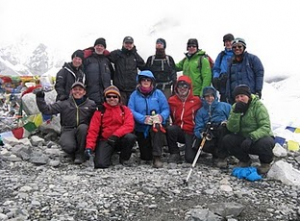 Kathmandu – The Garden of Dreams – October 25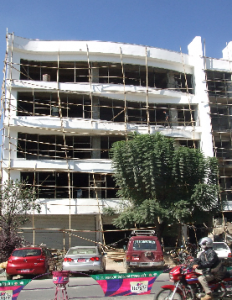 Feeling better and refreshed I set out towards the centre of Katmandu mid     morning.
Past the main street, called the Big Label street or Durbar Marg,(Palace St). The   paths were quite wide and apart from the builders rubbish, were generally clear. Guards stood outside the shops, even Pizza Hut had a guard on the door.
The trafficwas incredible, and the noise, dust and complete lack of order can be off putting. The only way to cross, the road is to follow a local person and just keep walking right through the traffic, it goes round you, beeping, shouting but usually missing people.
At the top of Tredevi Marg the noise and dirt was even worse, children, families, groups of young street boys, cripples crawling along and all begging , it was chaos. I crossed over again and went into an entrance to the Garden of Dreams.
A surreal experience as this was a blissful garden, quiet, peaceful, beautiful gardens with manicured lawns. I stopped for coffee and didn't leave until 3pm!
Time to reflect, the family sleeping on the main street, the girl of 8 years who posed for the tourists camera as her brother took the money, the old women who tugged at my clothes every time I passed and the man of about 30 crippled with leprosy and shaking as he begged.
All the colour and life, the chaos but beauty. And behind the wall a Garden of Dreams……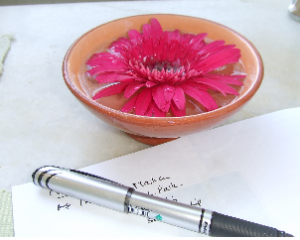 Lukla (2840) to Katmandu( 1330m) October 24
Good news, flights were leaving Lukla
.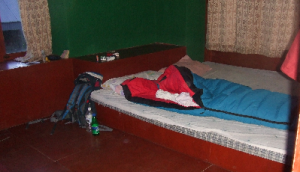 My luxury room was still cold and the venture to look in the mirror was not a good idea! The cold I had developed was worse and my eyes and face were still swollen and now with added sores on my very blue lips, plus a stiff neck, as the rooms were usually damp.
After breakfast the phone rang and then many shouts of' "Quick quick, your flight is coming, you must go,"
I gathered my stuff, Bhim grabbed my large bag and we went out to the path. By the time I made it Bhim had found me a ticket and I said goodbye to this person who had looked after me for several days. My flight was in 2 mins and announced by shouting. The armed guards made it clear that the path was across the runway. Once on board we screeched down the runway, flew over the ridge and into the valley towards Katmandu.
On arriving at Katmandu I was met by a tall man with no identity and got into a taxi.'It's ok,' he said.' I will follow on my motor bike', which he did for the first street. Then we sped through alleys and dusty back streets full of children, dogs and cattle in the potholes.
I was pleased to see the hotel and once there was met by an Exodus guide sitting at the desk.
After a brief wash I went to the doctors. It seemed I was very lucky. If I had continued at Deboche he said it was likely that in 2 hrs I would have been unconscious and with luck I would have had a helicopter rescue. At Periche I should have had 2 hrs of oxygen before I had started down, but then I didn't have 2 hrs to spare! On the same day 2 people had been rescued from nearby mountain and one was still in intensive care.
We walked back to the hotel past the enormous queues for passports at the Ministry of Foreign Affairs. Once at the hotel I didn't leave for the rest of the day. Reunited with my passport, credit cards and phone charger I felt more at ease. One further look at my face told me that rest was a good idea.
As I started to sleep a picture stuck in my mind, that of the six young children sifting through the rubbish on the edge of the main road back from the airport. Smelly and full of rotten stuff,hard to reconcile.
Phakding (2610m)to Lukla(2840m)
October 23rd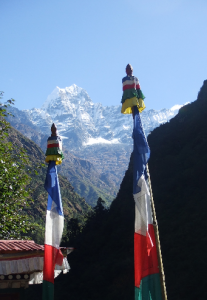 The final day for descent.  I had no headache and almost felt like my self.
Bhim was much more cheerful and I think less worried.
We set out on a beautiful route to Lukla, following the valley and Milky River, down and down, Only the occasional climb and I could at last manage it so my energy was coming back. We walked for 4 hours through rhododendron forests and the temperature started to improve.
Had the last magnificent view of snow covered mountains as I sat drinking coffee about 1 hour from Lukla.
On arriving in Lukla there were some sounds that I hadn't heard for ages, the sound of a TV and a land line phone. Children were playing in the streets. Chickens, dogs and cattle were wandering through the streets.
At the guesthouse I was given a luxury room, more space to move around and a thicker mattress too.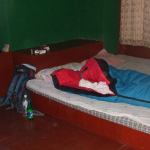 From the window I could see the airstrip and hear planes and helicopters taking off and landing. The screech of the brakes as planes touched down and managed to stop from the edge of the mountain to the concrete wall, the length of a football pitch. There was a plane with the nose missing, it hadn't stopped in time!
In the middle distance there were single story dwellings with sheds and lots of animals and children running and playing, nothing separating them from the field to the runway. In the foreground in amongst the weeds and rubbish was a solar panel and a satellite dish.
I went to see the hospital which Bhim was very interested to show me. It was high above the airstrip and was the place mothers took their children when they were ill or needed injections. If they need anything more they had to go to Katmandu, if they had no money they couldn't go.
A place of such contrasts.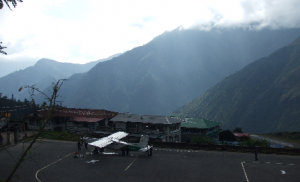 Poboche to Namche Bazaar
A Better Day
I woke to bright sunshine and my head felt a little bit more like my own. The headache still there but easier. The biggest shock was the sight in the mirror. I hadn't realised that my face was so swollen and puffy. Not my best look!
I thought we could stay for a while but Bhim said, 'No, you must go down, you still have a headache and that is not good, It means you have fluid in your head.'
It turned out that he knew exactly what he was talking about, so by 9.00am we set off down, down, down. Except that of course it wasn't all down, there was still plenty of climbing.
First we started to climb up to Tengboche. A beautiful view of the monastery on the ridge and by the time we arrived there the sun had started to appear and bathed the scene in bright light. A real change from the foggy images we had on our way out.
After a welcome coffee, we had some time to take some photos. An incredible view of Everest and the range behind us. All the mountains were visible and it was a great opportunity.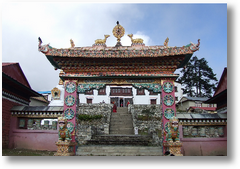 The monastery was very colourful and the young monks were playing football before they were called to prayer.
We started to descend quite rapidly and eventually arrived at the river bridge before climbing to Kanghuma. Whether it was the climb or just tiredness but my head felt like a brick was being hammered against it. The owners of the teahouse were pleased to see us and the women owner started to massage my head.
Another sleep and a bowl of soup,more Dahl Bhat,we started again.
And so we made our way to Namche Bazaar. As we came nearer the path became increasingly busy with porters and yaks. Higher in the mountains it had amazed me how young some of the children were carrying such huge loads. Young boys. And girls, from about 7 years old carrying oversized and very heavy loads. What they were carrying varied from cans of beer, and Mars Bars to legs of animals for meat supplies. But essentially much of it was for the trekkers. I was very unhappy that I may be contributing to this economic work force. But that's another story.
8 hours from the start of the day we made it to Namche, had to squeeze past the Yaks climbing the steps out of the town. They were not stopping!
Namche was bustling and lively and after we had passed many Dzo's on the way up we found our way to Khumbu Guest House. I was feeling quite a lot better but still had the headache and no appetite so plan was to get to Lukla and back to Katmandu.
Bhim thought I should feel better by the next evening,if I felt ok in the morning we would go to Sagamartha Park for mountain views.Valerie at the Exodus office had reassured me that all would be well.
I just wished that I hadn't tried for the hot shower! Standing directly underneath the water was kind of hot but the little tin hut in the yard was freezing. There is a real skill in trying to keep all your clothes dry in a wet shower with no pegs. I didn't manage it!
Sue Martin
Faithgoes walkabout.org
……………………………………………………………………………………………………………
Time to go Down – October 20th 2010
Dingboche(4410 m) to Pheriche(4240m) to Deboche(3820m)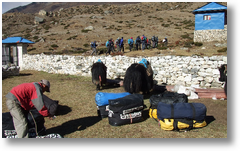 I had a terrible night, a thumping head which was uncontrollable by any pain killers, several nose bleeds and feeling nauseous. I decided that I was not going any higher.
I spoke wth Ugs, our leader. Bhim one of the guides would stay with me and we would go across to Periche and wait for 2 days until the group rejoined us.
At 8.30am I watched as they prepared for the days trek, I wished them all good luck and hoped they would all make it. I thought 2 may struggle but it turned out that it was a different two who also turned back. Altitude sickness seems to be a very random thing.. Carol fortunately, had recovered and was setting off at the front of the group.
Of they walked over to the next hill, as I watched them go I felt very alone and then the last person, Ramish turned and waved with a beaming smile. That meant a lot.
Bhim needed to finally make sure the yaks were all loaded ok. Just my bag remained on the track.
By 9.00am we set off for Periche, over the ridge, not far but it took an hour .At the top of the ridge we looked down onto an amazing landscape, bare glaciated valley with a river meandering a course across the moraine and deposited stones. In the distance were glaciers emerging white and snake like from the mountains.
On the edge of the valley was Pheriche.
A real high Himalayan village, just tracks and a few guest houses with some subsidence cottages alongside. As we stopped at a guest house for hot chocolate, Bhim, who didn't say a huge amount told me three times that there was a doctor at Pheriche. Although I didn't think it necessary I eventually agreed to go.
We walked into the Himalayan Rescue Centre and the Scottish doctor took various levels and said,
'You need to descend as soon as you can. Do you think you can walk down to Deboche today?
Bhim was told to make sure that I made it as far as Deboche as it seemed I needed to get as low as I could because my oxygen level was really low.
So, off we went, me leading and Bhim behind over the next set of ridges, climbing and descending until we stopped for lunch at Somore. It was such hard work and I had to keep stopping as I had no energy. Bhim just stoically kept me walking and making sure that I drank enough water.
Lunch was tomato soup which I couldn't eat, but went to sleep instead.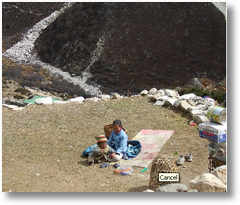 On the way through the mountains there were some amazing sights, the mountains, valleys and then the occasional dwelling with children playing outside next to the yaks.
By 5.00, 8 hours after we had started we arrived in Deboche. We didn't have anywhere to stay and we had no phone signal until we arrived at the village.
Rivendell Lodge had a room so I collapsed there for a while, until Bhim knocked on the door and said , You mustn't sleep yet, is not good. Come and see Everest.'
And from outside the window I had my first sight of the famous mountain, beautifully pink in the reflection of the evening sky.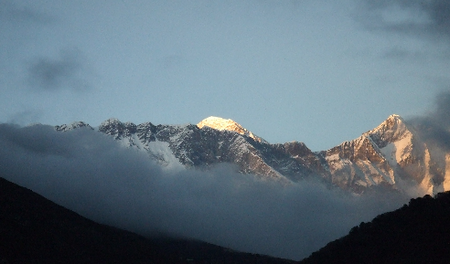 Sue Martin – Trekking in the Himalayas
……………………………………………………………………………………………………………
Tengboche (3860m) to Dingboche ( 4480m) October 18th
Sunshine at last started to appear through the clouds and we had some tantalising sights of snow covered mountains, Thamserku( 6618m) and Kangtega(6783), way above the clouds.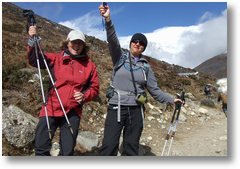 We left the monastery in a shroud of mist and set off down the hill to the bridge at Milingu, maybe this was the final bridge crossing the Dudh Kosi before the big ascent. Anyway, it was a long way above the river and slung as a steel bridge, covered in prayer flags. Fine of you didn't meet any yaks crossing at the same time as it was very narrow and swayed greatly.
After much struggling and climbing I made it to lunch at Samore and ate a plate of chips. We had now climbed above the tree line and the scenery was getting more rugged. For me one of the true highlights was coming across a flat piece of land which was obviously either at the end of an old glacier or marked a period of retreat, a morainic dump! Packed with erratics, terminal remain rocks and Roche moutonee, marked with the deep gouges from the movement of the glacier.
A mountain which became my firm favourite, Ama Dablam (6812m) rose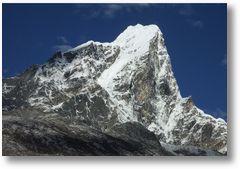 majestically on our right. A beautiful mountain, and as it is on it's own, easily recognised. One of the guides, Rashim who stayed with me at the back, kept telling me the name as I muddled it with Abla Dabla, much to his amusement.
But all was not well with me! Eventually Rashim took my bag and then Ugs, our leader came and joined me. I was breathless, no energy and a head like a hammer being set against me.
I was more than pleased to get to Peaceful Lodge, our stay in Dingboche. A cold room with two hard boards for beds and one cold tap at the end of the corridor.
What a treat was a bowl of hot water, for 50rupees, I stood in it for sometime before attempting some kind of wash. Food was good although I had no appetite and I thought about the rest day planned for tomorrow, I would do that. No way could I join in on a walk, no breath, every step a nightmare. Mmmmmm, felt pretty scared at that point and had a sense that I was suffering from altitude sickness.
……………………………………………………………………………………………………………….
Over breakfast we looked across to the path to Tengboche, steeply curving across the next hillside and before that there was the trek down the hill to cross the bridge before we could even start the climb.
It was a good thing we looked across then, as later in the day the cloud was down again and we had no view at all, save the view of each other and the yaks as always on the path.
I had been feeling ill, on reflection, but thought no more of it and carried on, somewhat dismayed that I was unable to keep up on the climbs and was increasingly breathless.

After 6 hours we reached Tengboche, a small village on the top of a hill. Tengboche monastery was very active, highly ornate and decorated. The short film we saw at the visitor's centre,of people's lives in the mountains was moving and the patience and happiness the Nepalese have is inspiring.
Ugs, our guide had been a Buddhist monk in the past and said that we had the chance of going to the 3 hr prayer session that evening. I was a little dubious, but it was an amazing experience. The sounds of the continual chanting, the sounds of the horn, drums and pipes will not be forgotten and the food and changes of hats continued for 3 hrs, although only stayed for 1 and a half hours.
We emerged back into the pouring rain, past the yaks carrying our bags and back to Tengboche Guest House for a warm and high carbohydrate supper before snuggling into the sleeping bag.
…………………………………………………………………………………………………………..
I arrived back in Katmandhu yesterday morning, 2 days ahead of time and the rest of my group. I had severe altitude sickness at Denbuche and decided to come down. It's the only way to get things better, so one of the guides and myself started to descend.
It took 4 days, walking for 7 hours a day along the narrow path, much of it ascending after going down to cross the slung bridges over the ravines of the Milky River. I descended from 4410 metres to 2600 metres before I started to feel better and lose the headaches. Apparently I should have had 2 hrs of oxygen but there wasn't time. But at least I didn't have the helicopter rescue out.
I think it will take a long while for the memory of the village people and their lives to leave me.
The children smiling and grimy with dust amd much more, eating on the streets or being washed by their mothers in freezing water. The yaks, men, boys, women and girls overburdened with loaded baskets using their heads and neck muscles. In the baskets were everything the trekkers would need, from drinking water and beer to toilet rolls and Mars Bars.
On a positive note, the scenery of the mountains was amazing and so clear, Everest, Nuptse, Lhotse and Ama Dablam were most memorable to me. The deep ravines, the mountain flowers and different rocks were just brilliant and I have only managed to put the odd rock in my pocket!
I will continue the blog for each day, there's lots of tales to tell and some great pictures too.
Sue Martin
……………………………………………………………………………………………………..
Views have been masked by low cloud and even the grandly named Everest View Hotel couldn't break through the cloud.
We walked to a small village called Kundhe and Kumjong. Very organised mountain villages and people stared at us as we passed. Well, that's no real surprise! Met with plenty  of porters and yaks carrying enormous loads. From kettles and cooking gear to boxes and boxes of noodles, beer and rice etc.
Called at a Buddhist monastery with the boxes of scriptures at  the side of the statue of Buddha. Found it odd that the people cannot read them but know some by heart and then leave the rest and the praying to the monks.
The highlight was the view of the Yet skull!! Mmmmmm….. Kind of yak-like to me but it is highly revered.
Lots of walks through forest with beautiful lichens draping down from the branches. The colours of autumn are similar to ours but as we managed to acquire most of plants from the Himalayas that's no surprise.
Stayed at a guest house high on the mountain side and had supper round a smoky but hot stove.
Sue Martin
……………………………………………………………………………………………………
Our first day was unintentionally spent in the lounge at Katmandu. A delay in flights meant that the morning was out and the weather stopped all flights for the afternoon.
On Wednesday Oct 14th we made it to the airport and amidst the chaos eventually found the 16 of us, in the group on a 16 seater plane flying into the mountains. Lukla airport runway was nearly as small as it looked and there were many people watching the flights in.
We walked to Tashi Tagi guest house in Phakding, amidst the carriers of large baskets, and many bags, and then the Dzo's which were a large pack animal, nice and slow and piled high with everything you could think of.
The next day, Friday 15th October turned out to be a real challenge to me. The morning was beautiful and although the scenery was spectacular I became seriously slow at walking up steep slopes. Eventually I arrived at the rear of the group and we made it Namche Bazaar, high on the edge of the mountain.
Sue Martin
…………………………………………………………………….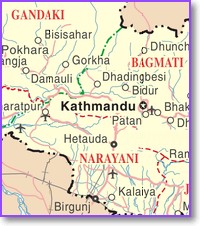 Kathmandu: A city of Colour, life and temples
A day in the city today, time to spend walking through the streets, into the tiny overcrowded alleys and bazaars. Mingling with the beautiful and friendly people. walking alongside the bikes, blaring motor cycles, trucks and cattle.
Durbar Square and The Monkey Temple were amazing.
This week is the festival of Daisan, the most important festival in Nepal,  the place is packed with folks selling anything, arriving home and dressed in their best. That's In contrast with those sleeping on the streets in the dust.
And tomorrow, Wednesday we fly in a 16 seater to Lukla, to start the trek high into the hills. It is at 2,900 metres so a change from starting a walk at sea level.
The group of 14 trekkers include folk like me and then the more experienced trekkers, equipped in complete gear and looking decidely fitter than I will ever be.
Excited but nervous, I aim to do my best. I can't help feeling that I am so lucky to have the chance. There are many here who could never dream of such an adventure.
Will add to this weblog when I can, but internet links aren't likely as I climb higher.
Sue Martin
………………………………………………………………………………………………..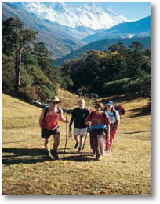 A chance of a lifetime, an opportunity not to be missed.
A real adventure, we will be walking for 13 days and getting to altitudes of over 15,000ft.Leaving on Sunday Oct 10th and returning Thursday 28th October.
Lots of preparation and training and I am hoping, to make it to base camp, altitude sickness permitting, but however far I walk it will be an exciting trip. Follow the blog below.
I am raising money for ASBAH, Association for Spina Bifida and Hydrocephalus, St Nicholas Church, Gayton and would be really pleased if you are willing to sponsor me.
Information about the adventure.
Itinerary
Day 1 Arrive Kathmandu
Day 2 Sightseeing in Kathmandu
Day 3 Fly to Lukla (2,800m) and trek to Phakding
Day 4 Phakding to Namche Bazaar
Day 5 Acclimatisation day
Day 6 Namche Bazaar to Kyanjuma
Day 7 Kyanjuma to Thyangboche
Day 8 Thyangboche to Dingboche
Day 9 Acclimatisation day
Day 10 Dingboche to Lobuje
Day 11 Lobuje to Gorak Shep (5,288m) and visit Everest Base Camp
Day 12 Gorak Shep to Kala Pattar (5,545m)
Day 13 To Thyangboche
Day 14 To Lukla via Namche Bazaar
Day 16 Kathmandu
Day 17 Kathmandu
Day 18 Return to UK
I am really looking forward to being in the mountains and seeing Everest. Will love meeting the people and seeing the flowers and scenery as we walk.
On the way we will stay in local teahouses, which have basic communal accommodation and a chance to have a meal and a shower (I hope!!)
Namche Bazaar is an impressive village on the edge of a sheer hillside, from there onwards we will be out of contact. Quite a challenge for me as I rely on my mobile and internet links to speak to friends and family.
Everest base camp, altitude 5,288m, is on the edge of the Khumbu Glacier which we can walk across to stand at the base of the ice fall reaching up to Mt. Everest.
I am travelling with a friend, Carol Jennings and through an organisation called Exodus Travel www.exodus.co.uk
I am raising money for ASBAH, Association for Spina Bifida and Hydrocephalus, St Nicholas Church, Gayton and would be really pleased if you are willing to sponsor me.
To sponsor us please enter your details and the amount you would like to give on our Sponsor our Adventure page. We'll contact you on our return. Thank you.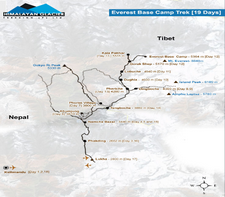 To find out more as I travel you can visit my blogs as below which I will update when I can;
changethinking and www.faithgoeswalkabout.org.uk
Wish Me luck and I hope together we can raise some funds for ASBAH and St Nicholas Church.
Sue Martin