In January a group from Diocese of Norwich are travelling to the Holy Land, led by Right Reverend Graham James, Bishop of Norwich.
The chance of a lifetime for many and a journey all who want to walk in the places where Jesus walked.
We visit many of the sacred sites but as Bishop Graham said," We will see them in the context of the present day reality of life in Israel and the Palestinian Territories.
We will also go to St Andrew's Anglican Church in Ramallah for their Sunday worship and to learn something of the experience of Palestinian Anglicans today. Visits to such bodies as the Holy Land Trust and B'Tselem, the Israeli justice and peace group, are not on usual pilgrimage itineraries but will give a significant insight into life in the Holy Land today."
Follow us on this blog, Facebook and Twitter, as we journey to the Holy Land, touching the life of Jesus and experiencing the life of Palestinian's today.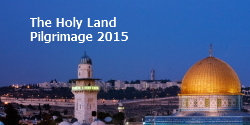 ---
About this journey?
These web pages are part of the
Faith Goes Walkabout
family of web sites. Designed, produced and edited by the
Reverend Sue Martin
of
the Norwich Diocese
. Supporting the work of the Diocese and communities of faith in the East of England.