The Bread of Life
Sermon for 10th Sunday after Trinity August 5th 2018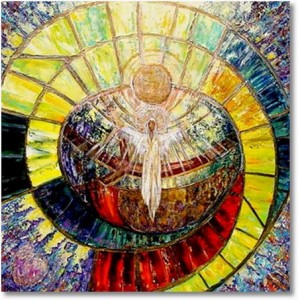 Readings
Ephesians 4:1=16
Luke 24: 13-35
John 6:24-35
I am the bread of life, whoever comes to me will never be hungry, and whoever believes in me will never be thirsty.
During this hot weather a good place to be is in church, where it is always cool!! So we do have an advantage then!
People coming into church to cool off and to spend some time here.
In some of the city churches, apparently, the number of people coming into church and staying over lunch breaks has increased. The church teams began offering drinks and biscuits.
Enterprising and hopefully the start of people coming to Jesus too.
But what does it mean I am the bread of life?
Jesus had left the disciples behind for a while and they had found him on the other side of the lake, Lake Galilee is very large so it would have taken some time to have found him.
You know those times when you just fancy a few minutes on your own to have a coffee or to have time with your thoughts and then someone comes along and finds you. And then what do they do, they invariably ask you a questions.
The disciples did the same with Jesus, "When did you come here?"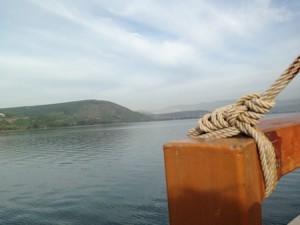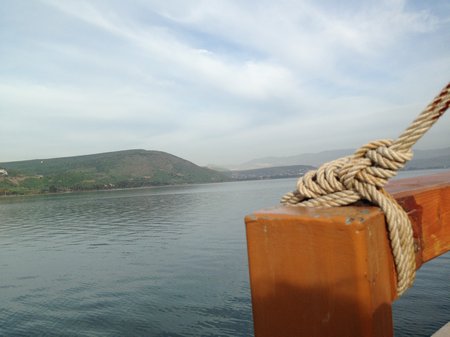 Jesus doesn't answer directly to the question but tells them that they had come to find him not because they had seen the signs. But Jesus says that the disciples only started looking once they had eaten enough bread and fish! Bit harsh that I think, for all that the disciple had been doing.
The signs that Jesus talked about were how he had changed the five loaves and two fishes so they could feed the five thousand.
I am the bread of life.
The bread of life, what is that what does that mean?
It is actually a big statement and covers all that we know and understand, how we live, how we love and how we serve.
I have been reading a book called "I Call you Friends", by Timothy Radcliffe who is the leader of the Order of Dominican priests.
In the chapter called The Road to Emmaus he talks about how we live our lives, the values that we have and the values that we have for our society and for others. This has changed enormously over the last 5 years maybe.
There is a lot of pressure for people to do more and more and think less and less about others.
And the concept of community has changed, both in our secular world and also in the church.
There are so many different things and ideas that people look to for ideologies and for their own benefits Sometimes faith is seen as an add on which can make life better and that is the reason for believing. A short-sighted view of faith that has very little to do with true belief and giant leaps into the unknown.
We all tend to spend more time in doing and less time in being.
A quote from the book I Call You Friends, which I like is
"In a multi-cultural society we pick and choose from the supermarket shelves of values."
Supermarket shelves of values.
I wonder what they would look like; suggestions are;
Love your neighbour as yourself
Love the Lord your God
Honour your father and mother
Do not swear
Do not steal, commit adultery or tell untruths
Do not covet or want what others have
And deeper Christian values are
You shall have no other gods before me
You shall not make idols
Keep the Sabbath holy
And Jesus says I am the bread of life, what reassurance that is. We don't need to worry about all the other things if we believe and follow Him.
Amen
Rev'd Sue Martin
The Boys in the Cave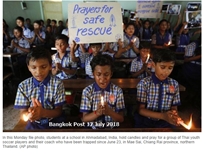 15th July 2018 All Saint's Roydon and St Nicholas Gayton
Readings;   Exodus 17: 1-14, Galatians 6: 1-11,John 15:7-17
Prayers for safe rescue!
In the newspaper on Thursday there was a photo of a class of boys at school in India which had a huge impact on me.
The boys were praying for a safe rescue for the boys in the cave in Northern Thailand at Chang Tai. The picture was of about 50 boys of the ages around 9-14 and they all had their hands together holding a lit candle and they all had their eyes shut as they were obviously saying prayers.
I'm sure that you know the story, it is about 12 boys, aged between 11- 17, and their football coach, out on an exercise to boost morale and teamwork, they had ventured into the caves at Chang Thai in Northern Thailand, fortunately leaving their bikes outside.
The cave they were in suddenly became flooded and forced them to move further and further in the caves, with water rising around them.
After huge efforts by experts from all over the world they were miraculously found. They had been huddled together on a ledge with a tine but of light for 9 days.
And so to the rescue, how to get them out, 12 boys who had never dived before through dark and muddy water through the tiniest of gaps in places and over 2 miles of swimming and walking, one of the gaps was said to be only 18inches across.
After much discussion it was decided that this most risky if schemes was a last resort and would only be used in an emergency of further rain. They would try other rescue methods first.
As it turned out, the rains started and the boys were rescued by this method of 2 divers for each boy and each boy was fixed to a diver who swam, walked and dived with each boy all the time. Sometimes they held them in front of them and sometimes by the side but always in contact. Each boy would have to go out separately and the strongest would be the first to go.
And so they emerged from the cave, weak, muddy but enormously relieved and also their parents.
This story tells us so much, as well as being an international gathering to help and support it shows what people can do for each other and the real humanity that we can all provide.
There is the respect for human life.
There is the willing of nations and ordinary people for a successful rescue.
There are the rescuers with their expertise and determination that this is just their job. But one of them lost his life.
The parents who laid no blame on anyone
The boys who showed such courage and strength.
The coach who had led them into the cave and it had all gone horribly wrong.
At the beginning of the sermon I said that there was a picture in the newspaper of some boys in India, praying for the boys.
This is what happens when we all pray together, it is very powerful.
It also shows the whole world that this is more than just humans at work, there is God, who can be asked to help.
I chose the readings today as they support this story.
In Exodus we have the Israelites who had been led by Moses into the desert, and the people were getting weary and accused Moses of leading them into a bad place.
But Aaron and Hur supported Moses.
John, we have the passage "This is my commandment, that you love one another as I have loved you. No one has greater love than this, to lay down one's life for one's friends.
It is about love and help for each other and especially about prayers, and praying for each other.
Amen
Rev'd Sue Martin, Diocese of Norwich
The Woman who touched Jesus, the Healing of the Woman with a Haemorrhage.
1st July 2018 All Saints Church, Ashwicken and St Botolph's Grimston
2 Samuel 1: 1, 17- end   
2 Corinthians 8: 7- end
Mark 5: 21 – end
Who touched me?
In a crowd of people, Jesus asks who touched my clothes?
Have you ever been in a crowd of people, with people getting far too close, squashing in from all directions, crowds can be very unsettling anyway.
The disciples said to Jesus, "You see the crowd pressing in on you, how can you say, who touched me?"
It was actually his clothes that Jesus knew had been touched. And something had left him and gone to that person. He wanted to know who it was, not to reprimand but to help.
He looked around to see who had done this and the woman, knowing what had happened to her came in fear and trembling, and knelt down before him and told him the whole truth. He said to her, "Daughter, your faith has made you well, go in peace and be healed of your disease."
She was healed, the bleeding had stopped immediately she had touched Jesus clothes, how amazing is that.
Only believe and you will be healed, and in Jeremiah, 29:12, Then when you call upon me and come and pray to me, I will hear you.
We hear nothing more of this woman, at this stage as Jesus was on his way to visit Jairus, whose daughter had just died. No wonder that the disciples were rather concerned that he had stopped and was not rushing straight off. This whole passage is an interesting time as Jesus has just really started his ministry, he had gathered crowds to him wherever he went, he had been on the shores of Lake Galilee and crossed over the other side to Genneserat, he had calmed the storm on the lake, he had cast out demons from the wild man.
No wonder he had gathered crowds, and then asked
Who touched me ?
The woman had suffered for years and nothing had worked, she had spent all the money she had.
So this woman was a real outcast.
Not only that but if she touched anybody then they would be contaminated too. She risked so much by just being in the crowd. But she risked even more than that, because she was getting close to a rabbi and therefore defiling him. When challenged she admits her fault and the fear she has show us that she feels unclean herself.
So she crept up on Jesus, hoping to touch Him, without being seen or noticed, all she wanted to do was to touch Jesus. But Jesus didn't let it go at that. He wanted to know who had touched Him.
We are told that she came trembling to Him and knelt down before Him. She proclaimed in front of the whole crowd how she had instantly been made well.
She had risked a lot. Probably her life.
She was desperate.
For the act of being amongst men and for touching a rabbi she could have been stoned to death.
But of course today we would not think of excluding women for a reason like this. But who do we exclude today. How do we justify our reasons?
I immediately starting thinking about Aids and Princess Diana, but also about so many other people who risk their own health to make others well. Doctor;s nurses, care workers, porters in the hospital, the list goes on.
It is horrid being seen as a reject, unclean or in any way not able to join in with others, we are generally not good with isolation.
Do you listen to Desert Island Discs? One of my favourites and this week it was Martina Cole the famous crime writer.
The last question after talking about the person's life and all that have they done usually with other people is, "How do you think you would manage on your own on a desert island?
Can sound good to start with but isolation is hard.
Two little stories…
The Ugly Duckling by Hans Christian Anderson.
The little creature is laughed at, scorned, set aside as different. He wanders off hurt and unable to understand why no-one likes him.
This turns to a feeling of hopelessness.
He is not as good as the other ducklings, that is obvious, he looks so ugly, he can't be as good as them.
I once was on my way to a lecture in London, in the evening, with a friend rushing across a busy street outside Waterloo.
A girl about 20 rushed over to us, from somewhere. She had been crying and tears were left drying on her face along with the remains of her makeup. Her arms she showed me were covered in blood.
"Please help me", she said, "I need money to get home. My boyfriend has just tried to kill me and I must get home, please help me."
She was desperate, I was in a hurry and felt vulnerable myself. I was not prepared for this. But isn't that often how God works. We have to put our trust in him. We have to hear His call when he chooses not when we are fully prepared. There are no sure answers, no ready solutions to situations when we are desperate.
She could have been about to rob me?
She could have been HIV positive, there was plenty of her blood which had already touched me.
I had no plastic gloves.
But what was God calling me to do?
To a girl, who was desperate and taken a risk, she had trust.
In both stories there is desperation, enormous risks involved.
They had to have trust, a belief, and faith.
What did Jesus say, to the woman with a haemorrhage .He said'
"Daughter, your faith has made you well; go in peace."
Where is the evidence that will help us?
There are many passages in the Bible about belief, trust and faith.
For instance in Galatians 5 v 6 'the only thing that counts is faith working through love'
To have faith, belief, trust we must open ourselves to God and allow Him to help us and to work through us.
"Who touched me?"
How often in our lives do we feel desperate and are prepared to take risks?
It is when we are at our greatest need that God reaches out to us, grabs us by the hand and sets us on our way. Let's trust him, lets have faith and then lets give him our thanks. Jesus can touch all of us if we let him.
Amen
Re'd Sue Martin
Pentecost Sunday 20th May 2018
St Botolph's Church Grimston
John   15:26-27, 16:4-15
Acts 2: 1- 21
Pentecost or Whit Sunday
Tongues of fire and speaking in different languages!   That's quite an entrance for the Holy Spirit. No messy about with a gentle approach or indeed telling the disciples a little bit more about what to expect and when.
It was after Pentecost that they actually started to minister, to baptise and to spread the word.
The church and Christianity starts here!
At the feast of Pentecost there were a group of about 200 followers, the disciples, and Mary, mother of Jesus and his brothers. A sound from Heaven, like a strong wind appeared and tongues like fire rested on them.
Peter, standing with the other 11 disciples, addressed the crowd. He interpreted the tongues as the fulfilment of God's promise, described in Joel,
"I will pour out my Spirit upon all flesh and your sons and daughters will prophecy"
Peter went on to baptise about 3000 people that day. They were from countries far and wide; they had the potential to cross cultural boundaries. They had the power and the spirit to take the word of God across the world.
That was before the world of emails, texts, before the printed paper and letter press, before air flight and long distance travel was popular.
Someone said the other day, what would have happened if Jesus had been born into our time, do you think he would have used emails, the internet, gone on long haul flights?
I'm sure he would but the fact is that he can work wonders without electronic and technical communications,
Let's imagine for a moment…
Email from office@heaven.central.
To Peter and all disciples, Please all meet together on Sunday in Jerusalem at the Feast of Weeks. There will be people from many different countries speaking in many languages. More information to follow.
Email from peter@fishermen.galilee Many thanks but can you give more info please about where, when and what. We have been in upstairs rooms for quite a while now.
Email from office@heaven.central All will be revealed when you get there. No need for further info,or if you really feel in need then visit
www.howtomakecontactwiththeHolySpirit,com
Email from peter@fishermen.galilee  can't get a signal or WiFi at the moment. Help!
Email from office@heaven.central  Hi Peter, expect to be truly amazed. You are about to start something so huge.
Email from peter@fishermen.galilee  More info needed asap. Tried the website www.howtomakecontactwiththeholyspirit.com but couldn't access the right pages. Please send password straight away. I have my iPad ready.
Email from office@heaven.central  Hi Peter, new password sent over, only active for an hour, need to change asap. But too late now as the Holy Spirit is on his way. Check out stuff for 3000 baptism
The church and Christianity starts here!
As to the emails from heaven… not going to happen is it! Thank goodness, and we like Peter have to rely on what God has already given to us. We have all that we need.
And what is the Holy Spirit? It is something so intangible it is hard to explain, there is nothing physical about it, but yet we feel and know when it is here and with us.
It is much more than just spirituality, the Holy Spirit is part of God, the three in one. When Jesus left the world he left us with the Holy Spirit.
From the word spirit we have much that gives us hope and joy and a chance to look beyond where we are.  We have the word inspired, being given the means to feel passionate about something, a sense that we can do more. It is much more than just a mechanical way to solve a problem
Our church spires, also reflect the word spirit and point to the heavens. Looking for inspiration and searching for the Holy Spirit.
Sometimes we can feel the Holy Spirit within us or around us, but we have to be ready to feel it, it is not going to happen if we spend all our time busying around or indeed writing too many emails!
And so a little story
On my ordination retreat we were lead by Reverend Georg Kavoor. Principal of Bristol Trainng College and Chaplain to the queen. He was from a south Indian background and one of these amazing people who never needed any notes, his words came straight from his heart.
That afternoon, as the remaining few, we gathered under the copper beech tree at Ditchingham to listen to George talk about the Good Samaritan.
We were chatting away and animatedly talking about the events of the last few days when George said,
"Shall we start?"
He opened with a prayer, there was silence, the weather had been fine all week and no real trace of any wind.
But a sudden, strong and warm wind gathered around us, it whipped into the branches of the tree and swirled the branches round. When George finished the prayer the wind died down.
He looked at us and smiled…. I think he had felt the Holy Spirit before but it was an amazing experience, no goose pimples, just warm, glowing and lifting.
And so at Pentecost the time started for the ministry of the disciples, who then found all the courage they needed to start their journeys. No more hiding in upstairs rooms.
Jesus had told them that the Holy Spirit would come to them, he didn't mention about tongues and languages, but he did indicate that they would be given all that they needed to fulfil their ministries.
We are given all that we need. If we truly listen we hear from the Holy Spirit.
The Church and Christianity started here, so let us make sure we carry it on
Amen
Rev'd Sue Martin
Sunday 11th November St Nicholas Church Gayton
 Remembrance Sunday
Micah and Hebrews 9:24 – end
If we do not remember it can happen again
I think myself as lucky for being part of a generation that has not known war close at hand. But I have know the effect on lives of people close to me, through injuries, illness and often very long term effects of all aspects of war.
Many of you here today have experienced war, both in the past and in recent times.
Nowadays we are always reminded about wars in different parts of the world and our troops are out there now, Afghanistan, Iraq. And without wanting to stray into the politics and the position of whether they should be there or not, the fact is that they are indeed out there, trying to support peace, help the nations to fight against other forces and to act in our defence.
Our toll of lives lost in Afghanistan goes on, more lives are lost, more soldiers and air personnel killed, more people back home without having lost someone very close to them.
But today is about remembering, Remembrance Service, held every November to mark Armistice Day, the marking of the symbolic end of the First World War on November 11th 1918. And special today as we are here on November 11th.
The eleventh hour of the eleventh day of the eleventh month.
The armistice was signed between the Allies and Germany at Rethondes in France for the cessation of hostilities on the Western Front. Although hostilities continued in parts of the Russian Empire and in parts of the old Ottaman Empire.
The cruelest of wars which lasted from 1914 – 1918. A war fought in the most abysmal of conditions and with such an enormous waste of life.
And since then the Second World War from 1939 – 1945, involving the majority of world's nations and it became the deadliest conflict in history. The style of war and fighting had changed dramatically and great swathes of towns and civilizations were bombed and destroyed.
The cold facts, are important, they help us to remember, they help those of us who have not seen war at close quarters to reflect and try to understand.
I think it is very interesting to try to get back into the shoes of the people who were making the decisions at the time, the rulers and the people in power, what had been happening in the world, how people were feeling.
And at what point was the decision made to go into war, at what point after discussions had failed did people make that statement that led to years of war.
How difficult that is and must have been, these wars do not end quickly.
And at the other end at what point was a treaty signed, an agreement reached, a surrender achieved.
But today is about remembering…..
Jonathan Sacks, the Chief Rabbi once said
Evil will not succeed if it is recorded
If it is not remembered it will happen again,
So for the sake of all those, whose names are on the War Memorial outside, for all those who have died in war, and for those who were injured and whose lives were deeply changed, we need to remember,……
we need to say thank you……….
and we need to make sure that the next generations may also be fortunate in not experiencing war.
As I was standing in silence with you outside lots of thoughts came flooding in……. but especially on the importance of silence. And much of the western world is stopped at the same time.
I was reflecting on what that may seem like for God in heaven, maybe He looks down on the world and hears a constant noise, a rumble, a sound like a never stopping motorway, like the flack in the wartime skies…..And then silence.
A time when He can really find us, help his message to get through and to be with us in our sadness and memories.
My thoughts were in small pieces, we call them sound bites today! And they went something like this
A visit to the trenches with school children, the tiny distances that were fought over, yet the huge space of the battles in Northern France.
The Canadian War Memorial in Arras, so many name and all those graves.
The medals that were won, the pride, the courage and the hope.
The horses and the horsemen who went to war in France, the dreadful conditions for them all but even then hope struggled through.
The tunnelers, who spent time underground under the enemy lines.
And then those scenes of a Christmas truce when troops met briefly only to resume attack the next day for a few more yards in that desolate countryside.
The Second World War and the places like Dresden, destroyed, our own cities too, the whole concept of a concentration camp, people I know who escaped over here,lived in our villages and sought refuge.
The Home Guard and all that made Britain great. The people left behind.
The troops, the army, the RAF and the navy, everyone doing their bit, the land army too
And for those in Afghanistan and Iraq, now today.
And for the fighter aircraft we see over head from Marham and Lakenheath,
And at the end of the silence ……….. Hope, there is always hope.
Hope for a good time ahead, hope for our families to live in peace and hope that all nations can live peacefully together.
We are living proof that the hope and sacrifice of so many has worked. We have a country in which we can be free, free to speak our minds, free to live without fear, and free for our families to love and thrive
And that is why we have to remember,
 That is why we must not forget,
That is why we must try so hard to make sure it never happens again.
Amen
Rev'd Sue Martin
Michaelmas and St Michael 29

th September 2017
All Saint's Church Ashwicken
The Heavenly Host
I wonder what images are in your mind about the heavenly host, is it cherubic angels adorning paintings, lovingly drawing people into heaven, is it of a more fiery nature, chasing away the demons and evil, or maybe it is of a comforting face at your bedside
Hold on to those images as we are about to discover a whole array of angels of all sorts, shapes and sizes, the whole company of heaven, the heavenly host!
All the heavenly host are saints and  when people have been brought to sainthood after death they also belong to the company of heaven.
St Michael is an Archangel and is the guardian angel of autumn and he also looks after the element of fire. He helps the farmers with their harvesting. He is the angel of courage and strength. He helps people to reap rich rewards for their labours earlier in the year and to celebrate their achievements.
He is often portrayed on churches and in paintings in his red clothing and killing the great dragon as we have heard in Revelations. His function also is to be the leader of the heavenly armies and drive rebel angels from heaven.
We don't often read Revelation, and it is not the easiest book in the Bible to read. But it does portray for us that vision of heaven and the battles that have and perhaps still do happen between God and Satan.
St Michael and his angels are there in the thick of it! Defeating Satan as the great dragon, who was then thrown down to earth along with his own angels.
In fact the start of our story and not the end as Revelation happens to be in the Bible.
St Michael is an archangel and autumn is his time, so this is the time to remember how much he and his angels and in fact all of the angels of heaven are with us.
Just because we can't see them, it doesn't mean to say that they are not there.
A favourite prayer of mine;
I believe in the sun, even when it is not shining, I believe in love even when I am not feeling it and I believe in the Lord, even though I can't see Him.
The heavenly host is an amazing array of orders and complex arrangements. The angels that we know fit in around the bottom of this category, but it works like this;
There are nine choirs of angels; the first order being Seraphim, often  shown with three pairs of red wings, Cherubim, who have a single pair of blue wings and reflect divine knowledge, these are the ones who are often portrayed as the cherubic faces, and then the thrones, the seat of God and shining lights.
In fact, well maybe fact is not quite the right word as we delve into the realm of outer world beings, but angels are seldom seen and if they are they are only ever seen as shafts of light.
In the second order we have; Dominions, Powers and Virtues, mentioned by St Paul in his letter to the Colossians. Their role is harder to understand but they act as Lords and as the go between with God and the world, destinies fate, the cosmos…..
The third order where we are more familiar is the Principalities, Archangels and Angels. The Principalities are like princes and are often shown as soldiers in battle.
The Archangels are Michael, Gabriel, Raphael and Uriel, autumn, winter, spring and summer.
Then the angels, guardian angels, messengers….
We all have a guardian angel, somewhere, somehow, sometimes we can sense them and we know that they are there protecting us, guiding us and watching over our lives. I often think what a hard job that must be!
Then the messenger angels, there are a number of stories in the Bible where messenger angels appear the most famous being Gabriel, but messenger angels are around prompting, reminding communicating with us.
The heavenly host, with us in spirit, unseen, sometimes we can sense them, sometimes not. Sound evidence there is not, wishful thinking….. well that is why we have a faith, a belief that God is with us. And therefore it is not unreasonable to think that the angels are a wonderful way that God works with us.
The company of heaven, sounds like an organisation, doesn't it!
Not an earthly business at all.
A special evening and a chance to wonder and to believe. As autumn is heralded in and these wonderful warm days mark the end of our summer let us reflect on the angels, the heavenly host and St Michael.
Amen
O angel of God,
My guardian dear
To whom God's Love commits me here,
Ever this day
Be at my side
To light, to guard
To rule and to guide.
Anon
 August 20th, 10th Sunday in Trinity
Where your treasure is there will your heart be also 
Genesis 45:1-13, Romans 11:1-2,29-32, Matthew 15: 21-28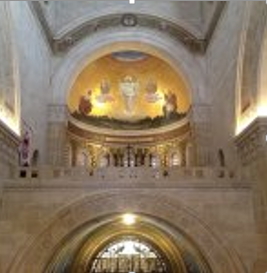 May I speak in the name of God, who is Father, Son and Holy Spirit.
I would really like to put my head in the sand and be an ostrich at this time. A few weeks ago I thought that was possible and that when I came up for air, then all this turmoil, evil happenings with awful things being said would have gone away and life would be more settled.
But it hasn't and there have been such dreadful events that they are now impossible to ignore. They are creating fear, despair, upset and rage and then what happens next?
If we can in our prayers, be with all those in Barcelona at the dreadful killings in Las Ramblas and also with those in Charlottesville USA.
At the Eucharist, we ask God to look with compassion on his family on earth, to break down the barriers that some want to erect between different people, counter the effects of evil in our time and be with all those who mourn and who have been involved in these sufferings.
What I am going to talk about is seeking those things which are above in God's world, getting rid of malice, fear, anger and wrath and being with God and God with us at every step of the way.
Although we cannot ignore the events in Barcelona or Charlottesville, I feel that evil is winning if we dwell on them too much. There are good things happening in our lives and we are indeed very fortunate.
Hence the saying, Where your treasure is there will your heart be also
 We are called to let people know that God is with us and that he does help us in times of trouble. But what we value and treasure is infinitely more important, than all that we have and own
In Genesis, we have the story of Joseph when he meets with his brothers in Egypt and they do not recognize him. It is a remarkable story as Joseph's brothers sold him into slavery to get him out of the way and away from their father as Joseph was his favourite and the others were jealous.
They did not expect to find him in charge in Egypt.
Joseph says to them that he wants them all to come and live with him and share in the food that they have. He asks them to return to Canaan and bring back their father.
Once the brothers realise that he means what he says and that he is not full of vengeance and anger and that he wants to share all that he has with his family, there is much weeping and a kind of joy that they will be together.
God also wants us to love and find peace with each other, to be reconciled with any disagreements, however hard they may be and that we don't use anger, vengeance, hatred, fighting, bad language nor anything else that will fuel unrest. It only leads to violence and that leads to more anger and fighting, and repercussions and still no further forward in finding the solution.
Rev'd Sue Martin
.
In Paul's letter to the Romans, Paul explains that he is also a descendant of Abraham and a member of the tribe of Benjamin. He goes on to say that for the sake of our ancestors and for ourselves we are shown mercy and we should be showing mercy in return. There is no value in creating hatred and it is not something God asks of us.
And in Matthew, we have an interesting piece from Jesus to explain to some of the Jews who were questioning him and wanting to find fault in his teaching as some of it went against the laws of the Jews. This passage comes after Jesus has been healing many people and the Jews are getting anxious about him.
"What comes out of the mouth proceeds from the heart and this is what defiles." In other words the words that we say who our true heart and understanding.
You know the sayings such as, 'Least said sooner mended,' Things that are said can't be unsaid', ' If you can't say anything good about someone then don't say anything at all.'
Our hearts are where our goodness lies and when we speak with others it shows!
In Matthew, the disciples tell Jesus that the Jews are not happy with what he is saying.
Today, we are hearing so much that is hard to listen too, and especially from people in power and authority. But we all have the ability to listen and to know when things that are said are full of anger and leading to hatred. Then it is time to walk away.
God asks us to follow Him, to be His people, to live in this world and in His ways.
So why do things go so badly wrong sometimes? Why do people commit such dreadful acts against each other? If you live in anxiety, envy, fear, anger, wrath, despair then things will go wrong.
When people in power struggle to maintain order and start to use weapons and tactics that will create all of the things above then it allows for all those wrong doings to take place, it finds a way in and if we are not careful it will find a way into our thoughts, our lives and our hearts.
If we live a peaceful life and we are called by God to do that, and if we look beyond this world then it is more hopeful that all will be well.
Where your treasure is there will your heart be also
Amen

The Parable of the Sower
Fifth Sunday after Trinity
July 16th   2017
St Nicholas Church Gayton, Norfolk
Readings Genesis 25:19-end, Romans 8: 1-11, Matthew 13:1-9,18-23
May I speak in the name of God, who is Father, Son and Holy Spirit
The Parable of the Sower – Rocky ground, thorns and good soil. We all have time with rocky ground, thorns and good soil.
I would like to tell you about my garden.
We have been living in our new house for nearly a year now and the garden is, well let's say it's getting there!
On visits to other people and on walks in this village and other villages I see gardens of all sorts.
I have a little categorisation going on in my mind about gardens:
There are those where everything seems to remain in neat and tidy order all the time. How does that work? I'm never really sure how that can happen?
And then there are those gardens where disorder has taken over completely, it could be in design or not sure how to make a garden or that life has become hard and the long worked over garden has just got out of control.
And then there are the gardens where plants are purchased from the garden centre at least twice a year and order is restored, or the gardens where shrubs and everlasting plants are intertwined with gravel paths and maintenance is very low, but the effect is okay, nothing needed to be done.
And finally the garden where children's games and toys are everywhere, plants are battling with the odd Buzz Light Year toy in the shrubs or tennis balls and footballs long ago punctured scattered across the garden. A grass lawn is usually there too, but with patches and areas where too many ball games have even worn down the grass.
The Parable of the Sower is a bit like modern day gardens. Jesus tells the story of how and where God can find his word present and alive. Jesus used parables as a way to explain the unexplainable, to give a picture in people's minds of how God can be alive in everyone and how sometimes we are all a little deaf to His voice
We all have time with rocky ground, thorns and good soil.
 'Some seeds fell on the path and the birds came and ate them up.'
 There are two pigeons in the garden which I have called Percy and Pauline, they love new seeds, even better they love nice young plants. We have many little garden birds too and they have enjoyed the seeds of the grass which we sowed and broadcasted over the garden many times, before the seeds were able to grow. Birds came from far and wide to eat the brittle, dry grass seeds.
Likewise, when a good message is passed through church or other people, how many times or how many people, just ignore, refuse to hear, and carry on with their lives?
'Other seeds fell on rocky ground, where they did not have much soil, and they sprang up quickly, since they had no depth of soil.'
Now our garden has some lovely plants in it and we have areas which we have dug out for vegetables and also for flowers. Near the bottom of the garden, we have a patch of ground which is in the shade and I suspect roots, of a silver birch tree.
We have planted some courgettes there and they are just not doing well. They have like the parable, no depth of soil.
They are trying, they produce leaves and flowers too, but as yet no courgettes, no fruit!
When people hear the word of God, for some people it is only a short word or it has little relevance to them for today and they listen, they take the point and try hard to believe, but it is not long lasting and they spend their lives in doing other things and not listening.
 'Other seeds fell among thorns, and the thorns grew up and choked them.'
In our garden, we do have some brambles with thorns in the hedge, but in the garden we have many thistles. Not sure where they have all come from but they keep appearing amongst the beans and the beetroot and are very sharp on the fingers. So I pull them up along with the choking weeds, bindweed, which wrap themselves around plants and climb up and up the stalks of the good plants, using their branches to reach out and grab other plants too.
If left with the broad beans for instance, they would have wrapped themselves around so much that the beans would have been unable to grow and certainly not to bear a crop of beans.
Our world today is full of things to go for, travel, clothes, IT equipment, cars, and on and on. Amazon can provide you with everything you need and deliver it by next day!! You never need to be without anything you need or would like. They will even let you have a credit card to buy it with.
Big caution here then…. Very useful at times and a real benefit to us living in the country. But there is so much more that we have in the message of God and his gift to us of the Holy Spirit, working within us.
'But as for what was sown on good soil, this is the one who hears the word, understands it and who bears fruit.'
 And so, in the garden we work on the borders and create some space for the flowers and the vegetables, we look after it and feed it, we try to keep the weeds at bay. We don't always get it right but we try and we give thanks to God for all that we do have.
Let's hope that we all bear fruit in some way and in some form. If we can do that at all, I think that God is pleased.
Our lives can be like our gardens and can reflect us in how we like to live our lives, and in what stage of our lives we are at; the trying very hard stage of developing garden, the neat and tidy stage, the children in the garden stage and the low maintenance stage.
And in all of those stages, God is present, from the little birds who survive through the seeds, to the courgettes which struggle and barely manage to keep going. We can survive all those stages, knowing the God is there.
We all have time with rocky ground, thorns and good soil.
 Amen
Rev'd Sue Martin
Sunday after Ascension
May 28th 2017
Readings Acts 1:6-14,  1 Peter,4:12-14, 5:6-11, Gospel John 17:1-11

'Like a roaring lion your adversary the devil prowls around, looking for someone to devour. Resist him strong in the faith.'  1Peter:5-8
The epistle this week is from Peter, who holds such a strong role although a fiery character by all accounts.
1 & 2 Peter are one of my favourite books of the Bible and show just how the Word that Jesus left us with becomes more than just the teaching of Jesus alone. 
Peter and Paul leaders of the church.
But what happens in the Bible now is interesting, we move on to Acts and find out just how the disciples move forward themselves, from Jesus being with them, to the resurrection and then into the heavens.
What was going through their minds I wonder, when 40 days after the resurrection he led them to Bethany by the Mount of Olives, and spoke to them for the last time, saying that they must stay close to Jerusalem until God speaks to them.
And then he is raised up into heaven and a cloud take him out of sight to be seen then with two men in white robes.
What were they thinking?
'I don't believe it!
'Come back, don't leave us now, I want to know a bit more….'
'You'll fall!'
And what did they hear from the  men in the sky,
'Men of Galilee, why do you stand looking up towards heaven? This Jesus who has been taken from you into heaven, will come in the same way as you saw him go into heaven."
Not unreasonable, I think to be gazing up as he was lifted to heaven. Not an everyday event really!!
And so they went back to Jerusalem to the room upstairs with all the disciples and women(general term!!) and Mary, Jesus mother and Jesus' brothers.
Peter, never short for words,was the first to stand up and started talking about the need for the scriptures to be heard and fulfilled.
In the gospel, John 17: 10, Jesus asks God to take care of those he leaves behind,
' And I am no longer in the world, but they are in the world and I am coming to you, Holy Father, protect them in your name that you have given me, so that they may be one, as we are one.'
And Peter as one of the lead disciples began his ministry, after Pentecost. He is an interesting character, because he had some very strong views and his know to have voiced his doubts and fears, but he was also a born leader and not afraid of saying what he thought.
Initially he was not in favour of bringing Christianity to the Gentiles and was a traditionalist by nature, but there were many times that Peter was shown to be able to support all people in their search for faith.
The first letter of Peter is written to Jewish and Gentile Christians throughout Asia Minor and is for people who were then, and for those now who are persecuted for their faith.
Both 1 and 2 Peter are written for those who are displaced, 'aliens and strangers' There are words of encouragement and to stand firm in their faith, not by being stoical and unchanging, but by remembering the great changes brought about in their lives.
This is why these books speak to me….. words of encouragement for those who are displaced or not included, and for the fears of knowing when things are going wrong and that many people like sheep are being succumbed into a false sense of security in their own lives and not willing to accept the 'other', the different ones, the aliens and strangers, the people fleeing from their own countries, the people seeking peace away from chaotic and dangerous lives.
In 2 Peter, we have his words, of a new birth, a new living hope, a sure inheritance. They are not worthless outsiders, but a 'chosen race, a royal priesthood, a holy nation… the people of God.
And take care. In today's world we are told of many things whereby, the 'other' is a worry, a disturbing presence, a threat, a challenge ot our way of life.
Whilst acknowledging a need for laws and protection in our country, spare a thought for those who;
Are today on the Mediterranean on a small boat, left behind all they know, and are seeking to get to Lampadoza off Italy, or for the Syrian refugees.
How can we help, how can we find ways to stop these problems for people? We can do if we are willing, but take care in when our attitudes and hearts become hardened.
Like a roaring lion your adversary the devil prowls around, looking for someone to devour. Resist him strong in the faith.'  1Peter:5-8
 Amen
Rev'd Sue Martin
Mary Magdalene
May 7th 2017
4th Sunday in Easter
Acts 2: 42-end
1 Peter 2: 19- end
John 10:1-10
The Good Shepherd looks after his flock.
 In John Ch 10 we have the passage from Jesus about entering through the gate, finding our way in to the fold, through the good shepherd.
Our journey with the disciples is moving on and they are preparing to deliver all that Jesus has asked them to do.
But a change for today as tomorrow is the day we remember Julian of Norwich, so I thought it would be a good time to talk about her and her work, and also a mention for Mary Magdalene!
This sermon is rather like a series of snippets of information about women in the church from the past.
"All will be well, and all shall be well and all manner of things shall be well." Julian of Norwich
Julian was well known in providing us with small sentences of words that can describe God's love, and how we should entrust to Him in all that we are and in all that we do. How important it is that we have words that can help us to stay there with God in all our life journeys and all that life seems to sometimes throw at us.
In our story of the disciples in  Acts, we are gradually losing sight of the women, they are gradually getting hidden from view, the women who journeyed with the disciples, and we have some different messages about these women, and it has really been intriguing me this year, more so than before; that we are being led away from them and into the world of the most famous disciples.
The first person that Jesus appeared to on Easter Sunday was Mary Magdalene and we hear this in John chapter 20.  Later we hear a reference in the first chapter of Acts, verse 14,
"All these were constantly devoting themselves to prayer. Together with certain women, including Mary, mother of Jesus, as well as his brothers."
There is a lot of evidence that Mary Magdalene did continue also to preach and to reach out to people, there is also strong evidence that she wrote a gospel, which was found in Egypt.
But let's move forward again to 1373, which is the date given for the birthdate of Julian of Norwich.
She is most well known for her sayings and her book called Revelations of Divine Love, which was the first book ever to have been written by a woman in English.
All shall be well, and all shall be well and all manner of things shall be well.
What joy there is in this phrase? It is used in different forms in other parts of the world too.
 Julian's real name is unknown and it is thought that she took the name Julian from the Church of St Julian of Norwich. She was an anchoress and a spiritual mystic and theologian and also a counsellor and advisor.
At that time it was difficult for a woman to be anything other than married. But what we know of Julian relates to the fact that she would have had a good education, possibly from the Benedictine nuns at Carrow. At that time Norwich was the second largest city in England and generally wealthy.
But there were a lot of plagues and epidemics at that time and it is thought that Julian may have become an anchoress as a way of being isolated from the world.
An anchorite lived in a small cell within the church and was provided for by the church, but was not able to leave the cell, but spent time in devotion and prayer.
When Julian was 30 and still unmarried and living at home she became very ill and was given the Last Rites by the priest. It is said that she had visions of Jesus when she looked at the cross in front of her and that as a result she became better but was moved to become an anchoress and to devote her life to Jesus, in prayer and devotions.
I have to admit, that I could never envisage a life being shut away, shut away from people and the world. I have often said to myself how can that be anything to do with spreading the word of God, how can that help ourselves and others by being left in isolation?
A few years ago now, I went on pilgrimage to Avila in Spain and we were following the work of St Teresa of Avila, who was very influential in the Carmelite movement.
As part of our pilgrimage we went to a Carmelite convent, way out in the country.
We stopped our coach about half a mile away and walked in silence to the convent. It stilled our chatter and allowed other things to happen.
When we arrived at the convent, one of our pilgrims, who spoke Spanish offered to speak to a nun, if she would be allowed to do that. The pilgrim was Rev Adrian Ling, now Rector of All Saints King's Lynn.
We all sat quietly excited in a very small room, with one window and then an opening, well an opening that had metal bars on our side and the walls were about 2 feet deep.
From the other side of the wall a scraping sound was heard and the wooden divide was taken away and only a curtain remained in place.
A very quiet and peaceful voice spoke to us in Spanish.
Father Adrian engaged her in conversation and we were all able to ask questions and it was truly delightful to hear that her life was one of joy and happiness.
But the question that remains with me was when she asked Father Adrian what was really on his mind a he had not asked a question himself.
He probably asked the 'elephant in the room' question that we were all waiting to ask.
Do you not want to go out and meet people?
Her answer was very simple.
Why, would I want to do that when I can speak directly with Jesus where I am? I live in peace here, I have all that I need and I can act as a channel for all that God wants me to do.
That acting as a channel for God's love is so important
Back to Julian of Norwich;
Julian of Norwich is known for her sayings, she is often quoted and has many references to her on cards and prayer. She has certainly through her book Revelations of Divine Love, spread the word of Jesus. She has a power to reach out to us still today.
I understand that her life and the life of all that live in isolation and in monastic orders, is not for everyone. But without that life, we would have missed many chances to hear God's word to us all.
If you have chance, find out more about Julian of Norwich.
And if you can remember this one small quote, it will serve you well;
"All shall be well, and all shall be well and all manner of things shall be well." 
 Amen
Rev'd Sue Martin
Hurricane Doris  February 26th 2017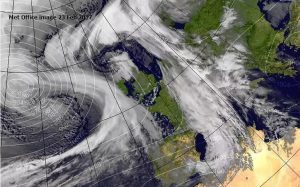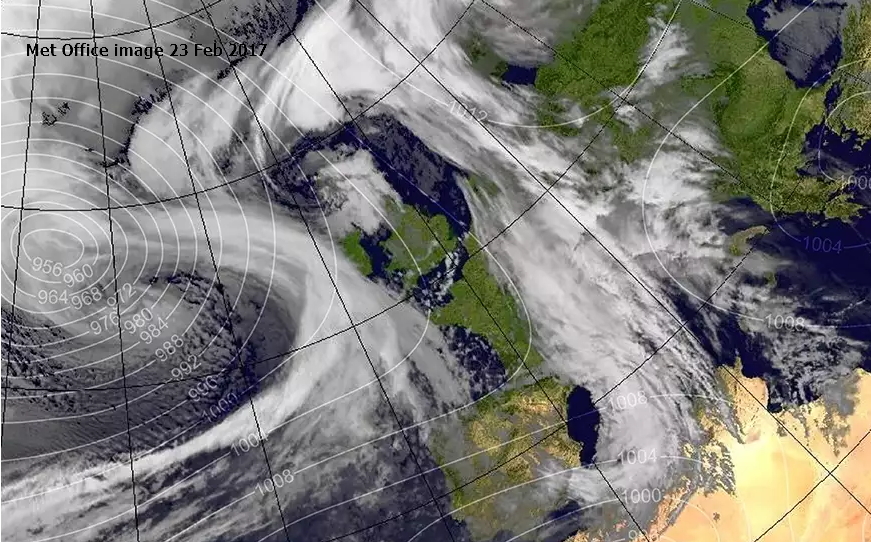 Sunday before Lent
Exodus 24:12- end
2 Peter 1: 16- end
Matthew 17:1-9:1-10
A lamp shining in a dark place, until the day dawns and the morning star rises in your heart.
Hurricane Doris was horrendous, lights went out across the country, buses blown off the roads, trees crashed to the ground and homes and gardens strewn around. I hope that there wasn't too much damage for each of you.
Seeing is believing some people say.
But that is not the whole story is it? Our readings this week are wonderful and give us a real picture of things that we can't always see. But we have been told!
We can't see the wind. We can feel its effect, every day we know which direction the wind is blowing from, how strong it is and what kind of weather it will bring along the way.
The passage from 2 Peter is very powerful. Peter does not shelter us from the wind or from what we should be doing.
'You will do well to be attentive to this as to a lamp shining in a dark place, until the day dawns and the morning star rises in your hearts.'
Be attentive to what?
Should we have for instance have listened to the weather forecast more carefully, should we have listened to those who have written scripture before? The answer is yes, of course.
In Exodus, Moses is taken into that cloud on the top of Mount Sinai and heard God calling him, so went into the cloud, and the people of Israel saw what looked like a devouring flame. In the forty days that Moses was on the mountain God talked to him with some very detailed information about what the Israelites should do.
Peter tells us that we have been given the message, the prophecy is clear.
I am often asked as many Christians are, How do you know that there is a God, where is the evidence?
Well it is right here in the Bible.
It is also here in our everyday lives, in the wind that blows so strongly, in the calm that came after the storm.
Sometimes we can feel it. And sometimes we cannot. But it doesn't mean that it has gone away. God's presence is always with us, with those he loves and with all people who listen to his word and those who struggle too.
I do believe that there are places and times when God's presence through the Holy Spirit or his angels is stronger. Just because we can't see doesn't mean that his presence is not there. Angels surround us as we go through each day.
And what about the gospel reading from Matthew… I was fortunate to visit the Holy Land with the Bishop of Norwich and a party of curates and other people, two years ago.
We went to the place where Jesus was transfigured and in the presence of Moses and Elijah. The chosen disciples saw and were astonished by what they saw.
But there was more, a cloud appeared and the voice of God said,
'This is my Son, the Beloved, with whom I am well pleased; listen to him.'
The disciples were overcome, we are told with fear, and sometimes there are reasons why we can't see everything!
Peter had wanted to build 3 dwellings, as always he wants to do something, strongly wanting to do something physical. But that was not the plan.
There are now however, two amazingly beautiful churches on the site. There are taxis and buses bringing people up and down the mountain all day. And the view over the plains and Nazareth are stunning.
When we were there, we were able to have a service in a covered area to the side of the churches. It was a wonderful Eucharist. We sang and said prayers and felt a strong presence around us. A gentle wind rustled the paper cover and increased quickly at one stage.
A wind that we could feel, a wind that blew around us, a wind that felt good.
Like a lamp shining in a dark place, until the day dawns and the morning star rises in your hearts
In Matthew the passage continues with Jesus telling the disciples not to tell anyone of what they have seen until after the resurrection.
I think that would be a bit like reading a story and jumping to the end with reading all the chapters in front, it doesn't make as much sense.
Amen
Rev'd Sue Martin