The picture of boys in India praying for boys in the cave.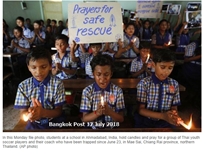 This is a story that went straight to people's hearts, the successsful rescue was everybody's hope. What does it tell us…
There is the respect for human life.
There is the willing of nations and ordinary people for a successful rescue.
There are the rescuers with their expertise and determination that this is just their job. But one of them lost his life.
The parents who laid no blame on anyone
The boys who showed such courage and strength.
The coach who had led them into the cave and it had all gone horribly wrong.
Read more in Sermons 2018
Rev'd Sue Martin