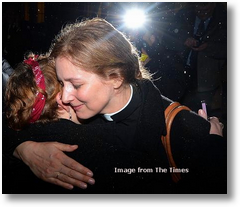 What happened to the vote, how does 72% overall in favour mean that the legislation was defeated?
Everyone is reeling this week with the news that General Synod, the top section of the Church of England's structure, have seemingly voted against the position of women bishops. In brief there are three houses and each has to have a two thirds majority. All had gone fine until the House of Laity, who did not return this majority.
What a disaster!
In 2012, with a church that has women priests, the common sense and equality approach, would see no reason why women are not treated the same as men!
Theological, a minority of people including conservative evangelicals, feel that it is not right.
If we are all working in the affirmation, love and welcome of God through the world, then surely it must be time for us all to have an equal position and worth.
There is much anguish, frustration and disappointment.
The Bishop of Norwich has written to all across the Norwich Diocese and expressed the need, now, to be more united as a church, to work and pray for a resolution.
In the meantime, women and men together in ministry continue to bring the good news to all in the parishes and beyond.
Rev'd Sue Martin
Curate in Gayton Group of Parishes