Hoi An in Central Vietnam – a place of transforming light, colour and peace.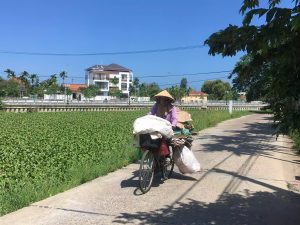 In October 2019 I travelled to Hoi An in Central Vietnam for a short stay. A time to find some peace and relaxation, time to off load a little. My own cycling adventures in Hoi An were not so overloaded as the girl with the bike, but somehow she reminded me of myself… valiantly carrying with a smile on her face.
The Vietnamese people are very peaceful, determined and friendly. Couldn't resist the lady offering boat rides for £2.oo.
It has taken me a little while but I have included in Faith Goes Walkabout sections with a new style presentation.
Central Vietnam is a great place to visit if you have the chance.
Rev'd Sue Martin