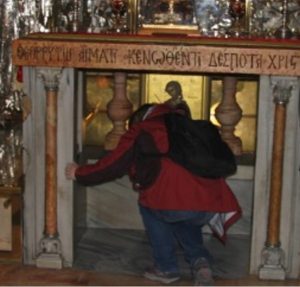 The image is of the foot of the cross in the Church of the Holy Sepulchre in Jerusalem, which was built over the site of the crucifixion and Golgotha. We visited the church on our pilgrimage in 2015 and a fellow pilgrim took the photo of me, I was unaware at the time.
Arriving at Good Friday, the story of Jesus takes its inevitable twist into suffering and the passion of our Lord.
If we had been there would we have acted any different to the crowd? Maybe at best we would have walked away.
We know that Jesus was left by his disciples and followers as they hid from the soldiers and the baying crowds. But what would we have done?
When I survey the wondrous cross
On which the Prince of glory died.
My richest gain I count but loss
And pour contempt on all my pride.
Were the whole realm of nature mine, That were an offering far too small; Love so amazing, so divine, Demands my soul, my life, my all.
Isaac Watts(1674-1748)
Rev'd Sue Martin