Christmas 
A time of festivity, of giving, a time of love and laughter, of friendship and togetherness.
Twinkling lights in the midst of darkness, presents and gifts, trees brought in the house and traditions to mark this special time.
Christmas, the time when we celebrate the birth of Jesus, Son of God into the world.
Christ among us.
The story of the Nativity, the journey of Mary and Joseph, the manger and the stable, the shepherds on the hillside, the wise men travelling from afar.
The brightest of stars marking the place where Jesus lay in Bethlehem.
But why did he come to us? Why didn't he appear amongst wealth and fortune like other kings?
He was born to be amongst us, to be with all people, and especially for those most in need.
And one of the best things to do this Christmas is in some way to remember and help people where life is hard.
So turn on the lights, eat the mince pies, deck the hall with bows of holly but don't forget what it's really about.
 Christmas Day
A star, a stable and lots of sheep.
Midnight Mass Christmas Night 
Readings:     Isaiah 9: 2-7   Luke 2: 1-14
May I speak in the name of God, who is Father, Son and Holy Spirit.
…. The Word lived amongst us… full of grace and truth. The best present ever and it's all true!
What a lot of preparation, wrapping paper and twinkling lights. There is one thing that is inevitable about Christmas and that is that on December 25th it finally arrives, Father Christmas will have made it to most homes, presents now pretty well all wrapped and let's get on with the food.
But what is it about Christmas that actually makes it special? What is it like when all the presents have been unwrapped, put away or exchanged at the store? Where is Christmas actually happening?
How did it happen that the most celebrated Christian festival became a huge spending and shopping extravangaza! Cloaked in amongst all the presents and gifts are the things that make this such an important time.
At church we celebrate the fact that more people come to church than at any other time in the year. People's lives are increasingly busy and packed to the gunnels with activities, work, caring for families young and old, never any time, never a minute to spare.
'Lo and behold' we get to Christmas Day.
And that's important!
The Nativity, Jesus born among us, a light to the world, a star, a stable and a lot of sheep.
Not the sort of entrance a king normally makes, but then this king is different.
Luke tells the story of the Nativity beautifully and our reading reminds us of all that we have heard in the last few weeks and being prepared for.
Remember the innkeeper? So many people looking for a place to stay and at last an innkeeper hospitable enough to let Mary and Joseph stay in the stable.
Each of us is an innkeeper who decides if there is room for Jesus.
How would we recognise Him if he asked to stay?
The Jews weren't actually expecting a baby for their king. Prophets had long ago foretold the birth of Christ.
But it was still a shock when it actually happened, in a stable, to a young woman and to a family who were refugees.
How do we not turn ourselves away from refugees and people without a home today?
And now we are asking Jesus and God to be with us, be born in us today…
But a verse in O Little Town of Bethlehem says it all for me.
O Holy Child of Bethlehem
Descend to us we pray
Cast out our sin and enter in
Be born in us today
In a world full of sin and in today's world, an ever-growing awareness of dark deeds/evil at work, this message is a powerful as ever it was over 2000 years ago.
Each of us is an innkeeper who decides if there is room for Jesus.
And tonight, this Holy night…we come together to receive the sacrament and to celebrate the Birth of Jesus, God sending his only Son to be among us. And by receiving the Holy Spirit into our hearts we can not only celebrate the birth but feel a part of God's plan in this world.
John 1, v 14…. The Word lived amongst us… full of grace and truth.
The gift of love, given by God.
God has become visible, for my sake and for your sake. Things hadn't been going well 2000+ years ago, drastic action was needed.
Jesus, God, visible for all to see and to encounter the truth.
…. The Word lived amongst us… full of grace and truth.
But yet his people knew him not… And do we know him now? There actually is a lot of good work going on? Despite what we are sometimes told, I try to hang on to those pieces and remember them, for it's in that knowledge that we can still find the love and grace. Jesus was out there, at the front of all that good work years ago, we can  carry on that good work.
But tonight is not about work it is about that gift of love…
The gift of love given by God, grace is divine love, and this is freely given.
The love of God is a gift and our lives are fundamentally held in that love.
It does not have barriers or warnings; it is not a …I will love you if you do this type of love… it is freely given and we live in that grace and truth. It is like a warm core to our being with security and strength, unconditional love.
There for us. The Word made flesh. Full of grace and truth.
In a Christmas speech from Archbishop of York, John Sentamu, says'
'When God created the world he said, we weren't created to be individuals. Human beings were made to be a family, with God as our Father, who loves us. And that's why he sent his Son to live among us, to share our lives and to remind us of his love."
We fill our lives with so many trivial things that we often fail to value what is important. Remember its Christmas not Sress Mas.!"
We have been given so much by the birth of Jesus Christ into the world, we we know the story. It's the best story ever and it's all true!
Every Christmas we hold the story of the Nativity in our minds and even more importantly in our hearts.
Let's go out with that as a thought today, let's have some space to be ourselves and know that God is with us, here for you and here for me.
Each of us is an innkeeper who decides if there is room for Jesus.
There for us. The Word made flesh. Full of grace and truth.
Happy Christmas 
Readings which tell the story from the Bible.
FIRST LESSON
Isaiah looks forward to the coming of the Jesus.     Isaiah 9
The people that walked in darkness have seen a great light: For those that live in a land of darkness, a light will shine. For to us a child is born, to us a son is given: and the government shall be upon his shoulder: and his name shall be called Wonderful, Counsellor, Mighty God, The everlasting Father, The Prince of Peace.
SECOND LESSON
God's message to the Blessed Virgin Mary.     St Luke 1
And in the sixth month the angel Gabriel was sent from God to a city of Galilee, named Nazareth, to a virgin whose name was Mary. When the angel entered her home, he greeted her and said, "You are favoured by the Lord! The Lord is with you."
She was startled by what the angel said and tried to work out what this greeting meant. The angel told her, "Don't be afraid, Mary. You have found favour with God. You will become pregnant, give birth to a son, and name him Jesus. He will be a great man and will be called the Son of the Most High. Your son will be king of Jacob's people forever, and his kingdom will never end
"How can this be," Mary replied, "seeing that I have no husband?" The angel answered her, "The Holy Spirit will come over you, and the power of the Most High will surround you. Therefore, the child will be holy and will be called the Son of God "I am the Lord's servant," Mary answered. "May it be to me as you have said." Then the angel left her.
THIRD LESSON
The birth of Jesus.     St Luke 2
At that time the Emperor Augustus ordered a census of the Roman Empire. And all went to be registered, each to his own town. And because Joseph was from the line of King David, he had to go to Bethlehem.
He travelled there from the village of Nazareth in Galilee .to be registered with Mary his future wife, who was going to have a baby.
And while they were there, the time came for her baby to be born. And she gave birth to her firstborn son, and wrapped him in cloths, and laid him in a manger; because there was no room for them in the inn.
FOURTH LESSON
The shepherds go to the manger.     St Luke 2
That night there were shepherds staying in the fields nearby, guarding their flocks of sheep. And an angel of the Lord came to them, and the glory of the Lord shone around them, and they were filled with fear.
But the angel said to them, "Do not be afraid. I bring you good news of great joy for all the people. For today in the city of David there has been born for you a Saviour, who is Christ the Lord. You shall find the baby wrapped in cloths, lying in a manger.
Suddenly, a large army of angels appeared with the angel. They were praising God by saying,, "Glory to God in the highest, and on earth peace, good will toward men."
When the angels had returned to heaven, the shepherds said to each other, "Let's go to Bethlehem! Let's see this thing that has happened, which the Lord has told us about." They hurried to the village and found Mary, and Joseph, and the baby lying in a manger.
FIFTH LESSON
The wise men are led by the star to Jesus.     St Matthew 2
Jesus was born in Bethlehem in Judea when Herod was king. After Jesus was born wise men from the east arrived in Jerusalem. They asked, "Where is the one who was born to be the king of the Jews? We saw his star and have come to worship him."  When Herod the king had heard this, he was troubled.
He called together all the chief priests and scribes and tried to find out from them where the Messiah was supposed to be born. "In Bethlehem in Judea," they said,
Then Herod secretly called together the wise men and found out from them the time the star had appeared. And he sent them to Bethlehem, and said, Go and search for the young child; and when you have found him, tell me, so that I may come and worship him also.
When they had heard the king, they left; and the star they had seen in the east went ahead of them until it stopped over the place where the child was. When they saw the star, they were filled with joy!
And when they went into the house, they saw the young child with Mary his mother, and fell down, and worshiped him: They gave him gifts of gold, and frankincense, and myrrh. And being warned in a dream that they should not return to Herod, they left for their own country by another road.
SIXTH LESSON
Jesus Christ the Very Word of God.     St John 1
In the beginning was the Word, and the Word was with God, and the Word was God. He was with God in the beginning. God created everything through him, and nothing was created except through him. In him was life; and the life was the light of men.
The light shines in the darkness, but the darkness has not understood it.
There was a man sent from God, whose name was John. He came as a witness to tell people about the light, that all men might listen to him and believe. He was not the light but was sent to tell people that the true light that gives light to every man was coming into the world.
He was in the world, and the world was made through him, yet the world did not know him. He went to his own people, and his own people did not accept him.
But to all who believed him and accepted him, he gave the right to become children of God. The Word became human and lived among us. We saw his glory. It was the glory that the Father shares with his only Son, a glory full of grace and truth.
Thanks be to God
Prayers
When the song of the angels is stilled
When the star in the sky is gone
When the Kings and princes are home
When shepherds are back with thei flocks
The work of Christmas begins.
To find the lost
To heal the broken
To feed the hungry
To release the prisoner
To rebuild the nations
To bring peace among people
And to bring love to the heart
Grant, heavenly Father that as we keep the birthday of Jesus,
he may be born again in our hearts and that we may grow in the likeness of the Son of Man.
Baby Jesus we have come to find you
in the stable at Bethlehem.
May we love you as Mary loved you
May we serve you as Joseph served you
May we worship you as the angels worshiped you
Jesus our king.
Places to look
For an excellent blog, video and carols from the cathedral visit
http://www.elydiocese.org/achristmasmiracle
For the Christmas story
https://www.dioceseofnorwich.org/article?id=2231
Favourite Story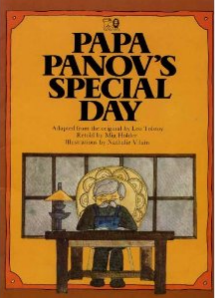 Papa Panov by Leo Tolstoy,
A long time ago, in a small village far away lived an old shoemaker called Papa Panov….
See a smaller version of this marvelous story from Bingham Parish Church
Papa Panov works all day waiting for Jesus in the street…. he thinks he never comes, but he helps people on the way…. and Jesus does stop by.
Image courtesy of  Back Door MInistry