Advent – It's time to get Ready!
Advent 4 – Mary and Angel Gabriel
2 Samuel 7:1 – 11, Luke 1: 26-38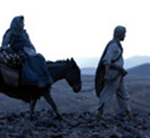 Love, openness and forgiveness
 Image courtesy of BBC Nativity 2010
What vision of Mary do you have in your mind?
What kind of picture of this young mother do you have?
Is it that serene and graceful woman, often shown much later in life that Mary actually was, gazing with love and awe at baby Jesus?
Or is it of a good looking young girl, with lots of dark hair, and full of character, wondering how, where and why she has been given this enormous and immensely special task?
The BBC series last year on the Nativity had an amazing portrayal of Mary. And it brought in so many aspects that would have been there but are not mentioned; how on earth was she going to tell Joseph, what would her parents think, how would their friends and the village understand, what would the rabbi and the synagogue say?
In Luke, we are told that the Angel Gabriel visits Mary and says, 'Greetings Mary, the favoured one? The Lord is with you.'
Why did God chose Mary?
We know that she often visited the synagogue and was a good Jew, but we know little about her family and upbringing.
Betrothed but not yet married, Joseph a good and honest carpenter and of the family of David.
I think it is something about God being with us all, we are not dependant on status, wealth or other worldly marks of being better than others. God had decided to send his only Son for all people and to show that he cared and loved even the weakest and poorest amongst us.
The story goes on with the shepherds, the travel of Joseph and Mary to Bethlehem on a donkey, the birth at the stable, the wise men from the east, who were not Jews.
Ordinary people, ordinary places, young girl and husband to be, travelling late at night.
And so God gives Mary this huge task. And in the TV programme we see her struggling with this, she does not know what it means, or how it will work out, but she accepts the call and answers Gabriel with,
'Here I am, the servant of the Lord, let it be with me according to your word.'
Later on in the story Mary goes to visit her cousin Elizabeth, to find out if she also is expecting a baby as Gabriel had told her. They talked together and the Magnificat was said between them by Mary.
It says it all about this young girl, about love and acceptance, openness to hear God's word and be in the right place to carry out God's call and forgiveness for all those who were unable to understand what was to take place.
And in the background must have been Joseph, waiting for her return, anxiously and to get ready for their marriage together.
I would love to have known how he did feel when Mary returned carrying a baby in her womb. A man at that time would have found this very difficult. When did he start to also believe that Mary had conceived through the Holy Spirit?
In Matthew, chapter 1 verse 20, we hear that an angel appeared to Joseph. Joseph was about to release Mary from her betrothal. What anguish and pain had gone through their minds? He was going to do this quietly so Mary was not exposed to public disgrace.
Public disgrace! Son of God about to be born and into public disgrace!!
What does this say about so many rules that there are?
The Magnificat , found in Luke; a song of joy and celebration, the sharing of a dream, all nations and all people to be blessed and it was about to happen. Definitely something to shout about!
Luke 1
My soul doth magnify the Lord :
and my spirit hath rejoiced in God my Saviour.
For he hath regarded :
the lowliness of his hand-maiden.
For behold, from henceforth :
all generations shall call me blessed.
For he that is mighty hath magnified me :
and holy is his Name.
And his mercy is on them that fear him :
throughout all generations.
He hath showed strength with his arm :
he hath scattered the proud in the imagination of their hearts.
He hath put down the mighty from their seat :
and hath exalted the humble and meek.
He hath filled the hungry with good things :
and the rich he hath sent empty away.
He remembering his mercy hath holpen his servant Israel :
as he promised to our forefathers, Abraham and his seed, for ever.
Glory be to the Father, and to the Son :
and to the Holy Ghost;
As it was in the beginning, is now, and ever shall be :
world without end. Amen.
And now as we get very close to Christmas on this last Sunday in Advent it is a wonderful time to think about all the good news that Mary brings for all people, her love and openness, her acceptance and trust, her forgiveness and perseverance and her answer to God's call.
Amen
Revd Sue Martin
Shepherds, Sheep and Angels,
Advent 3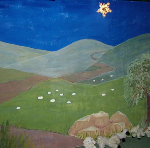 Isaiah 7: 1-7
Matthew 1:18-25
Image from Christmas Journeys
Advent as the season we are well into now and looking forward to Christmas, only a week away. Still time to do all those unimaginable jobs that need to be done, or if you are anything like me, still time to make the mince pies and finish the shopping.
So this morning let's first of all slow down the advent season and take a little time to look inwards and at our hopes and fears for the years ahead,to look outwards at a world in need of hope, both in this country and abroad and to look towards God for his direction and love.
In our reading we hear about the conception and Joseph hearing from Mary that she is with child. There must be so much unsaid in this passage, but we know that Joseph stands by Mary and accepts all that he has to do. Quite a stalwart is Joseph, quite like the shepherds on the hillside, stoical and carry on with life at the pace that they know. No rush and no panic.
So what a surprise when the angel Gabriel appeared to the shepherds on the hillside that night near Bethlehem.
Shepherds the lowliest of the low, the people who were not of any kind of social class. But the first people that God chose to spread the message.
The passage below is thoughts on a Meditation of one of the Shepherds, taken from 'Lighten our Path' by Nick Fawcett, 2005, Kevin Mayhew LTD
Surprised?
I should say so!
It's not every day, after all, that the God comes calling,
announcing the birth of the Messiah-
and as for us to be the first to hear of it, the first to respond,
well, quite simply, the very thought still takes my breath away.
But it wasn't only the surprise we felt-
it was also the fear, awe and amazement,
none of us quite knowing what to expect or to do next.
You see, one moment there we were,
going about our usual business- another uneventful nights work-
and the next, everything was different,
an incredible light filling the sky,
brighter than the brightest day,
seeming somehow to shine deep within,
searching, yet full of promise,
probing into the deepest corners of our minds,
yet at the same time speaking of joy, peace, love and hope.
And after the light had faded, and we'd hurried off to Bethlehem,
then the full wonder of it became clear.
For in a ramshackle stable,
there among the hay
watched over lovingly by his mother and father
was a child
lying in a manger and wrapped in swaddling clothes,
Just as the angel had said.
And there was a light about that place that spoke again of God's presence there
as real and vibrant as  in those fields earlier.
Amen
 Advent 2   All Out of Darkness we have light
Isaiah 11: 1-10   Matthew 3 : 1-12

All out of darkness we have light
Which made the angels sing that night
Glory to God and peace to men
Now and for evermore. Amen
Days are getting shorter and nights are longer, darkness seems to enter every nook and cranny. Am I making it sound too gloomy, that's good then, because for a while it does get worse, winter has only just begun, wait until January or even February.
Will we still be freezing cold and will we be staying indoors. Will we be trying to think of brighter days and warmer weather?
I have to admit that if I were some other creature rather than a human I would either be migrating away somewhere or curling up in a ball and hibernating. I don't think winter is for me. Too much cold and too little light can make you seem weary even when you have done very little.
So how come that this is a good time for the birthday of Jesus? Wouldn't it have been a better idea to have celebrated the Big Event in the summer sunshine.
Why didn't God think of that one? What did he have in mind?
Well, without getting into too much Job and despair it's quite simple.
The 2nd Sunday is about God honouring his promise to bring light into the darkness.
All out of darkness we have light….
C S Lewis describes the effect of no light in winter well in The Lion, The Witch and the Wardrobe.
'You see Lucy, the white witch cast a spell and now it is always winter in Narnia and never Christmas.' said the faun to Lucy,
Always winter and never Christmas. No light in a dark and cold winter.
So no wonder that God chose this time of year to bring his son into the world.
This is also St Nicholas day, patron saint of children and well known for his part in Christmas, Santa Claus.. But also patron saint of Russian and of pawn brokers and women in distress!
The story of St Nicholas who saved three sisters from a career on the streets. They needed a dowry before they could marry, but their father had no money for that. The story goes that St Nicholas climbed into the house, through the window, rather than the chimney and left money for them so they would be able to marry.
A story of giving and bringing some light into people's lives.
In Isaiah we have
' Though darkness will envelope the earth, seemingly impenetrable, his light will shine upon you.' Is. 60:2
And in our own hearts we all have deep times of despair, times when all the world looks so black and the depths of the blackness are unending, a darkness beyond imagining. What a good place for evil to take root, or maybe it's already there. A time when we're all vulnerable, but take care as in Peter
' The devil prowls around at night, waiting like a hungry lion for someone to devour.'
So make sure it's not you!
Look to the light that is with us in Jesus. We remember now that in just over 2 weeks we will be celebrating the birth of Jesus and nearly the whole world will be stopped in family time and in celebration. Of course for some it is the most difficult of times, families separated through whatever reason, older people now on their own and so sad, families who have lost those dear to them…..
Let's try and be sensitive to those we know will find it hard this year….
Our Advent wreath. A reminder of what it means,
The ring of evergreen with the five candles, four in the circle and one in the centre.
The circle reminds us of God Himself, no beginning and no end, holding together and supporting our lives. The green is a symbol of hope, of eternity, of renewal and of eternal life.
The candles of course symbolise light, the light of God coming into the world through Jesus Christ.
The first candle is that of Expectation and Hope and also of prophecy, into the world. The second candle to remember John the Baptist and the birth of Jesus, a light out of darkness, the third to think of Mary and this candle is often pink, the fourth for the Magi and the shepherds.
The centre candle is lit on Christmas Eve or Christmas Day, to remind us of the birth of Jesus.
I would like to use these as themes for the sermons as a we gradually get closer and closer to Christmas. Advent is a beautiful time in the church year, marked by the colour purple and that special time to reflect and to think about the wonder of that Christmas gift so special to us all, the greatest gift of all.
So Let's get ready!
There's lots to do, lots of carol services to prepare and get ready for. Lots of mincepies to make, cakes and puddings too.
But the Biggest thing is ' It's someone's birthday!! some carols playing.
Cast away the darkness and move into the light.
And to finish a verse from John 12:46
' I have come to bring light into the world, so that everyone who believes in me will not remain in darkness."
It doesn't get better than that!
Amen
Revd Sue Martin
Advent 1

Isaiah 2:1-5, Matthew 24:36-44
Advent literally means the arrival or the coming.
Just as it's getting darker and darker with the nights getting longer and longer, we start thinking about the light of the world;
All out of darkness there came light,…
The light of the world has come among us to cast away the works of darkness and put on the armour of light from the collect.
What does that all mean, darkness, the works of darkness, the armour of light?
The world had been in a place where things were not going well, God had become very unhappy about what was happening on earth. No one appeared to be listening to him, so he decided to send his Son.
And here we are in Advent, getting ready, thinking about Christmas day and for us, as Christians seeking the message that comes with the arrival and birth of Jesus. So what do we do! How do we get ready?
Being prepared! Always a good plan. Are you one of those people who are prepared and ready or are you like me and never quite there yet! Somebody one said to me, "You must work well under pressure"
In the readings we hear much about the telling of the coming of Jesus, both in the arrival into the world in the stable amongst people who were not expecting this and through Mary and Jesus, far from their home.
The spirit of Advent is one that I love. That expectation, preparation and getting ready, always a time of hurriedness and a feeling that there is never enough time to get it all finished.
But is that not some of the joy that goes with it. Knowing that whatever we do we can never do enough to be ready for such a big occasion. It leaves us as humans forever in awe and forever in amazement that God did send his only Son for us.
Whatever can we do to get ready for that?
We can make sure that we don't forget the important part, the hope and the light, that eternal promise. Looking for that person who is going to make all the difference.
Advent is a time for us to be reflective and find a little space to get ourselves ready. In the longer nights and the darkness that surrounds us, a good time to find a quiet corner somewhere or maybe a longer walk in the village or the countryside.
What are we doing to get prepared, what can we do?
We can rush around and make sure we have all the jobs finished, they will eventually be completed. Or we can add more and more every year until we overload completely.
But at what ever stage you and myself do get finished and feel that we are ready,
then that is the time when I think that Christmas actually happens.
We can think about what it means to have a saviour in Jesus Christ, born for us all, born to save us from our sins and to be a light to the world.
And when Christmas actually comes, I will be sitting down, beside the fire, usually with a children's book related to the Christmas story, a mince pie and a glass of warm wine and some carols playing.
So lets get ready, lets be prepared for Christmas. Lets get all the work finished.
But it won't always happen neatly when we are expecting it.
The most difficult times don't come when we have all the trimmings in place.
In our selves and in our souls we should be ready whenever we are called……Don't put it off any longer, be ready, keep watch, all the spiritual gifts that you have been given look after them and keep them safe.
If we can help others to see the light too, the light beyond the sparkle, beyond the twinkling lights that's great.
And then is the time to think and be prepared for all that we are about to receive, and to remember about that special night in the stable in Bethlehem.
Amen