At the 2 minute silence, my thoughts were in small pieces, sound bites ! They were…
On a school visit to the trenches, the tiny distances that were fought over, yet the huge space of the battles in Northern France.
The Canadian War Memorial in Arras, so many name and all those graves.
The medals that were won, the pride, the courage and the hope.
The Second World War and places like Dresden, destroyed, our own cities too,
The whole concept of a concentration camp, people I knew who escaped over here and sought refuge.
The army, the RAF and the navy, everyone doing their bit, the land army too.
Captain Tom Moore British Army officer and fundraiser who made international headlines in 2020 when he raised money for charity in the run-up to his 100th birthday during the COVID-19 pandemic. One mile a day!! We were all touched enormously by the strength and determination of this amazing man of stamina, both physically and mentally.
It isn't always in the huge things that are done but  in the small things done with great heart.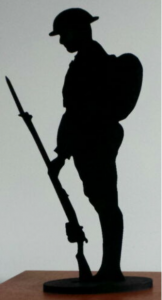 Read more in Sermons 2021
Rev'd Sue Martin Diocese of Norwich