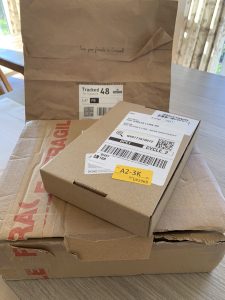 There is something in me that doesn't want to mark 2020 as the Covid Year. It feels like it would have won and I am too positive a person to let that happen.
As yet another brown parcel arrived on the doorstep I knew what last year heralded for me… parcels, gifts, packages, usually ordered by myself, but that didn't matter when they arrived on the doorstep by the kind delivery person taking a photos of the doorstep. I always wave and say thank you as they rush off to their next delivery.
2020 The Year of the Parcel!
Epiphany is about gifts, being given such a present of Jesus,  that we are full of awe and wonder. We move on from Christmas. We move on with the light of the world. We know many don't have that joy and move on to more disruptions, tweets, news broadcasts and the endless 'bad news' that seems to win audiences.
I suspect the Year of the Parcel will carry on, in fact it may be a life changer. Even the smallest things can arrive in a brown parcel, but they can be just what you need!
In the midst of this pandemic we can all receive a gift, whether wrapped up in brown paper or knowing that the light of the world came among us, let's journey on into Epiphany beating this virus and knowing that gifts are the way forward!!
Rev'd Sue Martin