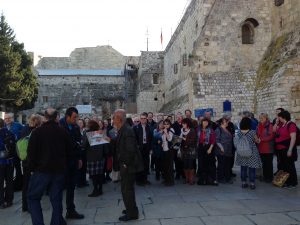 The famous journey to Bethlehem must have started about this day. Mary and Joseph travelling alone to be registered.
Our vision of Bethlehem is of the city outlined against the starry night sky.
Today many people are trapped behind the huge walls in Bethlehem that have surrounded them, and from which they are not able to get out, apart from through the guarded roadside posts Palestinians.  Both Christian and Muslim have little access to making a livelihood for themselves.
I met Mahmoud in Manger Square, and still have the embroidered phone case which his wife had made and which he was selling. He refused to take money from me as we had talked and talked! He used to work in Jerusalem as a builder but now finds no work at all trapped in Bethlehem.
This is still the place where we will find the Christ child, in the places where people struggle and lifes torments are most acute and long lasting.
O Little Town of Bethlehem., how still we see thee lie,
Above the deep and dreamless sleep, the silent stard go by.
Yet in the dark streets shineth, the everlasting light,
The hopes and fears of all the years are met in thee tonight.
Shine on in our hearts so we can see the way to help and support those living in Bethlehem today.
Rev'd Sue Martin