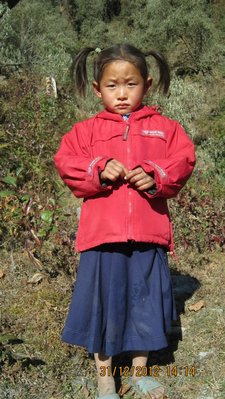 Kalpana, aged 7, in Nepal on her way to school.
We support Kalpana and make regular contributions towards her school costs, from our children's books website Dolphin Booksellers. We put aside monies to send to Kalpana for her education.
Her family live several villages away and Bhim and Kalpana walk for a day to stay with her aunt during school time. Bhim, her uncle, is a Himalayan guide, and communicates with us regularly when he is back from trips around Everest.
Our connection was started over two years ago when I went to Nepal, on a walk to Everest Base Camp. Two days from the Base Camp I developed altitude sickness and had to make a very long and hasty retreat down the mountain. There's more info on my Faith in Nepal page. Helping me to get down was Bhim, an experienced guide. We talked a great deal on the 5 days down and I learnt all about Kalpana.
Sue Martin