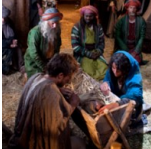 Christmas Day and all is well.
Stockings and presents full to bursting, happy children with new gifts and surprises.
Families united and back to their homes.
A joining together of family, friends and those we love.
But above all the arrival of Jesus born to Mary over 2000 years ago, Son of God, born for us. Shepherds, angels and the Magi arrive at the stable and bring their welcome to this new King.
Not what they were expecting at all.
But then life is seldom what we expect. We can all have that great joy by taking into our hearts, the lives and souls of all those we meet this day and every day.
Happy Christmas
Rev'd Sue Martin