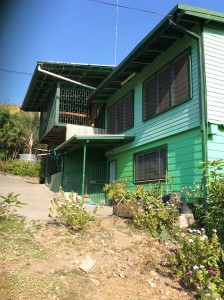 Once on our way in the Virgin plane the journey felt very real. What would we see, who would we meet, where would we go?
Our pilgrimage thoughts and prayers were with us all as we set off along the way.
We arrived in Port Moresby, where we were met by Bishop Denny. The heat of the day hit us as soon as we walked out of the smart airport. We travelled in a small bus to the Lutheran Guest House, where we were greeted and shown to our rooms. Basic but good accommodation, although the neighbours and the dogs and the road were very noisy throughout the night.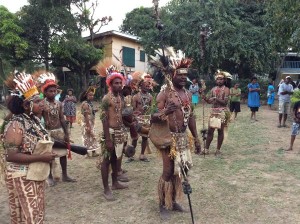 That evening was our first meeting with warriors, dancers and the church. Quite a culture shock! But amazing and beautiful people, and we were going to get to know them really well in the next two weeks.
First meeting with Papua New Guinea Warriors!
Four very scared bishops, and fortunately responses were good and we were allowed in to the feast. There followed the most spectacular warrior dance.
We celebrated Evening Prayer together, with Bishop Denny and Archbishop Clyde, even when the electricity failed! Afterwards we had the most amazing feast, songs and fellowship!
(As a note to followers to this blog, wifi and Internet systems are bit patchy! Will add more images as we can).
So far, absolutely brilliant welcome!
Under Bishop Denny's house we gathered after prayers in the dark as the electricity had gone out, but that did not diminish the warmth, presence and light of God with us.