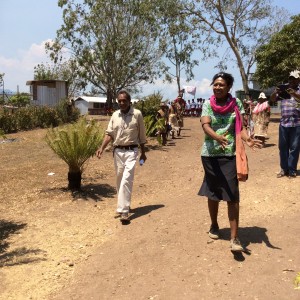 First visit of the day was to Anglicare offices at the diocese in Waigani and the Chapel of the Good Shepherd. As well as the HIV work there are training and literacy programmes for young and older people.
Next visit was to a settlement, on the perimeter of the airport. There was a striking difference between the two. The area was incredibly dry and dusty but the houses had space and there was a good community feel. If you ignore the broken, rusty cars and see the people with their smiling faces you can see some happiness in severe poverty.
Christ the King School was a wonderful place. Set at the top of a hill we met the school children, standing waiting for us in 38C sunshine! We had gifts to give and children sang their songs, Paul played Happy Birthday to them all on the trumpet.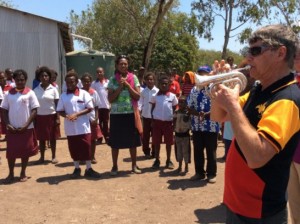 A tour of the classrooms and the large and cool chapel were brilliant. The teachers are largely voluntary, the classrooms varied from sheds to a container with windows, provided by Sue Ramsden. It was surprisingly cool.
We met some of the Melanesian Brothers and talked with the Chair of the Governors.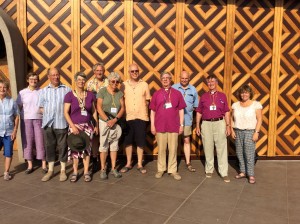 Next visit was to the War Memorial Graves kept by the Commonwealth War Graves Commission in beautiful grounds and incredible to see the headstones for nearly 4000 Australians, some Papuan's and some British soldiers, airforce personnel and sailors. They fought to save Papua New Guinea from the Japanese army and to prevent the creation of a 'launch pad' for an attack on Australia.
Our last visit of the day was to the National Parliament of Papua New Guinea and to  Parliament House.