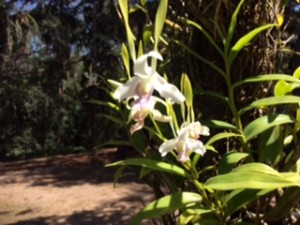 Port Moresby Nature Park was the first stop of the day and by 10.30 it was already about 36C and we were given a tour of the Nature Park.
There was a graduation party from a primary school with 1000 people celebrating with picnics in cool boxes! Bit different from yesterday at the schoo
I was really interested in the orchids, and PNG has 3,800 species.
We then travelled to St John's Cathedral, which was in the port area, next to the smart Grand Papua Hotel. Lunch there was very welcome and made us pretty sleepy for the two hour meeting that followed.
In the evening we had a celebration meal at the Laguna Hotel, very elegant with an enticing pool. A lovely meal and we managed a little dancing to the two musicians with Bishop Jonathan singing on the 'mike' for a while.
Reverend Sue Martin