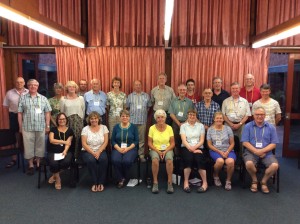 We all arrived safely at Riverglenn, just outside Brisbane.
Three countries, three dioceses and 23 pilgrims shared time, lives and thoughts. We found out more about our journey to Papua New Guinea and the people we will meet. We learnt to say ' thank you ' tenke yu tru !
And we bought even more insect repellant for those ferocious mozzies.
At the end of the day we said Evening Prayer together and prayed for our journeys, the communities we are going too and our families that we have left behind for a while.
Tomorrow  morning seems very close now and to me is unbelievable that in a few hours we will be flying to the beautiful lands of Papua New Guinea.
God Bless us on our way…