The night had been noisy, with karaoke next door, dogs barking and some street sounds at 4.00am, so we had a sluggish start.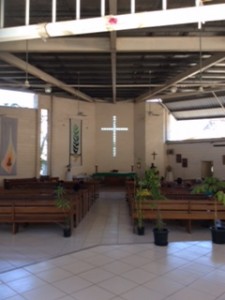 We went into three groups for church, St John's Cathedral, St Martin's and Holy Family Church. Our group went to St Martin's with Bishop David and had an excellent Eucharist with a congregation of around 300.
Canon Sally and I wore our clerical shirts for the first time in PNG, and this was very well received. At the end of the service we were asked to talk about our work etc.
Over some cake and tea we had chance to talk and this was a parish with some good people in good jobs in the city, e.g a psychiatrist, a lawyer, an ex High Commissioner.
There were many blessings for Bishop David to give and it was with some sadness that I realised that this would be the last chance to share worship together in Papua New Guinea.
The afternoon was restful and a chance to catch up on rest and writing, or even pack the case!
In the evening we had a farewell dinner at St Martin's and the spread was enormous and we also had some wine. The warmth of feeling and a sens of a sharing of ministry and lives was clear and after some serious speeches we ended the evening with gifts being shared and in song.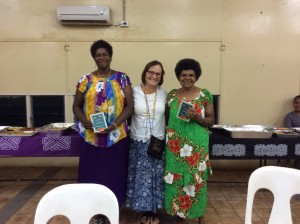 Monday morning we will leave Papua New Guinea and some of us will be coming home, whilst some are continuing on their journeys.
Farewell to all those brothers and sister with whom we have met and shared this pilgrimage.
Rev'd Sue Martin