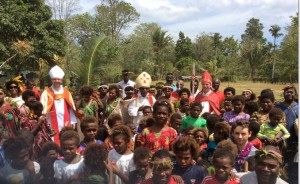 We started the day after breakfast on a drive in the
trucks to Mosa. Forty minutes only in the truck with
the cool air shreaking through the system.
The start of the journey was through the oil palms
and was on Tarmac. But we soon turned off onto a dirt track, through the plantation and carried on through the dusty road to Mosa. The village was beautiful, an open green space with flowers and plants lining our way. We were met by the warriors and led in procession a welcome into the village. A wonderful sight and experience, the sounds, the smells, the bright sunshine, the clear and strong colours.
This was our first service on the island and simply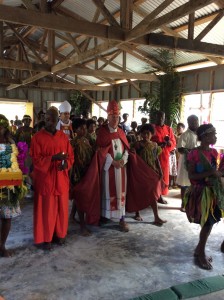 wonderful.
The procession in with the bishops, awe inspiring
led in by the girls gently moving in Immaculate
rhythm to the drums and singing of the men and
women.
This procession was repeated for the entrance of
the gospel and also the offerings.
Communion was received and blessings were given
to many many children and people, those in the
church and the children sitting in the door
entrances and on the grass outside.
The service lasted for 2 hours and followed by food
like a banquet with speeches and. entertainment.
We left Mosa at about 1.00pm and in the burning heat made our way through the tiny and pitted track to Saraclock, a really small settlement. But the welcome was huge and we followed the children and musicians into a small areas with an awning and side covers, for the speeches and entertainment.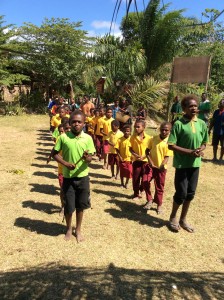 The children were intrigued and for many of the women I talked with, I was the first white woman they had seen. Lots of people to shake hands avidly and exchange names.
More good food and although the bread became toasted in the sun it was very welcome.
We were about to leave when we asked to visit the school. This was an eye opener on to their real life. Two small rooms with wooden benches for chairs and tables, a board and 2 teachers, a husband and wife team, who managed with no resources, no paper,
no pencils, no books, nothing a part for themselves and a programme of work.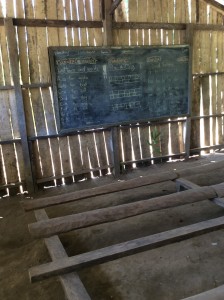 We visited the Diocesan oil palm project, a 10 acre plantation, which is now starting to be harvested. Bishop Alan has stared this project and it is aimed at enabling the diocese to create its own income. A great project idea and lots of potential.
A hot journey back to the Friary for a swim in the South Pacific!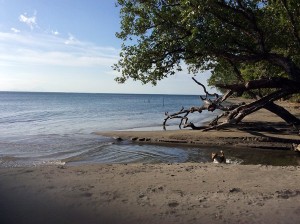 Rev'd Sue Martin