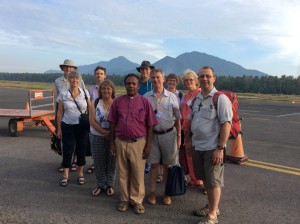 An early morning start for 2 parties in the group. The seven travelling to Dogouro had to leave early for their journey by plane, boat and overland vehicle. The 7 leaving for Mt Hagen left shortly and after a plane journey would in the highlands.
The nine pilgrims left were all going to the New Guinea Island of West New Britain, and had the morning to sit and talk, re pack the cases and enjoy the warm weather.
Bishop Denny joined us for an hour and talked about the Anglican church in Papua New Guinea and his life and education in a rural community. He grew up in an Anglican family of 13 children, and was the seventh child. He received a full education and trained as a teacher, then worked as a banker before being called to ministry 21 years ago.
The minibus arrived for us just after midday and after some mechanical change to the vehicle, we set off to the airport, where we caught the twin propeller plane across the island to Hoskins airport.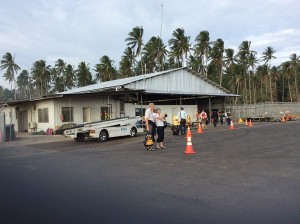 At Hoskins we were welcomed in wonderful style by the warriors and dancers and Bishop Alan. Greeted and 10 minutes of procession with garlands to our bus and open topped truck.                                                              
A delight for me to travel in the back of the truck and see this beautiful island as the evening approached. Walkers on the road waved and called Oro, Oro( Welcome, welcome).
We arrived at Banuale at the Franciscan Friary, a real retreat in the rain forest
, and a place of peace. We met with Father Eduardo( who was also an excellent cook) and brothers.
That night I slept under the mosquito net and to the sound of the frogs  just outside.