St George's Cathedral, Bethlehem

The sunshine was still with us and as we arrived at St George's Cathedral, the warmth was very welcome. Inside the church, we all felt very much at home in the Anglican tradition and style in the cathedral.
The service sheets led with an introduction from The Right Reverend Suheil Dewani, Bishop of the Episcope and the Diocese of Jerusalem which covers many countries as well as the city.
" All Christians must come here first as pilgrims – pilgrims here do not bring decisions with them. They come here to seek prayerfully the decisions God wants them to make. And God will always surprise us. God has not finished with our church or with us yet.
God the Holy Spirit will lead us into all truth, and we who come here must be open to the Spirit's healing and to God's revelations."
(From the Bishop's address to Gafcon June 2008 – find the Global Anglican Future web site here…)
In the afternoon we had free time and I relished the thought of going into Manger Square. But before that I needed to see Mahmoud. He was sitting on the street with his son, Ahdouf,  I did indeed buy some bags at a good price! But bargaining is not my speciality and this didn't seem right.
Along with 2 other pilgrims, Mahmoud treated us to coffee and a talk about life in Bethlehem.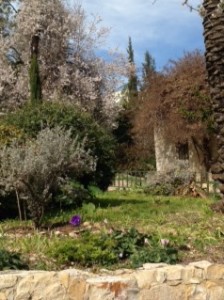 Our Pilgrimage Prayer…
God of our pilgrimage,You kept Abraham and Sarah in safety on their journey.You led the children of Israel through the midst of the sea, And by a star you led the Wise Men to the infant Jesus.Protect and guide us as we travel through your Holy  Land, And follow the footsteps of your Son, Jesus Christ. Bring us into the presence of your Son, Who is the Way, the Truth and the LifeThat we may follow your paths of justice and peace,  And find your everlasting joy.
Amen…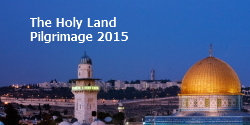 ---
About this journey?
These web pages are part of the
Faith Goes Walkabout
family of web sites. Designed, produced and edited by the
Reverend Sue Martin
of
the Norwich Diocese
. Supporting the work of the Diocese and communities of faith in the East of England.