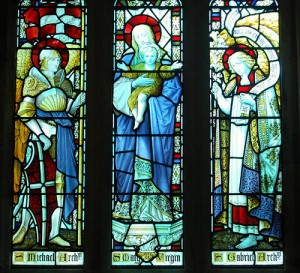 Some thoughts about Faith goes Walkabout – what it means, how it might help and the sharing of a journey.
Faith Goes Walkabout aims to create a new look on faith journeys.
Spiritual journeys, life journeys, bringing work,church and family life into one dimension.
Sometimes our lives become little boxes and different compartments, hard to fit together. Like the jigsaw with that middle piece removed.
It seems like a good time for this website to show how the bits and pieces of life can fit together through faith, and Christianity as that central piece of the jigsaw.
My own journey is not so very different to many people, but in sometimes events seemed to hurtle towards me, as they often do!
My hope is that Faith Goes Walkabout will show some of this continuing journey, looking ahead with confidence and behind with reflection.
Much fun on the way too!!  I will always be pleased to hear from you through my Faith goes Walkabout 'Contact me here' page.

Reverend Sue Martin
Window mage credit for this page: UGArdener via photopin cc
---
About this journey?
These web pages are part of the
Faith Goes Walkabout
family of web sites. Designed, produced and edited by the
Reverend Sue Martin
of
the Norwich Diocese
. Supporting the work of the Diocese and communities of faith in the East of England.