Luton airport at 7.00am on a very dark and gloomy wet January morning saw the start of our journey and we were met by Bishop Graham, Julie, and James, Bishop's Chaplain. So, after coffee and toast and some pilgrims eating bacon and eggs, we set off on Easy Jet to Tel Aviv.
Over the Alps, the sun was shining and the snow on the mountains was spectacular.
After four and a half hours flying we landed at Tel Aviv, at the end of the day, around 4.30pm  Israel time.
Security and immigration were thorough and decided that James, Bishop's Chaplain needed more questioning than the rest of us, but half an hour later we set off in the coach to Tiberias and the Sea of Galilee.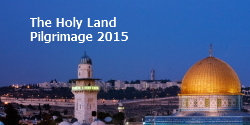 ---
About this journey?
These web pages are part of the
Faith Goes Walkabout
family of web sites. Designed, produced and edited by the
Reverend Sue Martin
of
the Norwich Diocese
. Supporting the work of the Diocese and communities of faith in the East of England.