Sunday 13th November 2022 – Remembrance Sunday
Isaiah 2:2-5  Luke 2: 5-19
May I speak in the name of God, who is Father, Son and Holy Spirit.
November is a time to Remember.
So what has happened? The phrase which I hear over and over again is  Not in this day and age….
This year has seen war far too close at hand and we have felt at several times that it could get even closer. What ever has happened… Not in this day and age.
But first to reflect, Armistice Day, the eleventh hour of the eleventh day of the eleventh month. The battlefields of the First World War 1913-1918 were silenced, the atrocities and enormous loss of life in the worst of circumstances came to an end. Soldiers and all involved in the war eventually came home.
The cruellest of wars which lasted from 1914 – 1918. A war fought in the most abysmal of conditions and with such an enormous waste of life
My grandfather was an ambulance driver somewhere in France with the Royal Norfolk Regiment. He went out with the horses that is family had bred for Hackney horses. I find it hard to think of the sights that he must have seen. This happy cheerful, and caring man that I knew for the first 5 years of my life.
And then, the Second World War from 1939 – 1945, involving the majority of world's nations and it became the deadliest conflict in history. The style of war and fighting had changed dramatically, and great swathes of towns and civilizations were bombed and destroyed.
My father was in the army and reached the rank of Acting Lance Corporal, before contracting TB, which affected him badly for the rest of his life.
But we were lucky or blessed compared with many.
The cold facts, are important, they help us to remember, they help those of us who have not seen war at close quarters to reflect and try to understand.
That's probably why we say Not in this day and age
 I certainly never expected to feel the sights and threat of war so close in my lifetime.
The eleventh hour of the eleventh day of the eleventh month.
The armistice was signed between the Allies and Germany at Rethondes in France
But today is about remembering….
For the sake of all those, whose names are on the War Memorials in villages and towns across the country and for all those who have died in wars and were injured, we need to remember …
We need to say thank you…
And we need to make sure  the next generations may also be fortunate in not experiencing war.
We have seen many wars since the Second World War and just to name Vietnam, the Balkans, Iraq and Afghanistan.
I am not a military person, I have no real connections with the forces, but I stand as proud as the next person in knowing that people have signed up to serve and keep the peace and protect us.
We have the RAF on our doorstep in West Norfolk, we hear the F35 jets, high up in the sky and sometimes we see the helicopters really low. Maybe like me you grumble about them sometimes? They have been increasingly busy over our heads in recent months and weeks. On their Facebook page I read the squadrons from RAF Marham are now over at Northern European Waters to be at the centre of Carrier Strike Group.
The war in Ukraine is just horrendous, from February this year they have been under attack in very vicious and destructive ways to lives and to structure of society, there can be no argument as to the destroying of homes and schools and hospitals. We believe the invaders are on the defensive but who can be certain.
Not in this day and age!
As I was standing in silence with you outside lots of thoughts came flooding in… but especially on the importance of silence. Joining with much of the western world, stopped at the same time.
I was reflecting on what that may seem like for God in heaven, maybe He looks down on the world and hears a constant noise, a rumble, a sound like a never stopping motorway, like the flack in the wartime skies….And then silence.
A time when He can really find us, help his message to get through and to be with us in our sadness and memories.
My thoughts were in small pieces, we call them sound bites today! And they went something like this
A visit to the trenches with school children, the tiny distances that were fought over, yet the huge space of the battles in Northern France.
The Canadian War Memorial in Arras, so many name and all those graves.
The medals that were won, the pride, the courage and the hope.
The Second World War and the places like Dresden, destroyed, our own cities too, the whole concept of a concentration camp, people I know who escaped over here and sought refuge.
The army, the RAF and the navy, everyone doing their bit, the land army too.
People of Ukraine who now live their lives in different countries, some in Norfolk, children who are separated from the fathers.
It isn't always in the huge things that are done but so often in the small things done with great heart.
We can all give a little, We can all say a prayer
And at the end of the 2 minute silence … hope, there is always hope.
Hope for a good time ahead, hope for our families to live in peace and hope that all nations can live peacefully together.
We are living proof that the hope and sacrifice of so many has worked. We have a country in which we can be free, free to speak our minds, free to live without fear, and free for our families to love and thrive.
And that is why we have to remember,
That is why we must not forget. We must give thanks to both the fallen and the injured in wars both in the past and more recently.
And that is why we must try so hard for to make sure it never happens again.
Amen  Rev'd Sue Martin     Diocese of Norwich
---
St Michael and All Angels September 29th All Saints, Church Ashwicken, Norfolk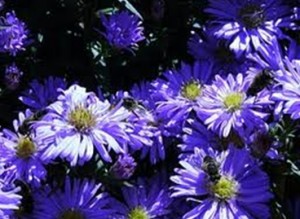 Mark 10:2-16, Hebrews1:1-4, 2.5-12
Michaelmass, the season when the summer is coming to an end, a time when the beautiful warm weather starts to become a little cooler and the autumn approaches.
Michaelmass was the time in the agricultural world when the summer seasonal work was at a close and those working on the land over just the summer seasons would be looking for work elsewhere for the sinter season.  A time for change.
In Thomas Hardy novels he makes full use of the season to show a whole army of characters with their agricultural implements and particular skills in field work to be present at a market of fair in the local towns.
Before we get to Michael, let's think about angels. The strange thing about angels is that they are often in church, as wooden angels in the roof or in other places, but it is seldom that we talk about angels.
Outside the church, it's different, people often talk about angels, guardian angels, messengers, spiritual beings, moving from one place to the next, moving from heaven to earth.
For many people, searching for some signs of spirituality the concept of angels is a real help. They are visible, in the form that we imagine them in, whereas God is very hard to imagine in any visual sense. They also seem to be with us on some occasions.
In the Bible there are many references to angels, one of which is Genesis, ch 28,v 10 14. Jacob's dream of the ladder to heaven with the angels going up and down between heaven and earth.
Angel does mean messenger, it comes from angelos, the Greek for messenger.
Dionysius warned against taking visions of angels too literally,
Angels', he said,' Are not golden beings or men flashing like lightning, but intermediaries between God and mankind. They are seen when they need to be seen and appear in bodily form, but they have no bodily existence.',
There is an order to angels and it is said to be:
First Order are Seraphim, Cherubim and Thrones,
Second order Dominions, Powers and Virtues
Third Order Principalities, Archangels and Angels
Terms also to describe angels are sons of God, 'holy ones', Angels are mentioned in the divine council of God as members of a heavenly chorus,
 'When the morning stars sang together and the heavenly beings shouted for joy,' (Job38)
Angels are powerful heavenly beings whose agency is not only an assurance of God's activity in the world but also a guarantee of the eventual vindication of the faithful people.
We think and hear about angels being in the order of heaven and one of my favourite theological writers, Paula Gooder writes in her book Heaven, about the appearance of angels on earth and that in Hebrews, chapter 13:2 of the need to be hospitable to strangers, and quote," For by doing that some have entertained angels without knowing it."
In our reading from Hebrews today we have that God made us humans a little lower the an the angels.
And so in the third order we find Archangels, of which there are four (or seven), Gabriel, Michael, Uriel and Raphael..
Michael is seen as the chief of archangels, a defender, guardian, protector of Israel. He is shown in Daniel as a warrior and of course in Revelation he is the slayer of the dragon and also the angel who cast out the Satan from the heavenly thrones.
Gentle and brave, gallant and bold.
 From the hymn by Jan Struther,
Let faith be my shield and let joy be my steed
'Gainst the dragons of anger and the ogres of greed:
And let me set free, with the sword of my youth,
From the castle of darkness, the power of the truth.
A prayer from Pope LeoX111 in 1886,
St Michael the Archangel, defend us in battle,
Be our protection against the wickedness and snares of the devil.
O prince of the heavenly host, and the power of God
Thrust into hell Satan and all evil spirits
Who prowl about the world seeking the ruins of souls.
Amen
In the pictures we have from artists, Michael is shown as a soldier, crusader, often with wings, with a shield and a spear.
He is said to have come to Joan of Arc in 1412 as she was caught wearing men's clothes and having joined the army, and then later burnt at the stake as a heretic. Michael was there with her.
There are 2 places immediately to mind to show Michael as a protector of places, Mont St Michel and St Michaels Mount in Cornwall, I'm sure there are many more.
In my reading for tonight, I came across the following theory, which greatly appealed to me.
The whole point of celestial hierarchies is to be inclusive and to give a place for all angels.
St Michael is believed to be the chief of archangels, but this would out him even above the seraphs and this was not fair, so he  is included in the archangels and therefore with the third order of all angels.
Anyway, getting back to earth for a moment, tonight we share in the celebration of St Michael and All Angels, in the tradition of Michaelmass and to be present in this church as people gathered together in God's name.
We cannot know all about angels, there are vast books written on the subject, I collected several from the Cathedral library last week, which have helped me tonight.
Some people think its just fantasy, an unreality, this whole idea of a ladder to heaven, angels wandering around the earth.
But just sometimes, don't even the most sceptical of us, have times when we feel truly blessed, a small miracle happens, or we just become aware of a helping hand.
Isn't there a time when we need a little help, we try hard ourselves but life is tough at times, just the times when we do need an angel.
Amen
Revd Sue Martin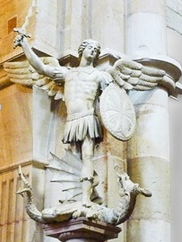 A Little Lower than angels. Hebrews, 2:7
Michaelmass, the season when the summer is coming to an end, a time when the beautiful warm weather starts to become a little cooler and the autumn approaches.
We have seen the autumn equinox impressively this year marked by the super moon and the eclipse. A wonderful sign of God's world.
Michaelmass was the time in the agricultural world when the summer seasonal work was at a close and those working on the land over the summer seasons would be looking for work elsewhere for the winter season. A time for change.
In Thomas Hardy novels he makes full use of the season to show a whole army of characters with their agricultural implements and particular skills in field work to be present at a market of fair in the local towns.
St Michael is the guardian angel of autumn  or Michaelmass. He is the Archangel responsible for courage and bravery, he is the defender of faith and is known for his slaying of the dragon.
Sermon for 18th Sunday after Trinity at All Saint's Church Ashwicken 4.10.15
Rev'd Sue Martin     FaithGoesWalkabout.org
Sermon for 10th Sunday in Trinity, 21st August 2022
St Lawrence Church Harpley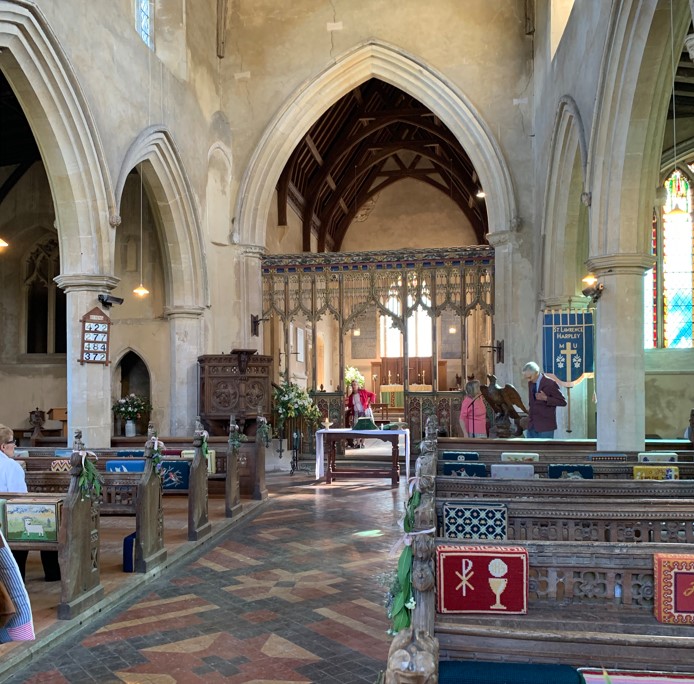 Readings
Jeremiah 1: 4-10
Hebrews 12: 22 – end
Luke 13: 10-17
May I speak in the Name of God who is Father, Son and Holy Spirit.
What an absolute joy to have a had the wedding here yesterday for
How wonderful the church looks, Isn't it amazing how transformational flowers and time spent in the church can be. The last time I came to St Laurence was for the Flower Festival and it looked stunning then too.
I also came for the walk on Wednesday 10th, a steamy hot day and the ground. Fields and gardens were looking scorched and in need of rain.
We had a lovely tea under the walnut tree in David's garden.
It is a real joy and indeed transformational to come together, in church or on a walk, but to share and meet with each other. We get so much from it, support, care, interest and of course we have the Holy spirit at work.
And it can be so transformational!
We live in strange and unsettling times. We often crave for life to return to 'normal'. But what is that now, what is our normal, not sure I know!
Can we sometimes miss the obvious? Absolutely we can!
Our readings are interesting this week and it has taken me a few days to read them again, look  up some words from well know theologians and others who have written books on the books in the Bible.
Sometimes that helps and sometimes, like this week it was taking me in a completely different direction!
But what we do have in all the readings is about transformation, about being shaken up, in Hebrews, about how in Jeremiah, the prophet, 'you must go to everyone I send to you, do not be afraid.
And I find Jeremiah deeply moving and supportive around who we are how we should be and what we should do.
Verse 4 in Chapter 1
The word of the Lord came to me, saying, 'Before I formed you in the womb I knew you, before you were born I set you apart, I appointed you as a prophet to the nations.2
God knows us, each and everyone and we are all called to be with him, we are called to the feast, we are called to spread the word, to be that transformation that he has asked.
It does not always have to be an 'all guns blazing' event. I can be a walk across the fields, a cup of tea under a tree in the garden, a moment of quiet for ourselves or a moment in church.
I have sometimes noted down in my head those moments when I felt very close to God, and although some are in church, I also sense that spirit at a beautiful sunset, walking by the beach, being with friends….
I suppose the meaning is that we can be transformational anywhere!
The gospel from Luke today takes us to a Sabbath, like today. Jesus in the synagogue as a good Jew and there he met a woman who for eighteen years was unable to stand straight. He put his hands on her and healed her and immediately she stood up and praised God.
Incredible, transformational for the woman and those who saw this miracle.
Sadly though, the synagogue leader turned to the people who had gathered and asked them to return for healing on any day but the Sabbath as no work was to be carried out according to the Law.
Something had gone wrong here, hadn't it? The rules had overtaken common sense. Jesus replies fiercely,
You hypocrite(second time he had used this word to the Jewish leaders). He asks which one of them doesn't untie their donkeys out to give them water?
What is work, what is just being human.
In many ways, the women had been released from her infirmity, a release, a transformation. The donkeys would also be released from their stalls, so Jesus is making a point. We hear that the people were delighted.
If we remain bound in our old ways when there is a need for change, where is the transformation.
Jesus came to set us all free, to save us from our sins.
After all that we have gone through in the last 2/3 years, let us follow in the ways we have now started, let's meet more often, rejoice in the beauty around us and know that God is with us all time. Truly transformational.
Amen    Rev'd Sue Martin
---
Sermon for 9th Sunday in Trinity 14th August 2022
St Andrew's Church Congham and St Nicholas Church, Gayton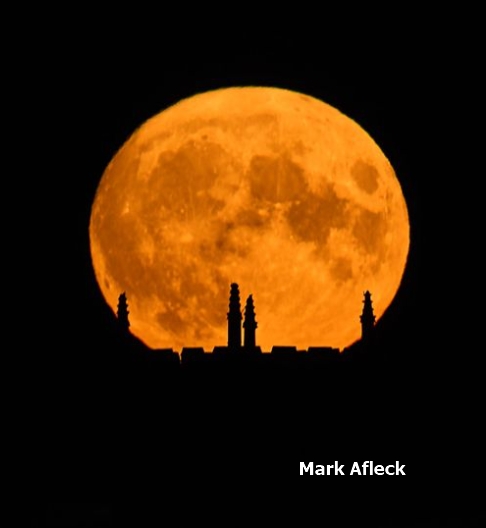 Readings; Genesis 1: 1-18, Hebrews 11: 23-31, Luke 12: 49-56
May I speak in the name of God who is Father, Son and Holy Spirit. Amen
Did you see the full moon last night or the night before?
 How amazing was that?
It was shining so brightly that the earth was bathed in moonlight.
I have been enjoying just being outside in the evening this week, as the day turns to night and the heat turns to cooler.  On Tuesday evening, it was about 8:30,  I had gone outside in the garden with a nice glass of wine. We have a wonderful view of the West sky, and I could see a beautiful red sunset. In fact, it was more than just a red sunset because slowly and gradually it reflected on other clouds in the sky which were a beautiful pink. On the southern part of the horizon the moon was slowly coming up. It was catching the last rays of the sun and was also glowing pink.
So I waited, I watched and I waited. The sky slowly changed from pink  to darkness. The moon slowly changed from having pink on the edges to being a beautiful white with just the outline of the craters on the moon visible.
How amazing it was. Then in the darkness I saw the bats overhead. I heard the call of the tawny owls. I watched as one flew from one oak tree to another and then started to call the young over to it. I looked up at the sky when the stars were appearing overhead , many billions of light years away.
How amazing is that!
So today I wanted to go back to the very beginning, to go back to Genesis our first reading.
In the beginning God created the heavens and the earth,
God said let there be light and there was light
God said let there be space between the waters
God made the sky and the waters and the dry ground.
On that dry ground there would be plants and animals.
There was evening and there was morning.
God made two great lights, the greater to rule for the day ad the lesser to rule the night.
How amazing is that!
The way we interpret the Old Testament does not always mean that we take the literal meaning.  How much of a scientist God is God and still is, we can leave aside this morning. We do not have all the answers.
Science can tell us about the how, when and where but they can not always tell us the why.
We're in a heatwave at the moment, hopefully today is our last day of the heatwave and it's been tough. We've had a difficult year. In fact, we've had a difficult few years.
Jesus said do you think I came to bring peace on earth. He didn't come to bring peace on earth he came to tell us even more about God the Father to save us and to show us that we can one day live in heaven where there is peace.
He didn't say it would all be well.
How do we as people really work out what's happening? We don't know but what we do know is that whilst we are on this world we can live a good life.
How amazing it is that God sent his only son Jesus to be with us.
How amazing it is that God sends us the Holy Spirit to be with us all the time.
We can see the stunning full moon, beautiful sunsets, even the blackness of the night sky. We sense that we are a tiny part of this world, planet earth,the Solar System, the Milky Way Galaxy and the entire universe.
But yet we are important, each one of us is important to God. We have things to do , we have to care and nurture our world, our world needs all the help we can give.
So, whatever it is that you do today, this afternoon, tomorrow, next week always give yourself time to stand and stare, to see the wonder in creation, to breathe in the amazing world God has created for us all.
And take time to say thanks to God for our very small but very important part. Amen
Rev'd Sue Martin Diocese of Norwich
---
Trinity Sunday June 12th 2022,
St Andrew's Congham, St Nicholas Gayton
Readings
Proverbs 8:1-4, Romans 5:,1-5, John16: 12-15
May I speak in the name of God who is Father, Son and Holy Spirit
Truth, honesty, dignity, sincerity, serving a common good.
Trinity Sunday and the yearly explanation of what does this mean? What is God as a triune being? How do we explain that?
Is it like a supermarket offer, where you buy 2 in this instance and get one free?
Is it like some kind of being with three heads?
The good news is it is none of these. In fact, they distract entirely from what it actually means.
It is one of those things where as a Christian we have to accept but we can't understand everything. We would be in danger of trying to make Christianity like other religions which worship some kind of deity in a statue.
Let's think of it more as a heavenly unity let's think of it more as something which we can feel and sense and no is there without actually putting an image or a face to it. That's really the hard part because as humans we really like to visualise, we like to put words to describe it this is what helps us in our understanding. But the trinity of God father Son and Holy Spirit doesn't fit that.
The readings are great today in John chapter 16 he says, 'when the spirit of truth comes he will guide you into all truth.' He doesn't say what he looks like he doesn't describe in words the spirit
In Romans 5 we have, 'because God's love has been poured into our hearts through the Holy Spirit that has been given to us.'
And so, as we leave Ascension day behind we move on with the assurance that the spirit the Holy Spirit is with us, that last part in the triune God but we have always. There always present. In Proverbs chapter 8, 'does not wisdom call and as not understanding raise her voice'. Wisdom like the spirit is there it's not describable but we do know it's there.
Now I'm going to make quite a leap in this sermon today because last week we celebrated the time and jubilee of Queen Elizabeth the 2nd. What a magnificent event this is just what our country needed to bring everybody together.
We had wonderful pageants, we had London full of people, we had a royal family who had been split and divided coming together, not always the same that it had been before but definitely coming together. And at the head of that royal family, we have our queen at 95 she is still a leading and ruling.
Even though she couldn't make every event of the weekend she was there on the balcony waving to all her people both those in London those in this country and to those across the world in the Commonwealth and other countries too.
What an amazing impact she has had.
Made even more so because if you go back to when she was first crowned there were no high expectations of her that she would be able to develop and deliver the monarchy and royal family in the way that she has. So, for me I strongly admire her I think she is a wonderful person as a leader she leads both from within in front and behind.
Now this is where the sermon gets slightly wacky
You know what struck me most was the other character that joined her there right at the beginning of the BBC clips… that wonderful little film of the Queen and Paddington bear. Could you think of any other monarchs in this world today or in fact any leaders in this world today who could start such an amazing wonderful and also serious procedure by the introduction of a character from a children's book.
Let's think about the Queen and let's think about Paddington bear. We have beautiful faces for them both we have wonderful images, they both like hats, they both carry a bag and they both rely on other things to keep them going amazingly so it seemed that they relied on the same thing marmalade sandwiches.
The Queen keeps hers for later!
Let's look at what really links them, truth honesty sincerity dignity being in service to others and of course a sense of fun.
There's been a beautiful image of the Queen and Paddington holding hands, we are looking at them from behind and they're walking together they have a corgi with some flags They both have a coat on and they both have a hat on,  and they carry a bag but we can't see their faces.
But what does that picture tell us?
It tells us that they are sharing, they are working together, they have a sense of direction we can feel their unity, we can feel how they are joined for a purpose, and how for both of them they're still walking.
The queen has been stalwart for 70 years in setting one foot in front of the other in the right direction. How amazing is that!
So we don't need to see their faces we don't need to see an image we can sense where they're going and where they have come from.
They carry all of us with them along the way.
This Trinity Sunday let us think of God as leading us along our paths and journeys. Godin front of us God behind us, God beside us and God within us, Father, Son and Holy Spirit.
Amen
---