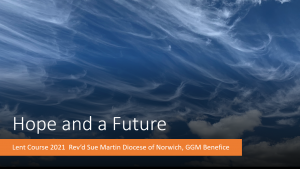 We all live in hope. We live for things to come, for our lives to be fulfilled and for our families to flourish
'The disciples on the road to Emmaus after the crucifixion told a stranger who had joined them on the road what they had expected, which had not turned out as they had hoped. This could also be true of us; we had hoped that the Church would continue in its current shape, but this cannot be…
The kingdom of God is growing in our midst. We have confidence in God who transforms lives and brings hope to individuals and communities.'
The Bishop of Ely, The Rt Rev'd Stephen Conway, 31.2.20
As we emerge from Covid19 in 2021,we ask for the confidence that God is in our midst and will transform our lives if we let Him. This is our hope for the future.
This Lent Course, Hope and a Future is based around that hope we have been given by God, the vision of the world as God wants it to be, and the promise that God has given to us, his people.
The course will be over five weeks in Lent. We will be working together every Wednesday at 3pm, starting on February 24th and finishing on March 24th, The materials can be accessed at any time on GGM and Faith Goes Walkabout.
We will be using a slide-based presentation with accompanying materials. Each session will highlight a different section of the Bible, showing times when the world has suffered. We will share prayers and readings to explore how God talks to us and how we can respond.
In 2021, we will see that God is with us and setting us on the right path as we hope for the future.
Rev'd Sue Martin
Hope and a Future
A Lent Course for the GGM Benefice, diocese of Norwich 2021
Rev'd Sue Martin
Week 1 Hope in the Beginning
Overview
God saw the future in the beginning, he had plans and hopes for the world.
This week we are looking at the first five books of the Bible in the Old Testament, Genesis, Exodus, Leviticus, Numbers and Deuteronomy, called The Pentateuch, which we believe to be written by Moses. We see God as the creator,full of love and promise for His people. As we journey with His people we also think about our own lives, our journeys and how we can also live in hope.
Genesis The story of creation and the beginning of God's people
In the beginning God created the universe, heaven and earth. What did he hope for? How did he think his plans would work for the future? What problems were there along the way?
We learn about the creation, Adam and Eve, the Fall and how the descendants move on through the Cain and Abel and then Seth. The story moves on to Noah and the Flood and God's promise to the world through the sign of the rainbow.
Each time God tries again, he knows that as humans we often fall far short of his aims, but He always tries again.
We move on to the story of Abraham and Sarah, Isaac, Jacob and to Joseph. God works with Joseph as a son of Jacob to establish a place for His people eventually in Egypt.  He has hope and a future.
Exodus  The story of Moses leading the people out of slavery
God helps Moses mother to keep him safe and he grows up with the Egyptians. Much later he moves into the country and marries. At this point God seeks him and appears to Moses as a burning bush and asks Moses to lead His people out of slavery in Egypt and to the Promised Land. Moses tries very hard to refuse but God's plan for a future involved Moses and so he takes on the role.
We have amazing stories in Exodus including the Ten Plagues and eventually the leading of the people by Moses and his brother Aaron to the Red Sea, where God opens the sea to let the Israelites through and when the Egyptians follow, God cover them as the sea goes back
The Israelites walk through the desert for many years, people lose hope entirely. Moses sees the Promised Land but never sets foot on it. God does fulfil His promise and the Israelites, and He forms them into a nation with hope for the future as they became settled in Canaan
Leviticus  A book of laws and holiness
Moses wrote this book to compile together the laws and the ways that people should behave. It is about the relationship of people to God and how to behave and to be in that holiness. A verse which we hear again from Jesus is in Ch19, verse 18, Love your neighbour as yourself.
Numbers     An account of God's faithful persistence and love for His people in spite of their weakness.
Deuteronomy  A book which shows how God has saved us all
This is a series of addresses by Moses which show how God has saved and blessed his chosen people.
A verse which we here again is Ch6, verse 4-6, 'Love the Lord your God with all your heart, with all your soul and with all your strength.'
Week 2 Hope and the Prophets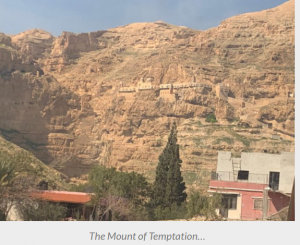 Whilst we are still in the Old Testament, the following quote from Lord Jonathan Sacks speaks volumes.
The Dignity of Difference p. 206
"One of the most important distinctions I have learned in the course of reflection on Jewish history is the difference between optimism and hope. Optimism is the belief that things will get better. Hope is the belief that, together, we can make things better. Optimism is a passive virtue, hope an active one. It takes no courage to be an optimist, but it takes a great deal of courage to have hope. Knowing what we do of our past, no Jew can be an optimist. But Jews have never – despite a history of sometimes awesome suffering – given up hope"
Prophecy is about seeing into the future and this is where we have hope. In the Old Testament we have many prophets, people who were given an insight into the future by God to help the people of the time and to give them hope.
The seventeen books of the Prophets come after the books of the Histories, which are from Joshua to Esther. There  are signs of hope in these books but wanted to concentrate on certain books over the 5 weeks.
The Prophets are divided into Major Prophets and Minor Prophets; Isaiah, Jeremiah, Lamentations, Ezekiel and Daniel are the Major Prophets and the Minor Prophets are; Hosea, Joel, Amos, Obadiah, Jonah, Micah, Nahum, Habakkuk, Zephaniah, Haggai, Zechariah and Malachi.
If you open your Bible at Isaiah and also at Malachi, you can see just how much of the Bible these books cover. We are going to look at passages from Isaiah, Jeremiah, Micah, Jonah and Ezekiel.
If we jump forward 900 years to the time of Jesus, we can see how the hope that the prophets foretold came to pass. We are in a fortunate position of knowing the story but people at the time did not. So they relied on the prophets to give them hope and a future. The times were troubled and difficult, and they needed all the hope they could find.
We are a little like that now. We have had a very hard year and our hopes for the future are still on hold. We live-in short-term hopes, like where shall I travel to or go on holiday to? When can I meet with my family again? Will people in our churches be ok or have ay of them caught Covid? What about the vaccination programme? Will it mean that life will return to normal soon?
Questions, questions! Our frustrations have been in that there are no clear answers.
That was the same with the people alive at the time of the prophets. But the prophets were telling of greater events, hope for a future, hope for everlasting life, hope for all peoples.
Let's look at some biblical passages. I'm starting with Jeremiah 29: 11-14. This passage is especially relevant to me as at the start of my discernment for ministry I went to join a group in Dersingham church. An activity was to take a piece of paper which on the other side had a quote from the prophets and mine was Jeremiah 11-14. At the time I was going through a difficult time in my career and life and often felt completely devoid of hope. Verse 11 – For surely, I know the plans I have for you, plans for your welfare and not for harm, to give you a future with hope And for me it came true.
Isaiah 43: 1-5  'Do not fear, for I have redeemed you, I have called you by name, you are mine. Isaiah lived mainly in Jerusalem and his ministry was around 740BC to 680BC and he looks strongly at God and forgiveness and judgement. Sometimes not the easiest of OT books to read, but some passages are incredibly poignant and point to the way ahead.
Isaiah 40:31 ' But those who wait for the Lord shall renew their strength.' In adversity we can look to a future of hope.
Micah 1:1-5 Micah writes around the same time as Isaiah and focusses on God will take care of all his people and that one day, there will be peace and to follow the house of Israel, following Abraham and Jacob.
4:10 He will again have compassion on us, he will tread our iniquities under foot.
Week 3 Hope and the Psalms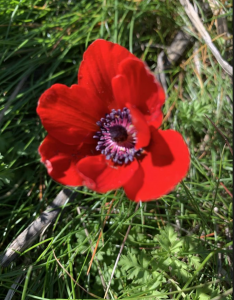 Last week we looked at the difference between hope and optimism and how hope is the promise that God has given us from the covenants that He will be with us forever. A promise of eternal life and a hope for the life to come.
We are now in the third week of Lent and so also reflect on how we are getting on with our own wilderness and challenges that we have given ourselves. How are the times of reflection, the times of finding God through prayer? I hope that this Lent Course has at least set you on a journey of exploration, how to explore the Bible, a little at a time can be best.
This week we are looking at hope in the Psalms. A little overview of the Book of Psalms, which is more complicated than you might think. It is a collection of poems written by many people over many years. We think of King David when we think of the psalms and he did indeed write many of them, probably about 70, in fact about 100 of them are anonymous. At the end of the book of Psalms the last few books, from 146, have something in common, they all start with Hallelujah or Praise the Lord. Hallelu – Yah which is Hebrew for Praise to God or Yahweh.
Psalms for today that reflect the hope we have in our God.
Psalm 46:
1 God is our refuge and strength,
an ever-present help in trouble.
2 Therefore we will not fear, though the earth give way
and the mountains fall into the heart of the sea,
3 though its waters roar and foam
and the mountains quake with their surging.
4 There is a river whose streams make glad the city of God,
the holy place where the Most High dwells.
5 God is within her, she will not fall;
God will help her at break of day.
6 Nations are in uproar, kingdoms fall;
he lifts his voice, the earth melts.
7 The Lord Almighty is with us;
the God of Jacob is our fortress.
8 Come and see what the Lord has done,
the desolations He has brought on the earth.
9 He makes wars cease
to the ends of the earth.
He breaks the bow and shatters the spear; He burns the shields with fire.
10 He says, "Be still, and know that I am God;
I will be exalted among the nations,
I will be exalted in the earth."
Psalm 23
The Lord is my shepherd; I shall not want. 2. He maketh me to lie down in green pastures: he leadeth me beside the still waters. 3. He restoreth my soul: he leadeth me in the paths of righteousness for his name's sake. 4. Yea, though I walk through the valley of the shadow of death, I will fear no evil: for thou art with me; thy rod and thy staff they comfort me. 5. Thou preparest a table before me in the presence of mine enemies: thou anointest my head with oil; my cup runneth over. 6. Surely goodness and mercy shall follow me all the days of my life: and I will dwell in the house of the Lord for ever.
Psalm 71:5-6, 14
5  For you have been my hope, Sovereign Lord, my confidence since my youth. 6  From birth I have relied on you; you brought me forth from my mother痴 womb. I will ever praise you. 14  As for me, I will always have hope; I will praise you more and more.
Psalm 33:18, 20-22
18  But the eyes of the Lord are on those who fear him, on those whose hope is in his unfailing love. 20  We wait in hope for the Lord; he is our help and our shield. 21  In him our hearts rejoice, for we trust in his holy name. 22  May your unfailing love be with us, Lord, even as we put our hope in you.
Psalm 62:5-6
5  Yes, my soul, find rest in God; my hope comes from him. 6  Truly he is my rock and my salvation; he is my fortress, I will not be shaken.
Psalm 121
A song of ascents.
1 I lift up my eyes to the mountains—
where does my help come from?
2 My help comes from the Lord,
the Maker of heaven and earth.
3 He will not let your foot slip—
he who watches over you will not slumber;
4 indeed, he who watches over Israel
will neither slumber nor sleep.
5 The Lord watches over you—
the Lord is your shade at your right hand;
6 the sun will not harm you by day,
nor the moon by night.
7 The Lord will keep you from all harm—
he will watch over your life;
8 the Lord will watch over your coming and going
both now and forevermore.
Biblical references for Lent Course 2021 Hope and a future
Biblical References for Hope
For I know the plans I have for you, declares the Lord, plans for welfare and not for evil, to give you a future and a hope.
Isaiah 43: 1-5  'Do not fear, for I have redeemed you, I have called you by name, you are mine.'
Isaiah 40:31 ' But those who wait for the Lord shall renew their strength
Micah 1:1-5, 4:10 He will again have compassion on us, he will tread our iniquities under foot.
Romans 15:13 ESV / 6,757 helpful votes
May the God of hope fill you with all joy and peace in believing, so that by the power of the Holy Spirit you may abound in hope.
Hebrews 11:1 ESV / 4,547 helpful votes
Now faith is the assurance of things hoped for, the conviction of things not seen.
Proverbs 23:18 ESV / 2,361 helpful votes
Surely there is a future, and your hope will not be cut off.
Psalm 71:5 ESV / 2,226 helpful votes
For you, O Lord, are my hope, my trust, O Lord, from my youth
ohn 3:16 ESV / 1,595 helpful votes
"For God so loved the world, that he gave his only Son, that whoever believes in him should not perish but have eternal life.
Matthew 12:21 ESV / 922 helpful votes
And in his name the Gentiles will hope."
Psalm 130:7 ESV / 916 helpful votes
O Israel, hope in the Lord! For with the Lord there is steadfast love, and with him is plentiful redemption.
Zechariah 9:12 ESV / 914 helpful votes
Return to your stronghold, O prisoners of hope; today I declare that I will restore to you double.
John 14:27 ESV / 702 helpful votes
Peace I leave with you; my peace I give to you. Not as the world gives do I give to you. Let not your hearts be troubled, neither let them be afraid.
Week 4 Hope in The Letters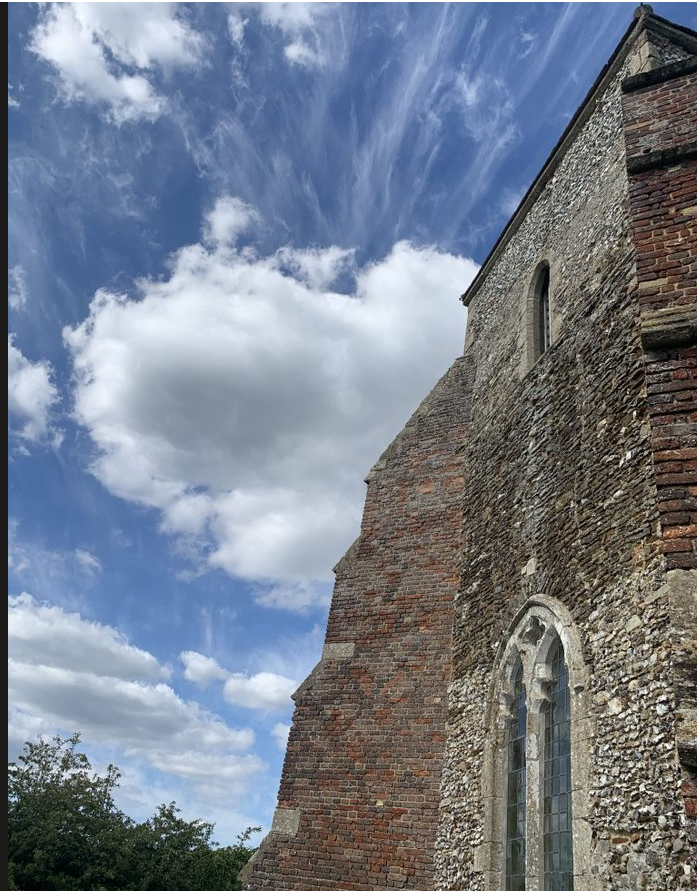 Paul's missionary journeys helped spread the gospel throughout much of the ancient world. Over the course of his ministry, Paul travelled more than 10,000 miles and established at least 14 churches.
The Book of the Acts of the Apostles  records three separate missionary journeys that took Paul through Greece, Turkey, Syria, and numerous regions you won't find on modern-day maps.
Paul's travels played a crucial role in the formation and development of the early Christian church. Many of the communities he encountered on these missionary journeys were the same ones he wrote to in his pastoral epistles.
As well as being a great traveller Paul was also a great writer and especially a writer of letters. He spent a considerable amount if time in prison too and wrote to many of the places that he had visited whilst being imprisoned. It would be fair to say that Paul lived very much in hope!
The bulk of Paul's letters are written for churches and often where Paul had some involvement, either in establishing the church or in training and teaching. As most people did not read or write at that time Paul's letters would have been written so that they could be read out to everyone. They are often letters of encouragement, letters of remaining sound in the faith of Jesus Christ and letters which would indeed bring hope.
The Letters of Paul include, Romans 1 and 2, Corinthians, Galatians, Ephesians, Philippians, Colossians and 1 and 2 Thessalonians, 1 and 2 Timothy, Titus and Philemon.
We often think of followers of Jesus as being maybe a certain type of person. In fact God calls us all and He calls us because of who we are. Paul was a strong evangelist, a strong speaker and a charismatic preacher. He may not always have been well liked and may not have performed that many miracles, but he certainly did His share in spreading the Word.
The other letters often called General letters are; Hebrews, James, 1 and 2 Peter and Jude. These are addressed to the community in general on broader themes. Hebrews for instance deals with the relationship of to Old Testament Law to Christianity whilst James is a practical guide to how to live as a Christian.
The Letters from Peter contain some incredible passages and remain for me, along with Hebrews, a great place to find good texts.
Hope in the Letters
Romans 5: 1-5
1 Therefore, since we are justified by faith, we have peace with God through our Lord Jesus Christ, 2 through whom we have obtained access to this grace in which we stand; and we boast in our hope of sharing the glory of God. 3 And not only that, but we also boast in our sufferings, knowing that suffering produces endurance, 4 and endurance produces character, and character produces hope, 5 and hope does not disappoint us, because God's love has been poured into our hearts through the Holy Spirit that has been given to us
Romans 4:16-19
18 Hoping against hope, he would become the Father of many nations
3 We remember before our God and Father your work produced by faith, your labour prompted by love, and your endurance inspired by hope in our Lord Jesus Christ.
27 To them God has chosen to make known among the Gentiles the glorious riches of this mystery, which is Christ in you, the hope of glory.
18 I pray that the eyes of your heart may be enlightened in order that you may know the hope to which he has called you, the riches of his glorious inheritance in his holy people.
23 Let us hold unswervingly to the hope we profess, for he who promised is faithful.
Hebrews 6:19
We have this hope, a sure and steadfast anchor of the soul, a hope that enters the shrine behind the curtain, where Jesus , a forerunner on our behalf, has entered, having become a high priest for ever according to the order of Melchizedek.
1 Peter 1: 3-9, 6 and 7
See I am lying in Zion a stone, a cornerstone chosen and precious and whoever believes in Him will not be put to shame. To you then who believe, he is precious but for those who do not believe, The stone which the builders rejected has become the very head of the corner.
Rev'd Sue Martin  Diocese of Norwich
Week 5    Hope in The Gospels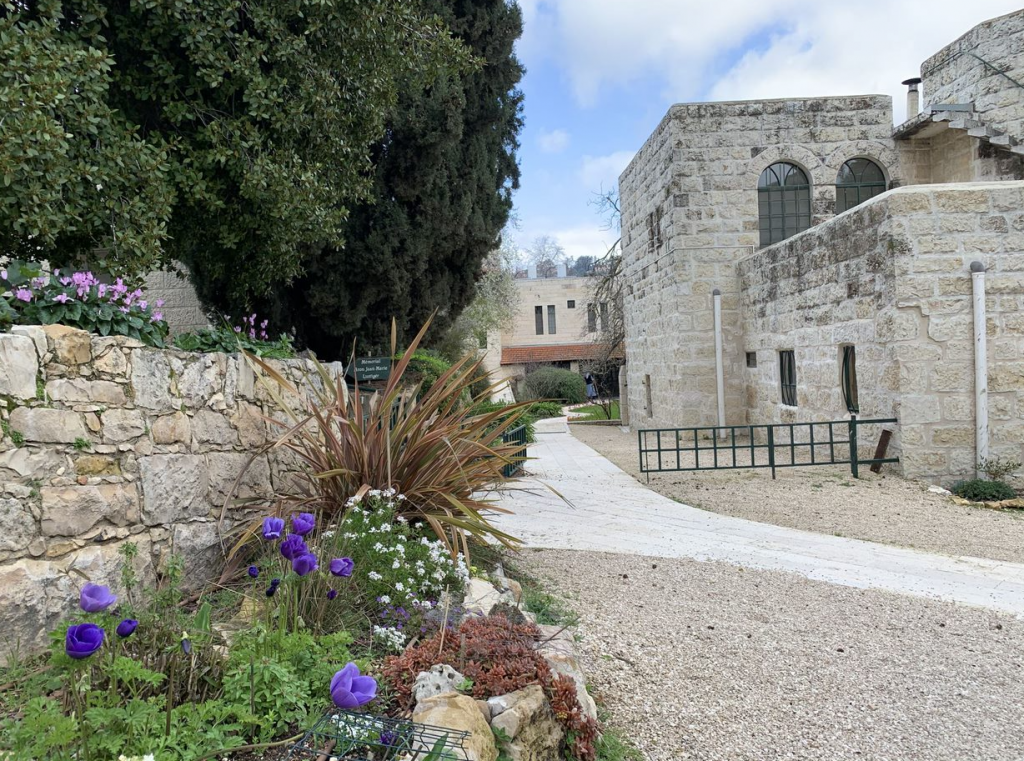 Surprisingly, in the Gospels, Matthew, Mark, Luke and John, we find  there are only two actual references to hope. Although at first this may seem rather surprising, when we think about it, we discover there are few references because the Gospels all write about Jesus actual time on earth. He is our hope! Hope is alive! He came down to earth from heaven so that we can understand and have eternal hope!
Passages to keep in our minds this week are;
Mark 9: 23  "Everything is possible for one who believes."
John 3:16 For God so loved the world that he gave his one and only Son, that whoever believes in him shall not perish but have eternal life.
As we follow Jesus' journeys through Israel we discover so much, so much that we didn't know before. We have heard in the four weeks of this Lent course that God shows hope for his people through Abraham and his descendants; through the prophets such as Jeremiah telling us what will happen, like the Letters which clearly show the hope that we can now all follow. But still it is difficult to understand, especially this year.
As we journey to Easter, I want to mention Judas. Judas had placed all of his hopes in Jesus as the revolutionary who would overthrow Rome and establish his kingdom on the earth. He betrayed Jesus. He then felt there was no longer any hope for him in this life, and so he killed himself. No man has ever felt more hopeless than Judas.
One book in the Bible we haven't looked at has a passage we can use when our faith and belief is strongly tested;
Revelation 3:20 Behold, I stand at the door and knock. If you hear my voice and open the door, I will come and eat with you.
Jesus hears us and knows we are there. He is our hope and all we have to do is to open the door!
Our journey this Lent has seen us travel though time, from approximately 2000 years BC to 2000 years AD, we have travelled across nations of the world, from Nepal to Papua New Guinea and places in between. We have found that God has found his people everywhere and He has called us all in our own uniqueness and in different ways.
This week we look at the Gospels and follow the life and work of Jesus on earth. It was a short space of time; his life was not long, and his working life was very short indeed. But it changed everything. It has given us that eternal hope with God has promised and in which we can believe.
To summarise I have created sections as below;
Mary, the birth of Jesus and his family life.
Luke 1:26-35
Luke 1: 46-56
The wedding at Cana. The start of his ministry
John 2: 1-11
Jesus Gathers his disciples
Matthew 4:18-22
Healing and Miracles
Mark 5: 21-24, 35-end Jairus daughter
Teaching and The Parables
Matthew 13:13-21 The Feeding of the Five Thousand
Luke 13: 18-19 The Parable of the Mustard Seed
The Beatitudes
Luke 6: 20-23
The road to Jerusalem
John 12:12-13, ( John 12:44-46)
8.Easter and the road to Emmaus
John 15: 1-7, John 20:11-19
Summary
I hope that you have enjoyed this Lent Course, Hope and a Future. It is a snapshot of hope in the entirety of the Bible. It gives an overview of how God works with us and all people across time and distance to make his ways known to us all.
I hope it will also act as a guide to you in exploring the Bible even further. It is a journey in itself and a journey which brings great joy and enormous hope.
And just one more quote from Paul's letter to the Romans 8:38,39
' For I am convinced that neither death, nor life, nor angels, nor rulers, nor things nor things to come, nor powers… nor anything else in all of creation will be able to separate us from the love of God, in Jesus Christ, our Lord'
Rev'd Sue Martin   Minister in the Gayton, Grimston and Massingham Benefice, Diocese of Norwich, www.faithgoeswalkabout.com