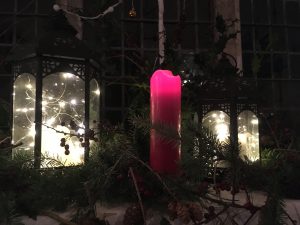 20.12.20 4th Sunday of Advent 
Readings:     Isaiah 50:19-22   Luke 1: 26-28
May I speak in the name of God, who is Father, Son and Holy Spirit.
Angel Gabriel comes to Mary
Does this seem a particularly dark and gloomy time of year? Or is it just me?
More than ever do we need the light of the world to come among us. If He could also stop all the messages about Covid and let us reflect on what is important at Christmas, that would be wonderful too.
Learning by Heart
Do you remember that we often had to learn things by heart, not just in our minds but by heart! After our reading from Luke there are two important passages, The Magnificat and then the Benedictus. Actually these are both quite long to learn by heart but I certainly remember learning the Magnificat as part of my confirmation process.
What happens when we learn something by heart? We learn it so we can repeat it without the need for a book. We learn it so we know it and it can feed us with good news.
Then of course there is The Lord's Prayer, the Apostles Creed. The 10 commandments, some of the collects also, Lighten our darkness…
It is there for us when we need it, when we need God most we have instant prayer and passages. No need for a phone for prompts!
But it does more than just be a memory thing. It is written in our hearts, that surely is why we say we have learnt it by heart. When we can say it from ourselves we inwardly reflect and acknowledge all that God wants to share with us.
In our wonderful passage today we have the visit from Angel Gabriel to Mary, the Annunciation. This is the second of four  visits Gabriel makes: first to Zechariah, second to Mary, third to the shepherds and fourth to Joseph in a dream. In each one Gabriel says Do not  be afraid, or Do not Fear.
Being full of fear or full of awe at the sight of an angel would be natural and the message that Gabriel has for Mary is truly awesome.
'You will become pregnant and give birth to a Son and you will name him Jesus and he will be the Son of God.
Mary travels alone to visit her cousin Elizabeth who is also pregnant and they meet at the home of Elizabeth in the hill country about 8 miles from Bethlehem. This was a long way from Nazareth about 30 miles. And there she stays for three months.
When Mary meets Elizabeth, this isi the visitation, she can tell Elizabeth her news and then she says the Magnificat from verse 46 in Luke 1.
This is the first time that Mary outpours her heart and her soul about  the meeting with Gabriel. The Magnificat is a wonderful passage linked so clearly with the prophecies' from Isaiah in the Old Testament.
From now on all people will call me blessed'
'he has scattered the proud with their deceit'
'He has brought down mighty kings and lifted up the lowly'
'He has filled the hungry with good things and the rich he has sent empty away.'
I wonder what Mary had been thinking on her way to see Elizabeth. I wonder why she decided to visit her? The Holy Spirit was definitely at work with Mary and directing her. But also Mary herself had made that decision.
God makes us free to follow if we will.
God had chosen Mary, a young girl about 15 or 16 years. It is easy for us to think now that she was very young to be taking on such a task.
But I think that is the very reason that God had chosen Mary. He had seen her character and her strength. She then showed true resolve to take on this wonderful life-giving blessedness.
On her journey to Elizabeth I am sure she would have been pondering, wondering, coming to terms with, reflecting but so much more than that… knowing that the Holy Spirit had visited her, Mary and that she would carry and give birth to the long-awaited Saviour of the world. Wow!!
And then when she met with Elizabeth and knew that she was also carrying a child, who jumped in her womb as Mary arrived, it was then that Mary talks to her and these words are the Magnificat.
When I normally read them, I think of Mary standing on her own and telling  a wider audience than just Elizabeth. But in fact this is two women together talking and sharing their wonderful news and Mary tells this to Elizabeth.
These words came from her heart and we would do well to learn more things by heart and hold them within ourselves.
On Friday, I was in a Zoom school end of term service/nativity/singing… It went from the nursery children doing Jump for Joy to year's 5 and 6 pictures of a scene full of awe and wonder, many, many stars, shepherds, animals, people, angels and oh yes 1 stable with a crib.
So much awe and wonder!
And I would like to repeat the words of the Archdeacon of Cambridge at the service, who also told everyone we are made of stardust!
" Remember, nothing can ever take away the love God has for us all. He loves each one of us and has loved us always throughout all eternity."
Something to remember in our hearts this Christmas
Amen
Sunday  29th November 2020- St Andrews Congham via Zoom 
Last Sunday before Advent – Christ the King
Ezekial 34: 11-16 and 20-24
Gospel  Matthew 25:31- end
May I speak in the name of God, who is Father, Son and Holy Spirit
I wonder what it would mean to be a king? All those riches, the jewels, the wonderful castles, beautiful palaces, magnificent parks, acres of countryside. And the clothes!! No more worries about what to wear and having enough money to buy the latest fashions and look like a million dollars.
Is the role of a king or a queen to be as in fairyland, a handsome prince, a beautiful princess.
But we can leave the dreams of castles, palaces, jewel set coaches and 6 white horses to our imaginations, fairy tales and books.
But is this what is meant for Christ the King?
In our reading from Matthew, it starts with,
'When the Son of Man comes in glory and all the angels, with him, then he will sit on the throne of his glory.'
The shepherd will separate the sheep from the goats and what we have done and how we are, will be brought before him. Lots of reference to the Lamb, the sheep and the shepherd. The parables which help us to understand along the way, just what and how we should be.
' Truly, I tell you, whatever you do for the least of my family, you do it to me'
The time of the second coming will have no warning,
In Ezekial, God refers again to the sheep, which he will seek out anywhere, he will find them and indeed he certainly finds us, all of us here today.
Verse 23 tells us that God will then have one shepherd, through David and he will be like a prince amongst us.
Ezekial is one of the books of prophecy in the Old Testament. He was one of the three great prophets, including Isaiah and Jeremiah. He was a priest around the years 570 BC He points through God to a future with hope and restoration
600 years before Jesus' birth, that's a long time! We are now 2020 years after Jesus birth and that is even longer.  And so what can we,  people in this world  reflect or live with that image of the eternal kingdom and what it is that we have to do.
For me that is always more important,  what are we here to do and how can we live our lives for the best.
That is where God's kingdom and its relation to earth is so different from our own understanding of kings and kingdoms.
The king as an eternal father figure, that figurehead of support, love and security.
We need to move ourselves away from our understanding of earthly kings and queens and fairyland kings and queens. In our history of Gt Britain we have had rulers who reign by fear and authority alone, with a need to uphold their right to the throne and to gain continuous rule for their own family.
Our understanding of kingship is not always  the image of God's kingdom.
We have a king in Jesus and in God, who rules through love.
And it is in the coming of Jesus into the world that this love establishes itself as so important.
From next week we move into Advent, the start of the Christian year and a time of reflection and preparation, getting ready for Christmas in the true sense of the word.
This year, we will see much activity on preparation for Christmas, fairy lights, gifts and hopefully a bringing together of families and friends, even if that is still on Zoom!
Jesus brings more than his human self. He brings God's kingdom.
The kingdom of God being close at hand.
The world order in which God is present.
The developing of a true relationship with God.
The living of a good life.
Serving others and our community, sharing in love and friendship, knowing God as the true and  living God.
This is where we can start to get close to the image of the kingdom of God.
It is for us to find and for us to be part of. We can do that in lots of ways.
It's the good thing about this,  is that every day we can help others.
we can stop for a minute and help.
We can show someone  love and friendship.
The age-old thing about a smile, it helps no end and it doesn't cost anything, even on Zoom!
You don't have to have a wealth of money or castles or palaces or beautiful clothes.
I don't know if you remember the Stories of Narnia by CS Lewis?.
In the Tales of Narnia, the first book is The Lion, The Witch and the Wardrobe.
Through the wardrobe in the spare room and in the land of Narnia, the four children, Peter, Edmund, Susan and Lucy find themselves in the midst of a land turned white with winter snow and ruled by the evil white witch. And  there was Aslan, the famous lion, who eventually was sacrificed then returned to life.
A whole host of adventures took place, fawns turned into stone, Edmund carried away by the promise of Turkish Delight, Lucy who was never believed, it's a great story….
After the battle, the four children became Kings and Queens of Narnia, rulers of the kingdom. They indeed had lots of fine clothes, a beautiful castle and people who would serve them. They looked after their people and kingdom but knew that they would have to leave.
They promised whenever they were really needed they would come back to Narnia.
At the end of the celebrations at their ceremony they noticed that Aslan had disappeared.
Mr Beaver,(quote) had warned them, " He'll be coming and going he had said. " One day you will see him and another you won't. He doesn't like being tied down – and of course he has other countries to attend to. Its all right. He'll often drop in. Only you mustn't press him."
So, Maybe Christ the King is like that. Are there times when you think He has dropped in, has he been found when really needed?
Next  week we have the first Sunday in Advent, we start to prepare for his coming at Christmas.
And what do we have to do?
We have to live a good life,  it doesn't cost us money, we don't have to have a fortune and we can start today………………..
Amen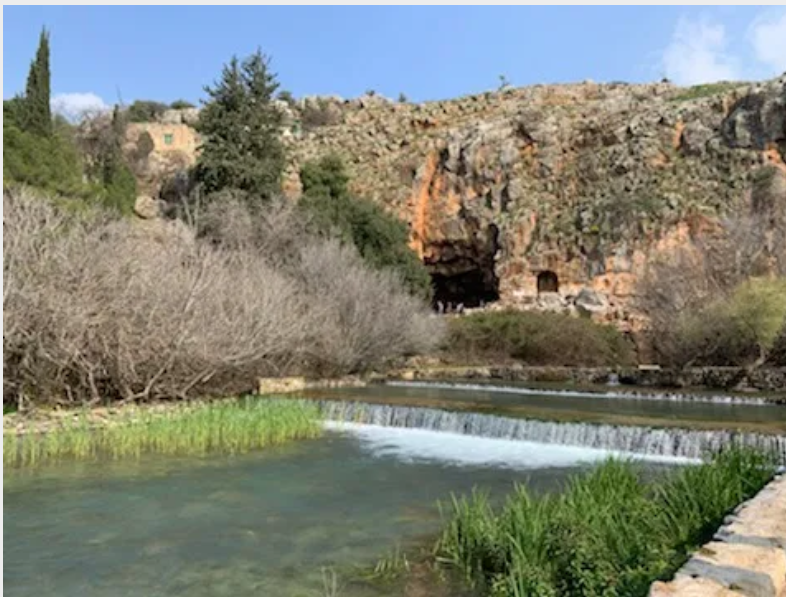 Sermon for the 11th Sunday after Trinity 23.08.20 Zoom for All
Readings Romans 12: 1-8
Matthew  16:13-20
May I speak in the name of God, Father, Son and Holy Spirit Amen
On this rock, I will build my church.
We who are many, are one body in Christ.
Have you ever felt that we are living in strange times? The last few months have been unbelievable, isolation, people on holidays, crowded beaches, speeding traffic?
And now, we have heard that Rev'd Jane is home, but the news is not good for her recovery, she is still on a journey, and at least with some time to be at home and with those that she loves, whatever happens. We all hold her in our prayers and wish her the best in all that she is suffering and her thoughts but knowing that her love of Jesus and deep faith will keep her strong.
In our reading from Romans, chapter 12 verse 2 says, 'Do not be conformed to this world, but be transformed… so that you may discern what is the will of God.' God works in wonderful ways and there are reasons behind all that He does and behind all that happens to us. We are often unhappy with the timings, but as in Ecclesiastes Ch 3, For everything there is a season and a time for every matter under heaven.
We all have different gifts and although we are one body, in Christ we are many. We are the church, which Jesus asked Peter to be at the head. We have different characters, different  joys, different gifts, too many to mention but we have these in abundance as gifts from God.
For some this gift is indeed ministry, a recognisable face of God to the whole world, and also mentioned by Paul are prophecy, teaching, giving, leading, compassionate ad we could go on with so any of the good things that are all in God, which we as his people show to others.
In verse 9 Paul says that we should let love be genuine and we know that from our commandments that Jesus says we love the Lord our God and we love ourselves and our neighbours.
Love is everything!
We who are many, are one body in Christ.
And so to our story in Matthew, we have left the Lake of Galilee, we have seen that Jesus fed the five thousand and the four thousand with a few loaves and fishes, we have seen that He can walk on water. We heard that Simon Peter, stepped outside the boat and tried also to walk on water.
But now they are the other side of the lake and had walked to Caesarea Philippi. This place is set at the edge of the mountains, known now as the Golan Heights, close to Syria and still a place of turmoil.
Caesarea Philippi is a peaceful place; it is the source of the River Jordan and the rushing streams are clear and pure as they descend from the rocks. It is a true joy to put your hand in this water and feel so refreshed.
It is a beautiful place with springs and invitingly clear and clean water rushing through toward the Jordan. The old cave and temples of ancient pagan worshippers was the site where Jesus came with his disciples as a turning point in Jesus ministry. He was heading to Jerusalem and Jesus needed to know that his disciples were with him. He asked Peter there if he would look after his church.
And I tell you, you are Peter, and on this rock, I will build my church.
Later in the passage we hear that Jesus also tells the disciples that he has to go on to Jerusalem and suffer and be killed, and that for the disciples this was not going to be easy but that if they wished to follow him they must give up everything else.
But this place Caesarea Philippi was a special place on our Holy Land pilgrimage and there is a feeling that for many it was indeed the watershed of life, of journeys and of commitment. Time on this mountain side was precious and the refreshment from the River Jordan was pure and holy.
Jesus and the disciples were to journey on from this point into Jerusalem and all that followed was part of God's plan.
On this rock, I will build my church.
And we have our own life plans, not known to us until we have walked some of that journey. Day by day they become clear and as we all journey along that path we know that Jesus and God are with us, before us, behind us, at our side and above us, carrying us when we need that help. We are many our one body in Christ.
And so on our journeys let us use the gifts that God has given us.  Amen.
Rev'd Sue Martin
Sermon for the 9th Sunday after Trinity 09.08.20 Zoom for All
Readings Genesis 37: 1-4,19-25
Matthew 14 :22-33
May I speak in the name of God, Father, Son and Holy Spirit Amen
Walking on Water
Believe the unbelievable!
We are on a journey through Matthew through our readings and will be for some weeks. What a glorious selection of stories, miracles wonders, parables as Jesus talks to his disciples and the crowds that gather all around him.
Two weeks ago we looked at what heaven is like, the parables and pictures that Jesus talked about to enable those around him to understand.
'Have you understood all this?' he asks the disciples and they acknowledge that they have. ' Yes,@ they said.
Last week we heard about the feeding of the five thousand and Jesus turning the five loaves and two fishes into enough food for everyone.
And so to this week's reading from Matthew, and we hear that Jesus,' dismissed the crowd and went up to the mountain by himself to pray'.
He had been trying to have a quiet moment for a while, his cousin John the Baptist had died brutally at the hands of Herod's wife and he knew that his time for going to Jerusalem was getting closer.
Before he set foot up the mountain, he had the disciples get into a boat and go ahead of him to the other side of the Sea of Galilee, to Gennesaret.
Gennesaret is quite a way from where they were by the lake and a quicker journey for the disciples in the boat. Maybe they hadn't questioned Jesus about how he was going to get there. Having just been witnesses to the feeding of the five thousand maybe they felt there was no need to ask.
And so by the evening Jesus was alone, at last by the side of the mountain. I have to say that it is not a very big mountain, and we would probably call it a very large hill, but substantial enough. But the main thing was that Jesus was alone. I would have no doubt that he was tired and also in need of as we would call it 'some Me time' time to think, time to reflect, time to think about what was to happen next and I' also sure that it was time for Him to talk with his Father.
And anyway, the disciples were fine, he had seen them into the boat, and they had started to head to the other side and also, they had said that understood.
Believe the unbelievable… that is something that is hard for anyone to understand!
I wonder if you have seen the latest things in water and boards for recreation, they have a type of motorised board  under the platform that hovers over the surface of the water and the effect is that the person just appears to be gliding effortlessly above the water.
They could be unbelievable!
But Jesus didn't need any form of jet foil!
When night  came the boat was already being battered by the waves and tossed from side to side, in the middle of the Sea of Galilee and the disciples were nowhere near either shore.
At about 3.00am Jesus saw the boat and the disciples and walked on the water across towards them
They thought he was a ghost! Believe the unbelievable !
And he called out to them and told Peter to step outside the boat, "Come," Jesus said.
And so Peter got out of the boat and started walking on the water. But he was distracted and saw the large waves and started to sink. Jesus caught him and they both got into the boat.
" You of little faith, why do you doubt?" sayd Jesus.
And they carried on to the other side of the lake.
Why indeed do we all doubt? Can we really believe the unbelievable? Are we still in the boat, being tossed about, drifting from place to place, waiting for Jesus to reach out his hand to us all?
If we want a parallel with a story in the Old Testament, we couldn't have any better that the story of Joseph 's desertion by his brothers. So annoyed were they with their younger brother and his dreams that they left him in a pit to be taken by the Egyptian as a slave! Little did they know that before too long they would be the ones meeting again with Joseph ad this time he would be in charge.
Believe in the unbelievable.
But walking in water takes the real centre stage in the stories and miracle. And if you have time do read again or continue with Matthew .   Amen.
Sermon for the 7th Sunday after Trinity 27.7.20 Zoom for All
Readings Genesis 29: 15-28
Matthew 13:31-33, 44-52
May I speak in the name of God, Father, Son and Holy Spirit Amen
The kingdom of heaven is like a mustard seed, it is the smallest of seeds, but when it is grown it is the greatest of shrubs.
The kingdom of heaven is like a net thrown into the sea and caught fish of every kind.
The kingdom of heaven is like treasure hidden in a field…
The kingdom of heaven is like?
What is the kingdom of heaven like to you?
Jesus was talking to the crowds  on the shores of Lake Galilee. He got into a boat and sat there while the whole crowd stood on the beach, Matthew 13, verse 1. He was with the disciples in a boat as he had gathered so many people to him that he needed to be  further away for them to hear him.
Can  you imagine the scene? And Jesus continues to tell in parables what heaven is like.
Why do you speak in parables to them? Asks his disciples , Matthew 13 verse 10.
Jesus says that the disciples are blessed to know some of the secrets of heaven but not everyone knows these things and so parables are a way of explaining things that are unexplainable.
The kingdom of Heaven is like?
Jesus doesn't say The Kingdom of heaven is!
He tells the crowds and us too what it is like, imagine the most special thing to you and so much more.
I wonder what the kingdom of heaven is like to you . Can it be the soft sand and the gentle sea on a summers day, the joy of people meeting together in family and friend gatherings? What is the kingdom of heaven like to you. Not what is it but what is it like?
This is part of the ministry of Jesus in Galilee, he has crowds coming to him as a result of both his words and his actions, his messages of love and joy and his actions of miracles and healing. But he came to us for much more than this,  he came to show how we can be the best we can be on this earth and  to show our love for God through words and actions, faith and works.
In the Holy Land he came to show God's people a way back to God and that is what he does for us today. We cannot sit on the fence and hope that by doing nothing we will be saved. We have to show our belonging to Jesus through our words and our actions.
And sot getting back down to earth!
Where are we with our life journeys? What are we doing and where are we going?
In this incredibly difficult time of Covid19 we have mounting issues of change and issues of a different way of life. Up until recently we have had a prescriptive way of living where we have been told exactly what to do and what not do . But now we can be released in a way and make decisions for ourselves and that for some is not easy. Where can you go and how many people can you be with and what can be open and what can be shut?
How many times have you also said, We are really lucky to live where we do and have some space and around us, local food suppliers, people in our communities to care for each other and to share times together with and of course, Zoom, which is a joy for us all to be able to share in our communion together.
But it is about where to from here? And what is your life journey ahead?
On Friday I was travelling to my office south of Cambridge, it is a journey I used to do many times, but this is much reduced now. In my car now I have an excellent Sat Nav which uses Google Earth, and on the journey, I was enjoying some of its latest  innovations. Because there were a number of road works and traffic hold ups,  it kept re calibrating!
And it got me thinking…
We set out on one route, the route that is planned and we are going along nicely and then!! The whole thing is re calibrated and the next thing you know you are changing direction, going a different way. New roads and paths ahead, new view outside the window, could be lots of traffic on a fast road or no traffic on a country lane. Either way you are heading to the same destination.
Sometimes I can see the big picture and sometimes I can only see the road directly around me.
I am comforted in knowing the exact time of my arrival, and where the road works will slow me down. But what if I go off route!! Much re calibration takes place and eventually it finds me again and sets me on the right road.
Does that sound familiar?
Our life journeys have several twists and turns, much re calibration and setting back on the right path again. Other things happen. and events further down the road, not related to us at the time,  have an impact on our journey.
But we are all gathered up, re calibrated and put on the right road.
I hope that the effects of Covid19 will enable that to happen for us all and we can be back on the right road before long. For many it has been a huge stress, many people so ill and many people who have lost their lives.
But that right road will lead us to the heaven that Jesus tried to explain on the shores of Lake Galilee.
The kingdom of heaven is like… one day we will know.
In the meantime keep travelling along the right road.
Amen
Pentecost May 31st 2020 Zoom service
for the benefice.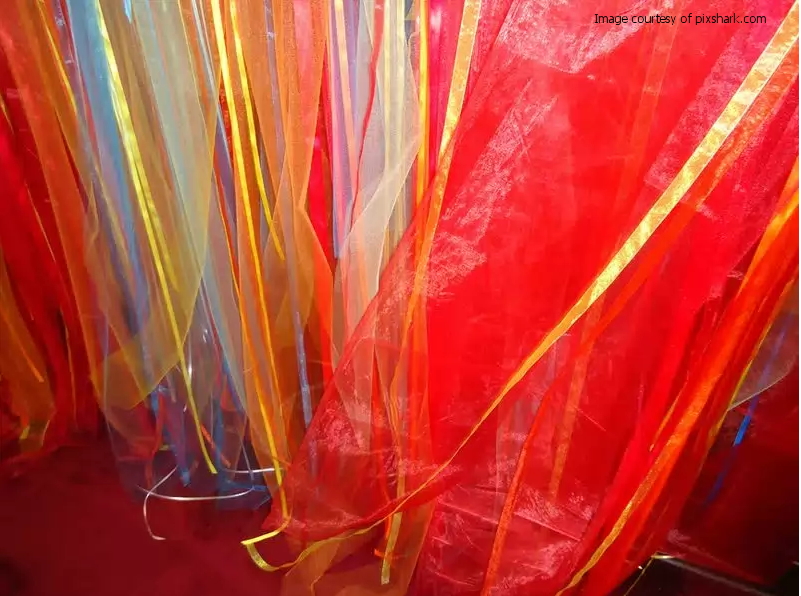 Readings  Acts 2:1-21, John 20: 19-23
May I speak in the name of God, who is Father, Son and Holy Spirit.
Come Holy Spirit! Vene Spirito Sant!
Pentecost –  a rush of wind, tongues of fire.
What a great story, and it is true, some say there were 3000 new believers added after the day of Pentecost when the disciples were able to speak to all present in their own tongue, their own language.
It is thought that the disciples had gathered back in the Upper Room in Jerusalem and it was a harvest feast day for the Jews. There are two harvests in Israel, May and September and Jews from all over were gathered on that day to celebrate.
Can we imagine this scene,  a rushing wind from nowhere, tongues of fire ,and  the disciples able to talk in any language. Sounds unbelievable and even on the day Peter had to tell people this was not because they had been drinking, and it was written in Joel that the Spirit would be poured out on people.
In our reading from John, (which is only a few pages away in the Bible from Acts 2)Jesus who had come back to the disciples, said Receive the Holy Spirit.
Little did they know that in a few days it would appear in tongues of fire!
But the Holy Spirit remains a puzzle for many, what is it, where is it, what does it look like, how does it get about, how do we know when we have it. and many more questions?
It sounds wonderfully vague to say it is within us, it surrounds us, it guides us, it helps us in all that we do in God's name.
In today's world we live in an evidence-based society, which can be good. But there are also other elements.
In the last few months we have lived in isolation, reduced all or nearly all, contact with family and friends. The virus Covid 19 is the cause. Can we see it, can we hear it, how do we know when we have got it? We know what it looks like, a very strange round ball with sticky out bits of horror, we know what it does, it desolates many peoples bodies, but we actually don't know enough about it yet to conquer it.
In our lives, the results are amazing; we live in a fear of mixing with others, but we live in our homes and our gardens and see the wonders and true lives of nature around us. The quietness and the loss of busyness is truly a gift. How many times I have heard and said myself, "We are lucky and so blessed to wake up every morning and live where we do."
And so we live our lives in a different way.
And  where is this Holy Spirit? Well, I think it is rather like an invisibility cloak, you know the one that Harry Potter uses to get about and see things when others can't see him? Through our own invisibility cloak, of the Holy Spirit,  we can see a world that is beautiful, full of God's love and in which we can take a real place.  So long as we let the Holy Spirit surround us and come within us we can see a world that is full of richness in spirit and in love.
Without it we see a world full of fear, greed and looking only after our own selves.
How many times  in this lockdown have people shown little acts of kindness, not the great big things but the odd word in the street, across the road, a phone call, a card through the post, collecting the shopping for others, and the list goes on. In our own village of Gayton, there is a group set  up especially to help others who have to stay at home and are vulnerable. Truly a good thing to do.
The Holy spirit is not always silent though, as in the reading from Acts, he can take different forms. Tongues of fire is pretty impressive?
In our garden we are now near to a rookery, the rooks have been moving there over the last two years. What a noise! They are large black birds and hang perilously on the bird feeder unable to get their large beaks through the gaps.
But they are akin to me to the tongues of fire, noisy, very noticeable, flying to different trees settling on them and cawing loudly.
Maybe, I have lockdown fever !! But we have had real interest in watching their flying, their raising of young, which is a very noisy affair on the top most branches of the swaying ash tree, their connection with all the other rooks in their community.
The Holy Spirit does indeed take many forms and it is the sign that God has left with us, long after Jesus was resurrected from the dead at Easter, and after he was taken back into heaven on Ascension Day.
The Holy Spirit remains with us, within us, behind us, around us, our guide, our strength, and our heavenly touch with God .
So sometimes, pull the invisibility cloak around you, feel the Holy Spirit within you and thank God for all that we have received.
Come Holy Spirit! Vene Spirito Sant!
Amen
Places and travels 3rd Sunday in Lent
Readings Exodus 17: 1-7. Romans 5: 1-11
Gospel John 4:5-42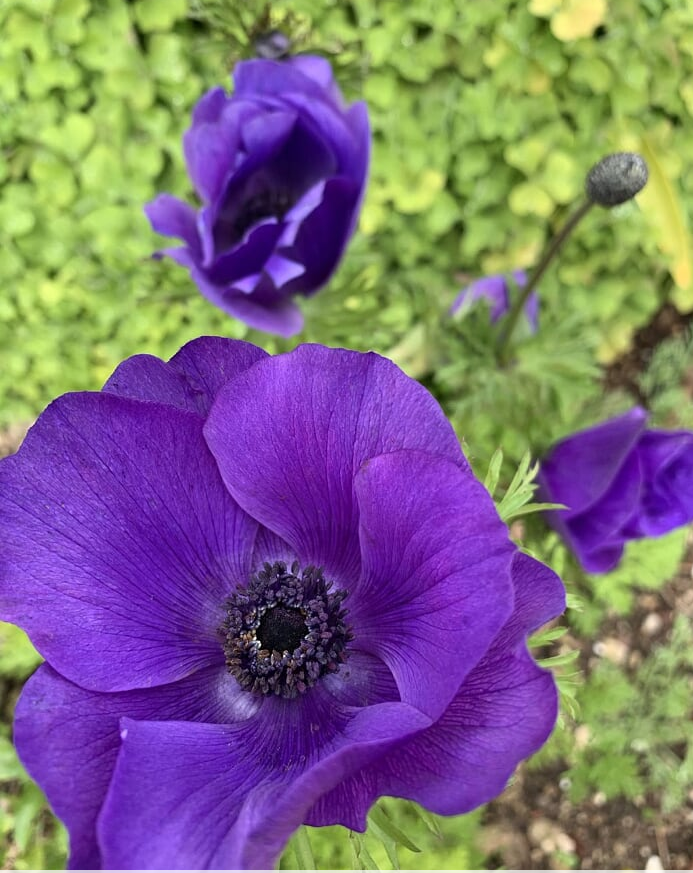 May I speak in the name of God who is Father, Son and Holy Spirit.
At the end of my travels to the Holy Land we found these beautiful anemones at Abu Gosh!
But lets start with the travels of Jesus. His own pilgrimage, in a sense, places he walked to, he didn't have a coach or a car or a bike. Maybe he may have used a donkey from time to time. Places where he performed miracles, gathered his disciples, went into the wilderness, and places where he met with God.
In the gospel reading, Jesus is in Samaria. He had been in Judea and was on his way back to Galilee, back to Capernaum, which is on the shores of Lake Galilee. And there he meets the woman at the well. This is the same well where Jacob gave to his son Joseph. Often there are strong connections to places between the Old and New Testament.
On our pilgrimage, we had a guide, Hanna, who was an Aramaic Christian, and lived with his father in Jerusalem. He had a wonderful understanding of the relationship between the Old and New Testament and gave a great insight into connections.
But, this woman at the well… She was certainly surprised that Jesus knew all about her and that he was able to ask her, a woman for a drink. Jesus was good at breaking with conventions that didn't make sense! And Jesus tells her that a new way and that in short time the Father will be showing a new way to worship in spirit and in truth, not relying solely on laws.
" The water that I give will become in them a spring of water gushing up to eternal life", says Jesus.
And then the disciples returned and were surprised to see that Jesus was talking to a woman, a Samaritan woman. Although they didn't question him ,they remained surprised and they all returned to the city.
On the pilgrimage we went on many journeys and travelled by coach, not on foot. We did do much walking and my trainers with the orange laces were well used. Our journey from Galilee to Jericho, was by the side of the River Jordan, now called the West Bank. It is now highly organised in agriculture and many crops of oranges, bananas, mangoes, vines, were growing. As we became closer to Jericho the landscape did change to rocky hills and barren ground. One of the things that was a surprise to me was that In February it was green , there was grass growing, but then of course as we travelled past flocks of sheep munching happily this was the time of year when there would be things growing. It was the land of milk and honey after all.
At Jericho and by the way, the wall has gone, we went up in a cable car to the Mt of Temptation and looked across the plains to Jericho, that same view that Jesus would have seen when tempted by the devil, How much would it have been changed from that time? I don't think the view would have changed much, Jericho from a distance is a city full of old houses and although there are lots of tarmacked roads, there are also many dirt tracks. Still several donkeys too!
It took us about 2 hours in the coach, so I think that would have been a several days of journey by foot. But we had a good idea of the distances that Jesus travelled whilst he was ministering, and talking to the disciples.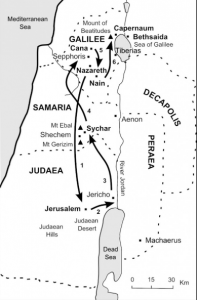 In places like Jericho and Sychar, and the villages around, the need for water was great and the well an important place. Jesus says to all of us as well as the Samarian woman that he gives us water that will quench our thirst forever. Not just in being physically thirsty but a quenching for the soul, a quenching for knowing about God and the Holy Spirit.
But before Jesus can do that, he has to sacrifice his life on earth for us all.
His journeys were to end at Jerusalem. We also went to Jerusalem. A cold and wet day packed with people from all three Abrahamic faiths, Christians, in a minority, Jews and Muslims. This is a special place for all that worship and believe in God.
Before Jesus went to Jerusalem, He also went back to Galilee, back to Cana and to Capernaum, by the shores of Lake Galilee and where Peter's family lived. From there he went back to Jerusalem for the final time.
Places and travels are important, they have a significance on our lives, what we see, who we meet. Jesus also travelled and went to many different places within the Holy Land as we call it today. Then it would have been different regions, Galilee, Samaria, Judea, Decapolis, Peraea and the terrain would have been harder for travelling.
How do we know when some places are important to us? Why do we need to go and visit? Well I am fortunate in that I can go and visit and I also think it is very important visit places, to meet with the people who live there, gain an understanding of their lives and make connections. But also to bring that back with me and to spread the word…
At the end of Jesus journey on earth, Jesus  asked Peter and us all to tell people the good news.
At the end of our journey in the Holy Land, Hanna, our guide did the same, he said goodbye by singing the Lord's Prayer to us in Aramaic, the language of Jesus and then asked us all to go out and spread the word. Amen
Rev'd Sue Martin
Presentation of Jesus at the Temple – Candlemas
Feb 2nd 2020 

Readings Malachi 3:1-5, Hebrews 2:14-end Luke 2:22-40
May I speak in the name of God, who is Father, Son and Holy Spirit
Simeon's words must be one of my favourite passages in the Bible;
Lord, now let your servant depart in peace, according to your word,
For my eyes have seen your salvation which you have prepared for all peoples
A light to lighten the Gentiles
And for glory to your people Israel.
Simeon had, it seems, been waiting in the temple too for some time. A very patient man and also Anna, who stayed in the temple all the time. And I wanted to concentrate on place in all the Bible passages, Jerusalem. Jerusalem the city of David and we come back to, time and time again.
Pray for the peace of Jerusalem! "May they be secure who love you! Psalm 122
And he carried me away in the Spirit to a great, high mountain, and showed me the holy city Jerusalem coming down out of heaven from God, having the glory of God, its radiance like a most rare jewel, like a jasper, clear as crystal.
Revelation 21:10-11
Jerusalem… Geographically it is interesting in that Israel sits sandwiched between the continents of Europe and Asia, continents that both physically and in human terms have rubbed against each other and there are many conflicts.
Jerusalem is the centre for the 3 Abrahamic faiths, Jews, Christians and Muslims, Is that just a coincidence?
In Jerusalem the place of the crucifixion, Golgotha, goes down to the oldest and deepest rocks in the world.
We often look upwards to the stars to think about and place heaven, but here is a place where we look down to the centre of the earth.
In 3 weeks time, I am going back to Jerusalem and the Holy Land on pilgrimage with the diocese. A wonderful chance to revisit all the places which are immensely special and sacred. Now they are part of many people's every day lives, as in Jesus time also.
For me this will be a chance to take some time, a time to ponder, like Mary, to stand back and look. To be a pilgrim. And to set out, to set out on a journey.
Getting back to reality for a while, we first of all have to start at Luton airport, nothing ponderous that I can say about that!!
Jerusalem for me last time was a real challenge, the Israeli army, the bustle of the place, the Via Dolorosa, and walking along the same streets that Jesus walked, and now as then with shops selling souvenirs and other stuff! But still remarkable and being at the foot of the cross was life changing.
Time to stand back, to let go, let's think of just 1 thing that we could let go of, that would mean that we can journey with Christ. What is holding us back?
We can only do that with time to think, time to stand back time to pray. Just one thing that we can let go of?
Jesus had visited the temple in Jerusalem at an early age, and yet he knew that one day he would return there.
Mary knew that one day he would start his ministry.
They both and I'm sure Joseph too took time to ponder, to continue with life, to raise the rest of their family also, but to know that God was with them.
And God is with us on all our journeys, whether to Jerusalem or wherever we are going.
All we need do do is to follow him, and if that means giving up just one thing today, just do it!
Amen
Epiphany The Baptism of Jesus
Jan 19th 2020
Readings Isaiah 49:1-7 John 1:29-42
May I speak in the name of God, who is Father, Son and Holy Spirit
Thank goodness for the sunshine! Is there sunshine in your life?
The last few weeks have been more than a little depressing? Rain, rain and more rain. Apart from the effect on the land, our fields and garden it really does knock our spirit.
Epiphany is about a new dawning, a new light into the world and we certainly need it at the moment.
Epiphany comes straight after Christmas, of course, so where do we leave the stable? Where do we leave the shepherds, where do we leave the three kings and where are Jesus, Mary and Joseph?
Well the stable, goes straight back to being just that.
The shepherds go back to the fields.
The three kings go back to their home lands
And Mary and Joseph take Jesus to live in Nazareth in Galilee.
In the short term Herod has done his worst and killed baby boys.
But the shepherds have seen the most amazing sight and although they may have gone back to the fields, I think they also will have spread the word.
The kings have come to see te sight of the new Saviour by following the star, I wonder how they got on trying to tell everyone about that?
And Joseph takes Mary and Jesus from Egypt to Nazareth, same donkey do you think? And ther Jesus grows up as a child in this loving family,Joseph his earthly father a carpenter and Mary who knows that eventually Jesus will be going away.
So, the point of all this is that that al of those people wre waiting, waiting for the light to really shine in the world.
We wait in January, after Christmas is over. This year it has been very dark and dismal. Finally the sunshine will arrive and finally Jesus did start his work.
The time scales in the Bible are confusing

.

One week we are with the kings travelling to greet Jesus in the stable and then soon after we are straight on to Jesus and into his ministry.

The heading in my Good News Bible is Israel, A light to the Nations.

God is talking to his chosen servant and showing how his work can be done. Jesus comes down to earth, the light of the world to show us the way.

Verse 6 says, but I will also make you a light to the nations.

So this is the time when Jesus starts his ministry in Galilee, he is seen by the disciples as the Messiah.

Galilee is where he was planned to start his ministry as a Galilean. Next month I am fortunate to bei going back to the Holy Land on a pilgrimage. We start in Galilee and I so look forward to that peace on the Lake and if lucky some warm sunshine.

Epiphany is the feast day and time when God become incarnate as Jesus Christ. It is the dawning of the new age.

Brightest and Best of the sons of the morning, is one of my favourite hymns, actually I have quite a lot of favourite hymns. But to me this is about the ending of the darkness, the days getting longer, slowly and slowly.

Dawn on our darkness and lend us thine aid – hasn't it been dark and dreary this year since Christmas, well and before that too. Darkness, rain, cold… and as someone said to me the other day, well it is January! And that's true but we could do with a bit of help couldn't we. A holiday in the sun? Well we would still come back after a week and it will still be cold!

Thank goodness for the sunshine! Is there sunshine in your life?

Knowing that Jesus is there. Knowing that he hears our prayers and knows where we are at.

Even in the darkest days, we know that Jesus is with us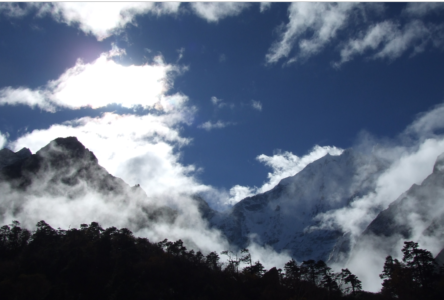 Amen