First Sunday in Lent, Sunday March 5th 2017
In the Wilderness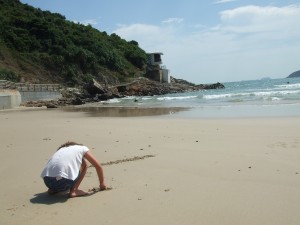 I suppose I like the title, being in the wilderness There seem to be many times when we find ourselves in the wilderness, or is it just me!!
Wandering, walking through the country, wondering which direction we should be travelling in, seeking God's call, trying hard to get on with our lives when all around us is caving slowly in.
And then the good old devil appears. Ever on the watch for a good person to tempt and drive over to his side. Ever the slippery snake, ever the creeping bramble, watch as he makes his way cunningly into lives and then departs.
In Lent, of course, we are asked to give up something, something that we like, something that is like a treat and which gives us some pleasure maybe.
Mmmmm so you've guessed. Mine is chocolate. When we get to the end of Lent I will tell you how often I have given in to temptation!
The reading from Mathew of Jesus in the desert is very powerful and well remembered and coupled with the Old Testament reading of Adam and Eve in the garden meeting temptation and not doing to well really.
Jesus was tempted by the devil from the a high mountain, looking down on the country beneath him. Come fly , you can show everyone that you really are the Son of God, he says.
But Jesus is not even tempted. Why does he need to show people that he is. Has he not told people they have not all heard or able to accept that he is. There is no need for the evidence that Satan is demanding.
God has asked us to have faith.
Jesus tells us to believe in him. That is all we need to do.
If you are also a fan of CS Lewis you may have read The Screwtape letters. A wonderful read with CS Lewis' magnificent way of empowering meaning into stories
Screwtape is a devil and is training his nephew, Wormwood into the art of seduction and bringing people to the devil and his ways. He delights in finding ways to tempt people on the edge of Christianity.
He creeps and he prowls, he worms his way into peoples lives.
The passage from Peter  in compline
like a devouring lion waiting to pounce
In our 6 weeks of Lent maybe we can be strong, lets resist all temptation when we can, although we are human and giving up anything is hard to do.
We can also do something extra, make a difference somewhere, help where we can.
And we can also find time for ourselves, time to reflect where God is calling, time to find the path that is right for us to follw.
February 26th 2017
Sunday Before Lent
Exodus 24:12- end
2Peter 1: 16- end
Matthew 17:1-9:1-10
May I speak in the name of God, who is Father, Son and Holy Spirit.
A lamp shining in a dark place, until the day dawns and the morning star rises in your hearts
Hurricane Doris was horrendous, lights went out across the country, buses blown off the roads, trees crashed to the ground and homes and gardens strewn around. I hope that there wasn't too much damage for each of you.
Seeing is believing some people say.
But that is not the whole story is it? Our readings this week are wonderful and give us a real picture of things that we can't always see. But we have been told!
We can't see the wind. We can feel it's effect, every day we know which direction the wind is blowing from, how strong it is and what kind of weather it will bring along the way.
The passage from 2 Peter is very powerful. Peter does not shelter us from the wind or from what we should be doing.
'You will do well to be attentive to this as to a lamp shining in a dark place, until the day dawns and the morning star rises in your hearts.'
 Be attentive to what?
Should we have for instance have listened to the weather forecast more carefully, should we have listened to those who have written scripture before? The answer is yes, of course.
In Exodus, Moses is taken into that cloud on the top of Mount Sinai and heard God calling him, so went into the cloud, and the people of Israel saw what looked like a devouring flame. In the forty days that Moses was on the mountain God talked to him with some very detailed information about what the Israelites should do.
Peter tells us that we have been given the message, the prophecy is clear.
I am often asked as many Christians are, How do you know that there is a God, where is the evidence?
Well it is right here in the Bible.
It is also here in our every day lives, in the wind that blows so strongly, in the calm that came after the storm.
Sometimes we can feel it. And sometimes we cannot. But it doesn't mean that it has gone away. God's presence is always with us, with those he loves and with all people who listen to his word and those who struggle too.
I do believe that there are places and times when God's presence through the Holy Spirit or his angels is stronger. Just because we can't see doesn't mean that his presence is not there. Angels surround us as we go through each day.
And what about the gospel reading from Matthew… I was fortunate to visit the Holy :Land with the Bishop of Norwich and a party of curates and other people, two years ago.
We went to the place where Jesus was transfigured and in the presence of Moses and Elijah. The chosen disciples saw and were astonished by what they saw.
But there was more, a cloud appeared and the voice of God said,
'This is my Son, the Beloved, with whom I am well pleased; listen to him.'
 The disciples were overcome, we are told with fear, sometimes there are reasons why we can't see everything!
Peter had wanted to build 3 dwellings, as always he wants to do something, strongly wanting to do something physical. But that was not the plan.
There are now however, two amazingly beautiful  churches on the site. There are taxis and buses bringing people up and down the mountain all day. And the view over the plains and Nazareth are stunning.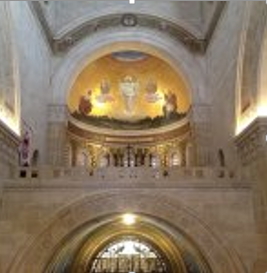 When we were there, we were able to have a service in a covered area to the side of the churches. It was a wonderful Eucharist. We sang and said prayers and felt a strong presence around us. A gentle wind rustled the paper cover and increased quickly at one stage.
A wind that we could feel, a wind that blew around us, a wind that felt good.
Like A lamp shining in a dark place, until the day dawns and the morning star rises in your hearts
In Matthew the passage continues with Jesus telling the disciples not to tell anyone of what they have seen until after the resurrection.
I think that would be a bit like reading a story and jumping to the end with reading all the chapters in front, it doesn't make as much sense.
The disciples did not understand but it did all become clear later.
And as we approach Lent and think about reflection, a period of fasting, remembering the 40 days and forty nights spent in the desert, let us  find that space for God to find us and
Like a lamp shining in a dark place, until the day dawns and the morning star rises in your hearts.
Amen
Rev'd Sue Martin