18th Sunday after Trinity and St Michael and All Angels
Oct 4th All Saint's Church Ashwicken
Mark 10:2-16, Hebrews1:1-4, 2.5-12
A Little Lower than the Angels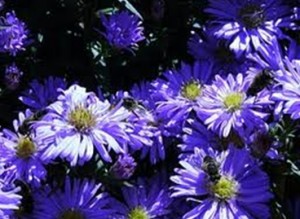 Michaelmass, the season when the summer is coming to an end, a time when the beautiful warm weather starts to become a little cooler and the autumn approaches.
We have seen the autumn equinox impressively this year marked by the supermoon and the eclipse. A wonderful sign of God's world and our small part in it.
Michaelmass was the time in the agricultural world when the summer seasonal work was at a close and those working on the land over just the summer seasons would be looking for work elsewhere for the winter season.  A time for change.
In Thomas Hardy novels he makes full use of the season to show a whole army of characters with their agricultural implements and particular skills in field work to be present at a market of fair in the local towns.
St Michael's Day or Michaelmass was on September 29th and that's not far away from today.
Before we get to Michael, let's think about angels. The strange thing about angels is that they are often in church, as wooden angels in the roof or in other places, but it is seldom that we talk about angels.
Outside the church, it's different, people often talk about angels, guardian angels, messengers, spiritual beings, moving from one place to the next, moving from heaven to earth.
For many people, searching for some signs of spirituality the concept of angels is a real help. They are visible, in the form that we imagine them in, whereas God is very hard to imagine in any visual sense. They also seem to be with us on some occasions. Maybe it's also a way for people to reach towards God in some more realistic way.
I think if you have faith, it's a hard concept, just to visualize the angels and then never to move on from that.
In the Bible there are many references to angels, one of which being in Genesis, ch 28,v 10 14. Jacob's dream of the ladder to heaven with the angels going up and down between heaven and earth.
Angel does mean messenger, it comes from angelos, the Greek for messenger.
Dionysius warned against taking visions of angels too literally,
Angels', he said,' Are not golden beings or men flashing like lightning, but intermediaries between God and mankind. They are seen when they need to be seen and appear in bodily form, but they have no bodily existence.',
There is an order to angels and it is said to be:
First Order are Seraphim, Cherubim and Thrones,
Second order Dominions, Powers and Virtues
Third Order Principalities, Archangels and Angels
Terms also to describe angels are sons of God, 'holy ones', Angels are mentioned in the divine council of God as members of a heavenly chorus,
 'When the morning stars sang together and the heavenly beings shouted for joy,' (Job38)
Angels are powerful heavenly beings whose agency is not only an assurance of God's activity in the world but also a guarantee of the eventual vindication of the faithful people.
We think and hear about angels being in the order of heaven and one of my favourite theological writers, Paula Gooder writes in her book Heaven, about the appearance of angels on earth and that in Hebrews, chapter 13:2 of the need to be hospitable to strangers, and quote," For by doing that some have entertained angels without knowing it."
In our reading from Hebrews today we have that God made us humans a little lower the an the angels.
And so in the third order we find Archangels, of which there are four (or seven), Gabriel, Michael, Uriel and Raphael..
Michael is seen as the chief of archangels, a defender, guardian, protector of Israel. He is shown in Daniel as a warrior and of course in Revelation he is the slayer of the dragon and also the angel who cast out the Satan from the heavenly thrones.
Gentle and brave, gallant and bold.
 From the hymn by Jan Struther,
Let faith be my shield and let joy be my steed
'Gainst the dragons of anger and the ogres of greed:
And let me set free, with the sword of my youth,
From the castle of darkness, the power of the truth.
A prayer from Pope LeoX111 in 1886,
St Michael the Archangel, defend us in battle,
Be our protection against the wickedness and snares of the devil.
O prince of the heavenly host, and the power of God
Thrust into hell Satan and all evil spirits
Who prowl about the world seeking the ruins of souls.
In the pictures we have from artists, Michael is shown as a soldier, crusader, often with wings, with a shield and a spear.
He is said to have come to Joan of Arc in 1412 as she was caught wearing men's clothes and having joined the army, and then later burnt at the stake as a heretic. Michael was there with her.
There are 2 places immediately to mind to show Michael as a protector of places, Mont St Michel and St Michaels Mount in Cornwall, I'm sure there are many more.
In my reading for tonight, I came across the following theory, which greatly appealed to me.
The whole point of celestial hierarchies is to be inclusive and to give a place for all angels.
St Michael is believed to be the chief of archangels, but this would out him even above the seraphs and this was not fair, so he  is included in the archangels and therefore with the third order of all angels.
Anyway, getting back to earth for a moment, tonight we share in the celebration of St Michael and All Angels, in the tradition of Michaelmass and to be present in this church as people gathered together in God's name.
We cannot know all about angels, there are vast books written on the subject, I collected several from the Cathedral library last week, which have helped me tonight.
Some people think its just fantasy, an unreality, this whole idea of a ladder to heaven, angels wandering around the earth.
But just sometimes, don't even the most skeptical of us, have times when we feel truly blessed, a small miracle happens, or we just become aware of a helping hand.
But just sometimes isn't there a time when we need a little help, we try hard ourselves but life is tough at times, just the times when we do need an angel.
Amen
Revd Sue Martin
A Little Lower than angels. Hebrews, 2:7
Michaelmass, the season when the summer is coming to an end, a time when the beautiful warm weather starts to become a little cooler and the autumn approaches.
We have seen the autumn equinox impressively this year marked by the super moon and the eclipse. A wonderful sign of God's world.
Michaelmass was the time in the agricultural world when the summer seasonal work was at a close and those working on the land over the summer seasons would be looking for work elsewhere for the winter season. A time for change.
In Thomas Hardy novels he makes full use of the season to show a whole army of characters with their agricultural implements and particular skills in field work to be present at a market of fair in the local towns.
St Michael is the guardian angel of autumn  or Michaelmass. He is the Archangel responsible for courage and bravery, he is the defender of faith and is known for his slaying of the dragon.
Sermon for 18th Sunday after Trinity at All Saint's Church Ashwicken 4.10.15
Rev'd Sue Martin     FaithGoesWalkabout.org
Seventh Sunday after Trinity July 19th    2015
 Come Away to a deserted place and rest a while…
Readings Jeremiah 23:1-9, Psalm 23, Mark 6: 30-34, 53-56
May I speak in the name of God, who is Father, Son and Holy Spirit
 'Come away to a deserted place all by yourselves and rest a while.' Says Jesus to the disciples.
What a powerful few words. How often would we like someone to say that to us.
Come away and rest a while….
 What's been happening to Jesus and the disciples? Why are they so tired and in need of rest?
This in the central part of Jesus' ministry and he and the disciples have been followed as they had been with Jesus as he had been performing miracles, healing and teaching. People were just following and the word was spreading about Jesus.
Jesus saw that his disciples were getting tired and so asked them to come away and rest.
They went in a boat and to find a deserted place, they set off into the Sea of Galilee and headed up the shore, from Capernaum.
But the crowds had seen them and were following on the shore and in fact arrived before they did. So the only rest the disciples has was in the boat. The Sea of Galilee can be incredibly calm and restful beyond measure so let's hope that they did get some rest before they clambered out of the boat.
When they arrived at the shore Jesus sees the crowds and feels compassion for them as he says, they are like sheep without a shepherd,
And he walks up the hill and starts to speak to them.
Interestingly in today's readings, we miss out the next section which is the Feeding of the Five thousand, which is a story to itself. And then the calming of the waves, these are both very active sections from Jesus.
But the readings move on to Gennesarat and where Jesus had hoped that He and the disciples would get some rest. But already ahead of Him were people bringing the sick to be healed and to come and just listen to Him talk.
But we do all need rest and a time and a place where we can feel peace and calm. Easier said than done!!
Psalm 23 is a psalm we all know and can probably say by heart.
It starts with The Lord's My Shepherd, I'll not want. He makes me down to lie, in pastures green He leadeth me, the quiet waters by.
Isn't this just what He was trying to achieve with the disciples?
Isn't this just what He tries to achieve with us?
A chance to know that we are His sheep and he is our shepherd.
When he came off the boat he saw the crowds and saw them as sheep without a shepherd and had compassion for them.
Come away and rest a while…
In the end that is what God gives us, but if we see it before the end we can experience some of that profound peace here on earth.
The hymn Dear Lord and Father of Mankind is one of my favourites. The tune starts gently and rises up like the sea and then calms down again.
The 2nd and 3rd verse are linked well with the readings;
In simple trust like theirs who heard
Beside the Syrian sea,
The gracious calling of the Lord,
Let us, like them, without a word
Rise up and Follow Thee.
And of course verse 5, wonderful soothing words;
Drop thy still dews of quietness
Till all our strivings cease
Take from our souls the strain and stress
And let our ordered lives confess
The beauty of thy peace.
Ahead of us we have the summer, we have the holiday times and times for families to get together and have time and fun. To experience the real joy of love and laughter and to find space for each other.
In our busy lives it's hard sometimes to find some space and to Come Away to a deserted place and rest a while.
We rush around getting so much done and achieving more and more, there is more and more on offer for everyone of us and that is really wonderful.
But in the midst of all that running around and endless activity can we find some space, some space to find God and to let God find us. If we never speak to God and say prayers, if we never give thanks and spend some time in worship, how can we expect Him to be with us?
A few minutes of every day, a spare hour in a week of 168 hours, it's not a lot. And it's worth every single minute.
Come Away and rest a while…come to a deserted place all by yourselves.
Amen
Rev'd Sue Martin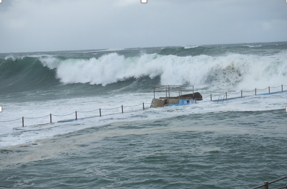 Calming the Storm
Third Sunday after Trinity June 21st   2015
Readings 1Samuel 17:4-11, 19-23,31-49, Mark 4:35-41, 2 Cor 6:1-13
May I speak in the name of God, who is Father, Son and Holy Spirit
Calming the storm, energy and power, who's in control?
Who is this that even the wind and the storm obey him?
Let's take ourselves well away from it for just a few minutes. Let's go on a journey to the Sea of Galilee and let's go back a few years, well let's make it 2000 years or so.
A hot and sunny day, Jesus had been talking and talking and just wanted a few moments of peace and so drifted off to sleep.
The Sea of Galilee (Kinneret) is in northeast Israel, near the Golan Heights in the Jordan Rift Valley, an area where there are earthquakes and previously volcanic activity It's a large fresh water lake about 10 miles by 7 miles and is the lowest freshwater lake on Earth.
Jesus grew up in Nazareth  and then moved to Capernaum on the northern shore of the lake to stat his ministry. The area was very productive and agricultural, with quite a large population who made a living from the land- farmers and small holders! The lake was also important economically as the fishing was very good and employed many people.
Of the disciples, James, John and Peter were all fishermen. Jesus told his parables around the Sea of Galilee and at that time it was governed by the Romans, and Herod Antipas.
And so….Jesus went out in the boat with the disciples to go the other side.
'A great gale arose, and the waves beat into the boat so that the boat was already swamped.'And what was Jesus doing during this storm?
Fast asleep in the stern of the boat! Imagine the wind raging the small boat boat being tossed around by the great waves…. And Jesus was fast asleep.
You can imagine that the disciples were panicking, Not surprising! So they wake him and ask,' Is he not bothered that they are about to sink!
Jesus tells the wind to stop and the sea to be still.
'Then the wind ceased and the sea was dead calm'.
Imagine their faces, and the sense of awe is in the verses by the lack of any further words than, 'Who then is this that even the wind and the sea obey him?
Calming the storm, energy and power, who's in control and where is the fear?
 Who is this that even the wind and the sea obey him?
Another journey back in time and place. In our first reading we have the well known story in Samuel, of David and Goliath.
The Philistines were gathered with their armies for battle in Judah, which is near the Dead Sea and Hebron.
Saul and the Israelites were camped in the valley of Elah and surrounded on all sides by the Philistines.
Much the stronger army the Philistines were confidant that they would win. I think the Israelites would have been very fearful. They were the weaker side.
And then… to crown it completely out appears Gath, the giant of a man and asks that the Israelites send out one man and if that man should slay him the Philistines would be the slaves of the Israelites.
How would you feel then? Fear looms large.But out appears David, a small boy with his sling and his stone. And we all know what happens in the story. The mighty giant is killed and the smaller boy with hidden strength, confidence and faith is the winner.
Calming the storm and battle, who is in control and where is the fear?
 There is a space in all of when fear takes over. When it seems that we are up against a battle of enormous odds or against the furies of nature and out of control.
Jesus could calm the storm on the lake and he gave his disciples faith that he was more than just a good preacher, healer and teacher. He was the Son of God and this was just a sign of the power that he had.
They had no need to fear, they would later be given that inner strength and faith that would enable them to in a literal sense, 'move mountains'.
For all of us we can have that faith and inner strength that should enable us to know that Jesus is with us and that God is close at hand. In the darkest of our days he is there reaching out to us. There are no storms too large.
Calming our own storms, who is in control and where is the fear?
 A person who I have enormous respect for is Aung San Suu Kyi.
Her father was the leader of the Burmese Democratic Party and was killed by the military when she was very young. Her mother remained in Burma and Suu Kyi came to England and was educated at Oxford and married Michael Aris and they have two sons.
24 years ago, they all went to Burma for a visit to her mother who was not well. Whilst she was there she was asked by members of the Democratic Party to become their leader. She had no intentions or ambitions to become leader but over time felt that she should do this.
Michael took the boys back to the UK and it was expected that before long Suu Kyi would follow. It took 24 years.
In that time, she was threatened, her home was destroyed, her followers were treated abysmally in dreadful conditions and the military were convinced that at some stage she would leave to return to England.
Her mother died, her husband died, her boys grew up. There were times when they were allowed into the country and the military always thought that she would go back with them and they would not allow her to return.
An amazing story full of courage, full of quiet resolve in the face of fear, full of life's terrible moments. She was not a woman with wealth, domination or anything else that would give her power. But what she did have and I'm sure still does, is inner strength a quiet resolve and an ability to dissolve fear, which is the greatest weapon that her enemies had against her.
A wonderful example.And for us as Christians, we have even more in Jesus Christ, who gives us that inner strength, our faith and an ability to face fear.
Never easy but it is there for us.
Amen
Rev'd Sue Martin – Faith Goes Walkabout
Amen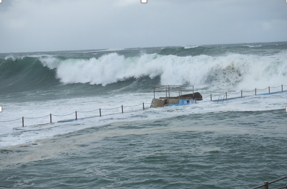 Pentecost Sunday 24th May 2015
Acts 2: 1- 21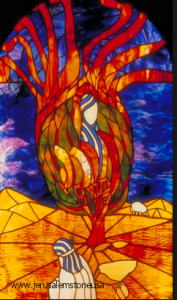 The best gift of all!
The Holy Spirit
And just how amazed do you think the disciples would have been to find that they were speaking in different languages! Can you imagine it now? What would people have said.
A great crowd of people at a special festival,  tongues of flame start to appear from all around, mmmm… not looking to good. Someone by now would have called the police on their mobile.
"Come quick please, I think we have been tricked! This new band have sent fire into the crowd and now there are men who are talking in all sorts of different languages. You'd better hurry!"
Or maybe it could even make a good Dr Who episode! Flames, wind, tongues, …Dr Who would be trying to get his special sonic screwdriver to work but to no effect.
There are some things even a time Lord can't do.
Pentecost is a Jewish festival, 50 days after the Passover when the first fruits were offered to God and then later it was to celebrate the renewal of God's covenant. Now, we associate it with the start of the church. Jesus had been taken to heaven and now his gift, as promised the Holy Spirit came in flying style to the disciples.
And since then it has had the most amazing power to surprise, create wonder and sometimes confuse us too. If we allow ourselves to find it then it can have a terrific ability to do good. And certainly find us where we are and bring God right into our lives today.
The best gift of all!
In Acts, Luke creates an account of the start of the church from Ascension to the imprisonment of Paul. He tells of the journeys and the time that the disciples spent in starting the church. From Jerusalem they travelled across the world, some were martyred, starting with Stephen. We can follow them in their journey. Jesus was no longer with them and they had taken a time to come away from that loss and the fear of persecution.
And it was after Pentecost that they actually started to minister, to baptise and to spread the word.
The church and Christianity started here!
At the feast of Pentecost there were a group of about 200 followers, the disciples, and Mary, mother of Jesus and his brothers. A sound from Heaven, like a strong wind appeared and tongues like fire rested on them.
Peter, standing with the other 11 disciples, addressed the crowd. He interpreted the tongues as the fulfillment of God's promise, described in Joel
"I will pour out my Spirit upon all flesh and your sons and daughters will prophecy"
Peter went on to baptise about 3000 people that day. They were from countries far and wide; they had the potential to cross cultural boundaries. They had the power and the spirit to take the word of God across the world.
That was before the world of emails, texts, before the printed paper and letter press, before air flight and long distance travel was popular.
Someone said the other day, what would have happened if Jesus had been born into our time, do you think he would have used emails, the internet, gone on long haul flights?
I'm sure he would but the fact is that he can work wonders without electronic and technical communications, just wait and see.
A year ago I was going on my retreat for ordination into the priesthood.
It was an unusual week, normally kept as a silent retreat, well silent apart from in the bar in the evening. But this year we had problems. After the first day one of the ordinands became ill with a stomach bug. One by one in the mornings there were less and less of us.
As we weren't able to talk about it we just had to wait and see who was left standing!
In the end the Director of Ordinands gave up and said on the Thursday,
"If there is one more person who becomes ill then we will have to give up and go home."
Never been heard of before!
Tempting as it was to return home, I knew that some of the pressures of getting the party ready and returning to normal life were not right for me at that time.
And with 3 other rebel colleagues we decided to stay.
The leader of the ordination retreat was Canon Revd George Kavoor. Principal of Bristol Trainng College and Chaplain to the queen. He was from a south Indian background and one of these amazing people who never needed any notes, his words came straight from his heart.
He was staying too.
That afternoon, as the remaining few, we gathered under the copper beech tree at Ditchingham to listen to George talk about the Good Samaritan.
We were chatting away and animatedly talking about the events of the last few days when George said,
"Shall we start?"
He opened with a prayer, there was silence, the weather had been fine all week and no real trace of any wind.
But a sudden, strong and warm wind gathered around us, it whipped into the branches of the tree and swirled the branches round. When George finished the prayer the wind died down.
He looked at us and smiled…. I think he had felt the Holy Spirit before but it was an amazing experience, no goose pimples, just warm, glowing and lifting.
The best gift of all!
Rev'd Sue Martin
Is there Hope? – Resurrection
Matthew 28:1- 10  Acts 10 34-43
Alleluia, Christ is Risen!  He is Risen indeed, Alleluia!
What a week!
Quite a story, starting with the triumphal ride into Jerusalem on Palm Sunday on the humble donkey. Crowded streets, the place packed with people preparing for the feast of the Passover, Jesus turning over the tables in the temple, the Last Supper in the upstairs room, for fear of being found, the long night in the Garden of Gethsemane, the betrayal of Jesus by Judas, the capture by the soldiers, Jesus coming before Pontius Pilate, the crowds calling for him to be crucified and the release of Barabbas.
And then the crucifixion.
Saturday, the holy day for the Jews. What was that like then?
And so to today, the good news that Jesus is risen. Alleluia!
This is the good news, the news we all share even today 2000 years after the event and it hasn't changed, He is risen indeed Alleluia!
But let's go back to that tomb, the tomb given by Joseph of Arimathea. There are tombs in Jerusalem just like the one given by Joseph and I have seen a later tomb where they think Joseph of Arimathea was later buried.
In the morning Mary Magdalene and Mary the mother of Jesus had gone to visit the tomb and see where they had laid his body. It had been such a dreadful day on Friday their sorrow and grief were unmeasurable but together they walked to the tomb, maybe like us today to visit the gravesides of our relatives, in respect and in love.
In Matthew we hear that an angel had rolled back the stone and was sitting there. This is a very short passage, but it says all that is needed.
The guards shook and became like dead men. But the angel said to the women,
'Do not be afraid, He is risen. Go and tell his disciples.'
What could have been in the minds of the two Mary's – joy, exhilaration, fear, wonder.
And then on the way to the disciples they met Jesus. Immediately they bowed down and worshipped him. In the meantime the soldiers had described what had happened and the story was made that his body had been taken by the soldiers, for fear of reprisal from the crowds.
The eleven disciples were making their way to the mountain in Galilee, when Jesus appeared to them. Jesus said to them,
'Remember I am with you always to the end of the age.'
And that surely is what the Easter message is about. Hope, resurrection, a life hereafter.
What happen to us in this world when we lose all hope? This is such a sad and miserable place to be, the depths of despair.
But Hope… Jesus gives us that hope forever, a love that never ends, a hope for all to be well, a love that is unconditional, a hope that one day we will all meet with Jesus.
Resurrection… Jesus was raised from the dead, he was dead and buried and was raised again to sit on the right hand of God. We say this in the creed the creed which we follow and which we believe. Raised to show us that through life in Jesus we can all be saved. Alleluia!
Jesus risen from the dead, alive and with us, here, now and forever.
 From our reading in Acts we have the wonderful passage in which Peter is talking to Cornelius, a Roman, and his family,
'Preaching peace by Jesus Christ – he is the Lord of all'
This is where we are; we were at the foot of the cross, and now through the resurrection we are standing tall, about to tell the world of the good news that Jesus is Risen!
Peter continues to recount some of the story of Jesus ministry and then says 'he appeared, not to all people but to those chosen by God, and to everyone who believes in Him receives forgiveness of their sins through his name.
At our celebration of the Eucharist, we share in that message through the signs of Jesus body and blood, that we may evermore be in him and he in us.
The cross that we wear and the cross that he bore gives us the light to walk out into the world and proclaim him Lord, It takes away the power of darkness, it takes away the things that we do wrong and leads us in to an eternal life.
It is a love proclaimed, God who sent his only Son to be with us to show his love for all his people.
We are lucky, lucky indeed. We know the story and maybe even feel a tiny bit of complacency about how we might have reacted if we had been there. I wonder if you really think that.
The crowds who shouted for him to be crucified, surely we wouldn't have done that, we are peace loving people, that wouldn't happen nowadays would it? Or wouldn't it.
Judas who betrayed him. A disciple so fed up with the apparent lack of progress in the last few weeks, decided that he may as well benefit from the inevitable.
And Peter, trusty Peter, the rock. He denied knowing Jesus three times. But how else would he react when he knew that to admit to it would mean he also may be tried
I think we would have been much the same, I think we still are. And every time that we turn away from Jesus it is like doing one of these acts.
But Jesus gives us forgiveness, he gives us love, he gives us a light to shine in the world.
And let us always remember
I am here with you always, to the end of the age.
 Happy Easter and Alleluia Christ is Risen
Rev'd Sue Martin
Sermon for 1st Sunday in Lent, Feb 22nd 2015
Genesis 9:8-17, 1 Peter 3:18-22, Mark 1: 9-15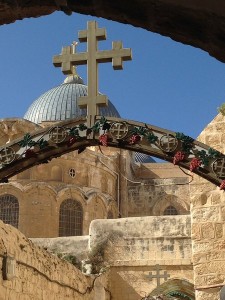 How do we find God in places?
Having just returned from the pilgrimage to the Holy Land I hope you don't mind me combining todays' readings with some of that visit.
Visit the blog on holylandpilgrimage/faithgoeswalkabout
We are in the season of Lent and in the readings we hear about temptation, fasting, God's promise to Noah and Jesus resurrection.
Keep those thoughts and let me take you on a journey with me to the Holy Land this year.
I suppose I have come back changed, not in any outward way and I hope for the better, I was looking forward to the visit enormously but did not really want my images challenged in anyway. I have been a Christian all my life, I am comfortable with my faith, I have had many challenges over time as we all do.
The Holy Land, I thought will be lovely and I was looking forward to the Sea of Galilee especially. Not sure if I wanted to go to Jerusalem at all and Bethlehem neither really.
In my mind they were firmly in a picturesque place in the desert with starry nights…
What was I expecting?
I was expecting to see many places, have my visions changed, learn a great deal, (after all the Bishop of Norwich was leading us), meet with other pilgrims, spend time together.
What had I packed in my bag?
Every day I had my phone/camera, a notebook, a drink of water, some sweets to share,, spare jumper/anorak and the itinerary. Everything ready, nothing else needed and anyway there were further supplies in the hotel.
For the whole journey, I had a variety of clothes, books to read, wash things etc and all the things that I would normally take that are me…. Favourite jeans, most comfortable sweater and shirts, sunshades, glasses, passport and travel details etc.
Who was I expecting to meet?
Fellow pilgrims, 2 bishops, several curates, officials in Israel, a tour guide, Jewish people, Palestinians, Muslims and Christians too.
And what actually happened was this…
Our first place we visited was the Sea of Galilee and as I was doing a blog, there I was making a nuisance of my self-taking photos etc. We were taken out into the middle of the lake and as it was low season, there were only a couple of other boats there too. The bishop read and then there was silence, absolute silence, calm, still, peace, gentle sun, the hills on the other side of the Lake, the village of Magdala, where Mary Magdalene came from, Capernaum, where Jesus did most of his Galilean ministry. No sounds of lapping waves, just silence.
And then I heard the gentle voice of God.
Lost for words…..  one of the crew members started to play…. And without prompting those who wanted to stood up and danced to Have Naguila, in a circle on the boat… the spirit alive and free.
I realised that I had not expected to meet God! What was I thinking !!
The next day we journeyed to Nazareth and went to the place where Jesus came to live, I could have wandered around this town for longer, how did Jesus play in the streets here, where did he and his father Joseph do the carpentry?
Another day we went into Bethlehem, this is a town under siege, it is walled in by tall concrete blocks for the Palestinians by the Israelies. We went to the Church of the Nativity and our guide told us all about the place where it is thought that Jesus was actually born. They do have a predilection of outing very elaborate churched over the top of all the important sights.
The next morning I needed to get some fresh air and some space, I walked to the outside of the hotel, the Manger Square Hotel. A bag seller came to me and wanted to sell me a bag…. I did tell him that I didn't want to buy a bag, I just wanted to look at the street and have a little walk in his town.
' Oh, of course, you must find some space, there are many churches here and ….. in very good English he showed me the tops of some of the buildings and left me to have my walk. ' I will be back tomorrow,' I said.
The next day at the end of our journeys I went outside and there he was in the street with his son. He asked if I had a good day and I said I would buy a bag. And then he talked about his family and his life and I met his son, Ahdoef and that he hadn't been able to get to Jerusalem for 20 years. Then he was a builder and now he sells bags.
So we got talking and eventually Mahmoud, took myself, Richard and James to the nearest café and bought us all coffees and we talked.
Who did I meet, I met a bag seller and a person of deep faith, and ……
On the Saturday, we went to Jerusalem and walked the Via Dolarosa, the Stations of the Cross and Bishop Graham gave a Bible reading and a prayer at each station.
On each of the stations and on that journey to Golgotha I became increasingly quiet and reflective about how it could have been the same day, the crowds were there, people were selling things, brushes, books, things that you might need…. We did get to the 10th Station and before going into the Church of The Holy Sepulchre we stood in the square in silence.
And who did I meet… I met Jesus, there in his suffering, in that place in the sunshine on that hill.
What could I say? What did I need in my bag? Absolutely nothing!
Our readings for today are about temptation, fasting, God's promise to Noah and Jesus resurrection.
Temptation – believing that I have got it all right
Fasting – spending time by suffering in some way
God's Promise – He will be with us
Jesus Resurrection – Beyond all this that we see and meet Jesus died and was resurrected that we may have that eternal life.
Amen
Rev'd Sue Martin
The Transfiguration Feb 15 2015
St John's Church, Kings Lynn
Readings 2 Kings 9:1-10 Mark 9:2- 12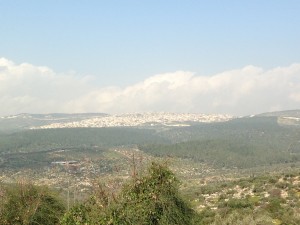 Our eyes are opened and at last we see.
I have just come back from the Holy Land and have first hand experience of Mount Tabor and seeing and walk in in that place where the Transfiguration happened.
What was it that Jesus was asking his disciples here? Why once again, did he just take Simon Peter, James and John? How amazed were they as they stood and watched Jesus transform into dazzling brightness, How unbelievable that as the cloud descended there beside Jesus, stood Elijah and Moses?
If we look at what had happened in the gospel so far, Jesus had gathered the disciples, he had explained to them all his ministry, he had started out to do this work. Most recently there was the wedding at Cana and the first miracle, where Mary, mother of Jesus, had asked Jesus to do something to help the wedding family in their distress about not having enough wine.
But the walk up the mountain, and this is a mountain that stands clear above the plain of now farmed land, it's a proper mountain shape and as you ascend to the top, it feels very much like being on the top of the world.
And Jesus took the three there to try to open their eyes to what was happening, .
Often in Jewish scriptures we hear of the 'veil of ordinariness that normally prevents us from seeing the inside of a situation. This is a view and an insight into God's kingdom, Jesus really did appear as the Messiah. The disciples were transfixed. They could see with their eyes wide open, the veil was removed.
We often also hear that there are layers and dimensions in this world, usually we like to make sense of all that we see, hear and know and are familiar with. It is hard to take that leap of faith and enter a world of the unknown.
It's a bit like being a child again, like exploring for instance the world of music, or the world of dance, looking through a telescope into the stars.
Jesus, by meeting with Elijah and Moses, and showing that to Simon Peter, James and John is revealing that he is the Son of God and that God's kingdom is never so far away for those who believe. Amen