The time leading towards Easter, marked by reflection, time for giving up and a renewal ahead.
How can we make this time a time of change for us, or  a time when we can find God more clearly and the path he wishes us to travel?
2nd Sunday of Lent
Shipdham Church 25th February 2018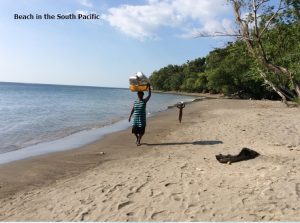 I am delighted to be with you today at   Shipdham and to be talking with you about Papua New Guinea and the 2018 Bishops Lent Appeal for a place in Papua New Guinea called Simbai.
But first of all, let's think about Lent. How is it going, what do we do in Lent? How can we make a difference to our Christian lives?
Does it help in any way at all?
Lent is about …. Giving something up?
Lent is about doing something…. a chance to do a Lent course, read a book that gives some direction, supporting someone maybe?
Lent is about having time for God….. a time for reflection a time for us to spend time in our own desert.
Our readings today bring in aspects from Genesis, the first book of the Old Testament and from Mark, the second book of the New Testament that I think are relevant to our talk about Papua New Guinea and our journeys into different places.
Genesis "I will make nations of you" says God to Abraham.
Mark 8:34, "Become my followers."
And so… the Bishop's Appeal for Lent is towards a project in Papua New Guinea. Every other year the Lent Appeal goes towards PNG.
I am part of the Papua New Guinea Link group in the Norwich Diocese, a small group of people who are interested in supporting the connection between PNG and Norwich Diocese. A link which has been established now for 50 years and earlier this year we celebrated with a Eucharistic service in the cathedral with a special visit from Bishop Denny from Papua New Guinea.
Three years ago I went on the Diocesan Pilgrimage to Papua New Guinea and wanted to talk a little bit about that along with the area of the appeal in 2018. I hope the whole story will build you a picture of this place in the sun in the South Pacific at the other side of the world, well, nearly!
It is an amazing country and emerging from isolation, with over 700 languages and tribes still living in the jungle completely remote from anywhere else. 45 years ago it was governed by Australia, but has been self governing since then, although still has economic support from Australia and other countries.
Papua New Guinea is 0.6 degrees south of the equator, just to the north of Australia. It is an Oceanic country with offshore islands in Melanesia in the South West Pacific Ocean.
It is one of the most culturally diverse countries in the world with 848 languages. Its 7 million people live in mainly rural populations and in the few towns and cities.
The country is situated on the Pacific Ring of Fire and there are earthquakes and active volcanoes. It is surrounded by coral reefs and in the highlands there are dense rainforest and a rugged terrain across the mountains, the highest of which is Mt Willhelm at 4,509 metres.
I was fortunate to be in the group travelling to West New Britain Island, which was amazing! The islands are at the east of the main land and we even swam in the South Pacific along with the Manta Rays, and where on Sunday after church whole families would pack up kitchen utensils and carry them on their heads along the beach for a barbecue of some style.
We visited schools, churches, villages, all of which took us about 2 hrs along a bumpy track through the jungle or plantations in very high temperatures.
In all the areas we visited, the people were very pleased to see us and we shared worship services together, where 300 people in the village or town would attend and receive communion. The gospel was danced in from the back of the church by girls in grass skirts and a Christian life was at the centre of their lives.
Something like 95% of the population are Christians and of those about 90% attend church every week!!
The 2018 appeal is focussing on a specific area in the north of PNG, where at the moment in the Highlands are 2 people from Norfolk, Lyn and Tony Fry. They are at Simbai, spending 2 years with people developing church and ways of sustainable living. The flier that you have shows Lyn and Tony, looking very happy sheltering under a banana leaf from the hot sun with garlands around their necks. Although it looks idyllic, they have and still do experience real hardship in general living, no bathroom, just a stream, no cooker, just a fire, and food which takes some getting used to.
They are both bringing their expertise, using their own resources, to help and support people in Simbai, with education and in horticulture.  In faith there is a church and it is well attended and from my own experience in PNG, people are real followers and the Nation of God's people certainly extends to PNG, even in the Highlands. Church is central to life in the villages and as you can see people join together in worship. The church is in need of some building work though.
At my first service in PNG, in Mosa, the church had a roof and no sides, which meant that although there were 200 people inside, people could also come in from the outside and receive communion also.
PNG people are often shy, especially the women and uncertain about meeting other people. In one place in the islands that we visited, myself Revd Sally …and other women in the group were the first white women they had seen. Let alone being a priest too, but that received a loud cheer from the women in the village!
The appeal is not just to help the Fry's but to give money for the development in Simbai of the church building, to extend and develop the work of the church, It is also to enable youth work in Simbai and then more broadly to resource people in their Christian ministry.
Resources and especially Christian resources are hard to come by, even accessing a Bible is hard and many people rely on having passages read to them. So as well as a lack of access to clean water there are lack of accesses to some Christian materials. But this has not stinted their faith and they have deep and strong convictions. The priest and their wives are part of the villages to which they minister and are an integral person in that society.
Interestingly, their family are also at the college and looked after and the wives become part of the Mothers Union and receive training to enable them also to have a ministry.
We are strongly connected to the theological college in Newton, where men responding to the call spend 3 years in study
There are lots of ways to help and they are in the packs, but if all you can do is to pray for the work in PNG of the Frys and others who are also there, that would be wonderful.
Although it is a long, long way away, taking about 27 hours of actual flying time, these people are our brothers and sisters. We have the opportunity to be able to help directly with this group in this place of Simbai and make a real difference.
So as we approach Lent, let us think Papua New Guinea and about what we can do, what we can give up maybe and especially give thanks that Jesus is with us as the Word, in our lives and making a difference.
Amen
1st Sunday in Lent
Taken from March 9th 2014 St Michael's Church Hong Kong
Genesis 2:15-17; 3:1-7 Romans 5:12-19
Matthew 4:1-11
I am very pleased to be asked to speak with you today at St Michaels Church in the Hong Kong diocese.
I'm a priest in the Norwich Diocese and have just finished a curacy in a group of 5 rural parishes in Norfolk, now moved to chaplaincy and I am a chaplain for a hospice and when I return I will be a chaplain at our local hospital.
In complete contrast to my work as a self employed consultant in children and families work and also in children's literacy.
So today's time and readings are a good one for me. There are many journeys and one place. We can't do them all and sometimes Lent is just what we need to help us to stop and to reflect.
A phrase I use is we are human beings not human doings.
Lent is marked by Ash Wednesday and continues right up to Easter, which is of courser late this year and throwing all the school terms into confusion.
But there are 6 weeks in Lent, 40 days and 40 nights. Jesus went into the desert where he had been led by the spirit and there he stayed for 40 days and 40 nights. Matthew meekly says, after 40 days and 40 nights he was hungry…. too right!!
We know that Jesus was tempted by the devil and shown just how easy it would be to not have to do all the things that were going to be so hard for Jesus to do. But Jesus was not having any of that.
Well, we can't all be Jesus, we are human beings and it is hard to follow all the time and not to do anything that is not the right path or the right thing.
So what is the relevance of Lent to us?
How do we use Lent in our own lives?
Does it help in any way at all?
Lent is about …. giving something up?
Lent is about doing something…. a chance to do a Lent course, read a book that gives some direction, supporting someone maybe?
Lent is about having time for God….. a time for reflection a time for us to spend time in our own desert.
Our lives are spent in ever increasing circles of busyness and Hong Kong is certainly a really busy place. There is nothing wrong with being busy, how else would places like Hong Kong survive. It is a centre for trade, a centre for different cultures to meet and exchange,a place where lives are shared for a long time or just for a short time. It seems to me its like a cross roads between continents.
I watch those enormous container ships travelling on the shipping channel. Where and what and how and why… come to mind. But they are all keeping economies booming and lives are supported by all that trade, which seems to swing in and out of Hong Kong.
But for all our lives it is good to have a time when we can sit back for a while, take some time, let time and space be there for God to speak to us.
I have been told of an analogy of the flack in the skies in WW 2, not being able to let planes in. It must seem to God sometimes that when He looks down to earth and tries to find us and speak to us, he can only hear our busyness, our constant chatter, our lives going back and forth.
How nice it would be in Lent if there is space for God to speak to us and to find us?
When Jesus came to the end of his 40 days and 40 nights, he knew what was ahead in his journey, some very difficult stuff!
We do not know what is ahead for us? Our journeys are complex and sometimes go in completely different directions to our intentions.
Hong Kong seems also to be a place where peoples lives are about to set off in different directions too.
I mentioned earlier that I work with children's literacy projects and am involved in a book called Dragonkeeper by Carole Wilkinson, from Australia.
The story is set in Ancient China, in the Han Dynasty, and is about a slave girl, called Ping.
The Dragonkeeper trilogy is set in Ancient China during the Han Dynasty. A slave girl, Ping, saves the life of an ageing dragon and escapes her brutal master. Pursued by a ruthless dragon hunter, the girl and the dragon begin an epic journey across China. They carry with them a mysterious stone that must be protected.
Dragonkeeper is the story of a girl who believes she is not worthy even of a name, but finds within herself the strength and courage to make this perilous journey and do what must be done.
I hope our journeys are not perilous, but they are journeys and they have different turns and corners.
So from Pancakes and beyond…
Lent is a good time to have some space, give up something that you like but most of all a time when we can find both ourselves and for God to find us.
Amen